L'Artisan du Vitrail : scheduled end?
Help me continue to create, restore... and pass on my passion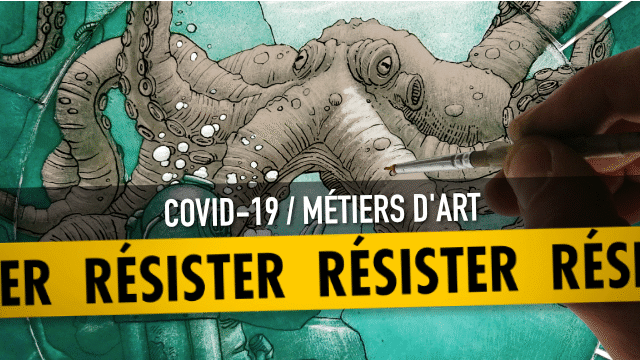 About the project
Today, COVID-19 threatens many sectors of economic activity and it is feared that some companies will not be able to recover from this health, social and economic crisis.
Crafts, which are inherently fragile economically because they are not linked to basic needs, are particularly affected. They are for the most part exercised by individual entrepreneurs who suffer the absence of new orders and the cancellation of those already committed. Many of these craftsmen simply risk in the coming weeks having to stop their activity and thus abandon their passion.
This unprecedented situation will undoubtedly lead to an irreversible loss of know-how patiently built up over the ages and which contributes to the fame and artistic prestige of France. It is a part of our common history that we simply have to save while waiting for better days.
My stained glass workshop will probably not escape this fatal destiny. My workshop is my only source of income, and the main source of income for my home. The prospect of a lasting economic crisis brings me today to ask you to pass this difficult course. My activity as a stained glass artist is my passion, it is the commitment to a professional life that I never stop sharing with you. I cannot bring myself to see all of this destroyed!
What are the funds for?
I decided to call on you who follow me and appreciate my work on social networks to launch this crowdfunding campaign with the sole aim of being able to continue working and living my passion : creating unique pieces, restoring our beautiful heritage and pass on my know-how to the general public. The money from your solidarity will be used exclusively and exclusively to continue to be able to pay the rent, charges and various expenses for my workshop and will allow me to continue to live my passion for the months to come.
The operating principle of Ulule.com is based on 'all or nothing' : the minimum amount (3000 €) must at least be reached, otherwise the project will not succeed and the funds will not be raised (all contributors in this case will be reimbursed).
I did not wish to set a minimum amount too high so as to have more chance of bringing the project to a conclusion, which will at least ensure the payment of the rent and expenses of my workshop. 3000 € correspond to 3 months rent. If the goal is exceeded, the funds will allow me to extend this period, and if it is largely exceeded, to equip myself with new or missing equipment that I could not buy due to lack of sufficient cash.
This call for donations would obviously not be without consideration. To thank you for your solidarity gesture, I propose, among other things, to offer you:
10 educational demonstrations in my workshop (history of stained glass, tools used, techniques…) lasting 1 hour (for 50 € donation)
10 stained glass windows offered in total from the collection 'Les Miniatures' (for 150 € donation)
10 one-day discovery workshops in my workshop in Montélimar (for 200 € donation)
15 discovery workshops lasting 20 hours in my workshop (for € 300 donation)
1 stained glass window with traditional motifs from the 19th century (for 450 € donation)
You can accept to receive this consideration or give it to other donors. And if you have other matching ideas in exchange for your donation, please let me know, I will consider them all with kindness.
About the project owner
I am Pascal Rieu and I live in Montélimar in the Drôme. I worked 20 years in communication as a graphic designer. I abandoned a profession which was profitable for me financially but which no longer corresponded to my aspirations, to turn to a rare profession of art, much less remunerative but which has become a real passion: stained glass.
I opened my workshop in Paris in October 2013 after spending all my savings on a diploma course during which I passed the CAP tests, which I passed. Now living in my region of origin, I certainly live modestly from my activity, but the pleasure I have in working in my workshop for my clients, in restoring and maintaining our heritage and that of transmitting my know-how represents for me priceless happiness.
We live in a strange time. In a globalized world where human labor is almost meaningless, the individual is dehumanized and objects are reduced to being used stealthily and then thrown away. The profession of stained glass artist and more broadly the Métiers d'Art, existing for some for many centuries and whose gestures are perpetuated from generation to generation, go against this hellish spiral. Time slows down, the hand executes, the spirit is freed and the object becomes precious. It is for these values ​​that I chose this great job. And your donation, whether small or larger, will help me continue to live my passion.
Thank you all for taking the time to read my project. Stay confined and be well…
For those who do not know my work, here are the photos of some of my achievements:
The Octopus - Stained glass in backlit wall light
Danish - Scandinavian style stained glass for individuals
City Lights - Decorative stained glass (handmade paintings)

La Fleur - Art Deco style stained glass for individuals (handmade painting)
MoonLight - Pendant lamp (handmade painting - collaboration with Joachim Baillif and Full Metal Art)
Le Morpho Rhetenor - Stained glass suncatcher (handmade painting)
La Vie est Belle - Backlit stained glass painting (handmade paintings, except the central part which is not mine (1925)