Komrads World Sneakers
The most sustainable sneaker made of Apple leather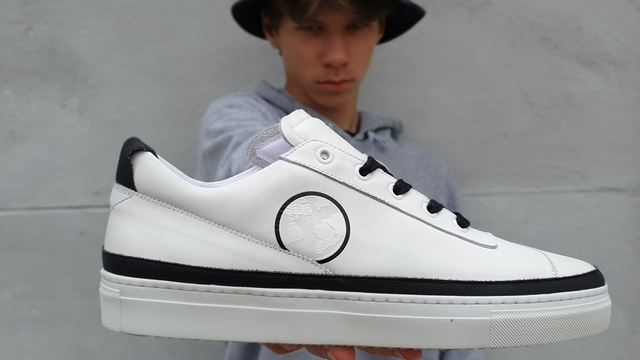 About the project
100% ecologic, 100% vegan, 100% sustainable and 100% fashionable!
Since 2015 we are producing sustainable sneaker at Komrads. But the more we became aware of the production process the more questions we had about the Fashion industry.
So, we started wondering: how polluting is the fashion industry, What about the Rana Plaza disaster and the numerous sweatshops. And what about all these youngsters going on strike for a better world!
Our Dream
And so, this was the starting point of our dream. A dream to produce a fashionable sneaker that did not cause harm to our planet. A Sneaker where did not have to harvest natural commodities. A sneaker build entirely from re-used and recycled materials, A dream to be part of the circular economy. A dream to design a the most sustainable and ecological sneaker.
A sneaker that is a part of the solution
After more than 1 year of trials, errors and out of the box thinking we are very proud to present our new collection Komrads.WORLD. Our dream became reality
The sole is made of 100% recycled rubber from car tires, colored with ecological paint
The upper is made of Apple Leather. This is the result of a innovative process, a methodology to process the apple waste, mixing water, apple flour and a natural glue and using a modified pasta production plant he is able to produce a leather. So 100% vegan
The inner sole is ergonomic, breathable and made out recycled materials
We produce in Europe (Portugal) so no sweatshops
OUR COLLECTION
What are the funds for?
Pre-orders will allow us to finance the production of these new lines. Our main development costs will come from the fabrication of molds and the high order minimum of our providers of materials Apple leather, recycled rubber
If we realize our dream and If we go beyond this objective, we will be able to build a stock and create new designs in the near future.
So, we count on you to realize our dream! Order now a pair of KOMRADS, change the world and … get a special launch price!
About the project owner
We are Greet and mark, 2 sneaker addicts and world lovers! We have since a few years our own brand Komrads Cult. Our 4 children and their future are our main motivation and inspiration to be aware of our ecological footprint. So, we need to be an example for the fashion industry, one of the most polluting industries, to change! Support us and be part of the solution!