Jon the Farmer: Urban Farmer
Learning More and More, to Better Serve Our Community and Provide Healthy, Organic Food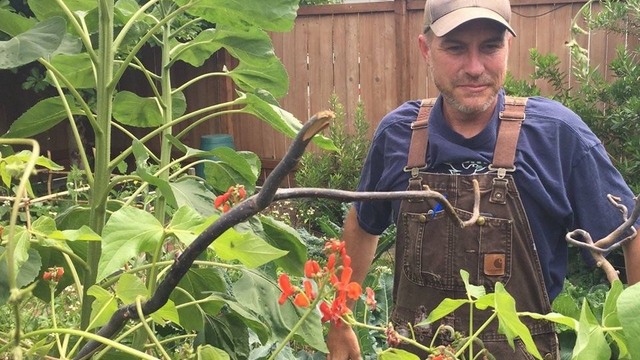 About the project
At Jon the Farmer - Urban Farmer, we believe in the importance of providing our neighbors and community-at-large, access to organic, bionutrient rich, hyper-locally grown foods.
In partnering with like-minded home owners, who have land to loan and a shared passion,
we have been able to move into our fourth neighborhood -
continuing to spread the message of good, good food and the benefits of a minimized carbon footprint.

With this awesome growth, we have found that our business structure and knowledge base can be improved.
As we continue to learn more and more about urban farming and our base grows and grows -
we need you to help move this mission forward. One way to support our mission is by contributing to our
crowd fund and boost Jon's knowledge. How? by participating in the Jean-Martin Fortier Master Class.
What are the funds for?
As we continue to move forward with our ability to wash, package and deliver
your fresh greens, tomatoes, kohlrabi, peppers, cucumbers, sqaush, beans and more....
Jon realizes that in order to provide (y)our neighbors with fresh, organic and flavorful produce
requires a lot of time, energy and focus.
This is where the Jean-Martin Fortier Master Class comes in to play.
Jean-Martin Fortier is a market gardner at the forefront of providing fresh, organic food to his local community in Quebec. What Jean-Martin has done with his micro-farm requires
a great deal of planning, good management practices and tough reflections about new (renewed) farming practices.
JMF is offering a Master class that will:
increase our practical knowledge,
further our knowledge of soil amendments so that our land-owners soil is utilized to the best of it's ability,
streamline our systems (including creating a more predictable harvest schedule), and
battle the ravages of industrial agriculture.
In an effort to create a sustainable and successful model,
while avoiding re-inventing the wheel, this course is at the top of our "to-do" list.
Why should you support us (even if we may not be able to serve you, directly)?
Because all important movements must start somewhere.
Seattle is a great market - while there is limited land available to the average urbanite,
when open-minded people are willing to take a chance to improve not only their quaility of life,
but the quality of life for of their community, too - we all win.
Because Seattle has pockets of food deserts throughout the city and t
his is a great way to start changing that dynamic and allowing people of ALL walks of life fresh food.
Because the people of Seattle want to be an example of a savvy community that will
help spread the word and mission so that other communities across the country can be inspired, too.
Speaking of inspiration, check out the delicious meals that our customers have created using our fresh produce!
About the project owner
At Jon the Farmer - Urban Farmer, we believe that people from all walks of
life deserve fresh vegetables and fruit to eat.
We address the barriers of time, as well as access to land and knowledge,
to empower and connect communities in creating abundance in your own backyards.
Like our Facebook page: http://m.facebook.com/JontheFarmer74/ and be kept up to date on our bi-weekly harvests, inspired recipes from our own community, and oppurtunities for learning a bit more about the benefits of urban farming.
Visit our website, http://jonthefarmer.com to get to know us more and see what we have to offer!