Psychomagic, an art that heals
A film by Alejandro Jodorowsky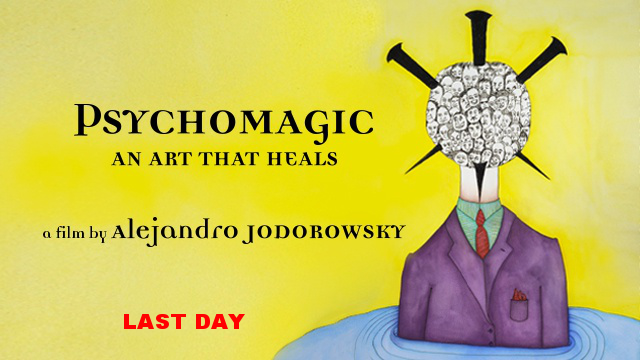 About the project
THE SHOOT OF THE FILM IS NOW FINANCED.  ARRIVING TO OUR SECOND GOAL WE CAN TAKE OUR FILM TO POST PRODUCTION. 
Alejandro Jodorowsky's new cinematic experience
Psychomagic, an art that heals will be the most complete film on the therapeutic work of Alejandro Jodorowsky. It will show by means of real acts what Psychomagic is, its principle, how it is practiced and operates on beings. The people behind the acts are real suffering people and eager to solve their problems through the use of Psychomagic.

Photogram of a Psychomagic act from La Danza de la Realidad film by Alejandro Jodorowsky (2013). - Freeing oneself from fear of darkness. 
For Alejandro Jodorowsky, many of our problems and neuroses come from the barriers created by our society, family and culture, and these stop us from being our true selves. For these reasons, he created Psychomagic, a therapy created to help people to free themselves from these shackles in order to, in his words: "be oneself and not what others want to us to be"
Many diseases, neuroses, and various sufferings emerge for psychological reasons, where Psychomagic acts on the unconscious through theatrical acts.
For many years this therapy for the unconscious has been practiced and has given striking results. Psychologists and psychiatrists apply the work of Alejandro Jodorowsky on their patients. Artists and filmmakers have also been inspired by this therapy for their work.
Photogram from La Danza de la Realidad - Freeing oneself from dark thoughts. 
We follow the people throughout their healing process, in their first testimony, the realization of their act, then finally their conclusion and the effects of the acts some time later.
The Psychomagic acts should impact the unconscious in order to be efficient. Thus, they are often impressive and highly cinematic.
With the film Psychomagic, an art that heals, Alejandro wants to go further than ever before, transcending fiction by filming reality, but a heightened reality, magical and healing. There will not be any actors, only real people that have expressed their suffering and their will to heal from it.
For this film will be a manifesto, through its humanist intention, and it's artistic stance. The use of real elements, without any artifice or any actor, it's spiritual content, it's means of production, directed and filmed by a small and passionate crew, essential to preserve the authenticity and integrity of the film's action.
We need you to make a free and independent cinema

"The necessity for expression is more important than the type of film you want to make. I make a film when I have something I need to express. I don't think about investors, industries or commercialisation. I just need to express myself."

"What I do is not to earn my life, it is to express myself. I'm not forced to sell, I made my films because I had something to say. I search within myself to find what's best within others. I believe that cinematographic art is like a door for the people watching the film, a door for them to find their true self. I will thus tell you what you know but that you don't remember" - Alejandro Jodorowsky.
To help us produce Jodorowsky's new film, we need your help. 

Photogram from El Topo - Transition from childhood to adulthood.
Every Wednesday, for years, Alejandro Jodorowsky has given psychomagical advice for free in a café, in Paris. While doing this healing work, he has created and prescribed different psychomagical acts to help people solve their problems. This book contains testimonies of healings thanks to psychomagical acts, transcriptions of readings and exclusive documents that have never been published before.
An exclusive tote-bag and a T-shirt at the effigy of Alejandro Jodorowsky. Black silk screen impression on white textile. 

Not only is our poetic money a symbolic currency, it is a cryptocurrency. This means that this currency has a real digital exchange value. If your reward contains Dinero Poetico bills, then you will receive an e-mail detailing the instructions on how to active the cryptocurrency online. 
An artwork by pascALEjandro, printed on A3 poster. 
King Shot: A stalled metaphysical spaghetti western film project, which would have been co-produced by David Lynch and starred Nick Nolte, Marilyn Manson, Udo Kier and Asia Argento. 

Psychomagic, an art that heals: The first draft of the script, a unique insight into Alejandro Jodorowsky's creative process. 

The Sons of El Topo: Sequel to the mythical El Topo that Alejandro never shot though he is currently adapting it to a comic book. 
A copy of the screenplay written by Alejandro Jodorswsky of the movie King Shot never made with Illustrations and unpublished visuals
Box containing all of the perks (T-shirt, tote-bag, poster) and all of the Poetic Money bills (1x100, 1x50, 1x10, 1x1 redeembale in our cryptocurrency) and the digibook (expected delivery in 2019).
Clapboards used during the making of the films La Danza De la Realidad,Psychomagic: an art thats heals, and Poesia Sin Fin, all of them signed by Alejandro Jodorowsky.

A copy of the original Dune script, never shot. Limited copies.
Artwork of pascALEjandro
Unique reproduction for each artwork by pascALEjandro, with a selection of 10 reproductions.
(pascALEjandro is the shared oeuvre by Alejandro Jodorowsky and his wife Pascale Montandon-Jodorowsky: pascALEjandro is their symbolic child and a pure collaboration). Alejandro is drawing and Pascale puts the colors.
What are the funds for?
Alejandro Jodorowsky - Director - Script - Producer
Pascale Montandon-Jodorowsky - Director of Photography
Xavier Guerrero Yamamoto - Executive Producer - Production Manager
About the project owner
PSYCHOMAGIC EXPLAINED BY ITS CREATOR, ALEJANDRO JODOROWSKY

"It was in the spring of 1979 that one of the most intense adventures of my life began, which would lead me to create a therapeutic and artistic system based on the study of the family tree.I thought that if feelings provoked postures, a posture could trigger emotions. I invented a method of bodily expression that began in a fetal position, frightened (desire to die), and ended with the flourishing of the human being, arms wide open, connected to the cosmos (euphoria of living).

Very quickly, I realized that innumerable memories were written in our body: memories of childhood or the prenatal period, acceptance, rejection, psychic residues of various members of the family. The practice of pantomime with Marceau, trantric yoga and chakras, Chinese medicine and meridians, the Kabbalah and the application of sefirot to the body: all these practices led me to develop my consciousness. I came into contact with my subconscious, which I no longer regarded as a danger but as an effective ally.

I created a therapeutic technique that I called Psychomagic, consisting in staging in everyday life into a healing act, like a dream, to release an unconscious blockage. I wanted to teach the intellect the language of the unconscious, mostly composed of images and actions that defy logic. Speech reveals a problem but does not cure it. The only words that can heal the unconscious, because it does understands them, are prayer and incantation. To transform him into a protective ally, it is necessary to seduce him by means of acts of a theatrical or poetic nature. Just as the unconscious accepts placebos, he accepts metaphorical acts. The impulses are not solved by sublimation but by an act that realizes them symbolically.

All illness comes from an order received in childhood that compels us to do something that does not correspond to us, and a prohibition that forces us not to be what we are in reality. The evils, the depressions, the phobias and the fears can result from a lack of conscience, from a family tyranny. A psychomagic act is thus a precise theatrical and metaphorical scenario, which the consultant must implement by his own means.

Photogram from El Topo - Rebirth.