JAM Mag #2
English - French edition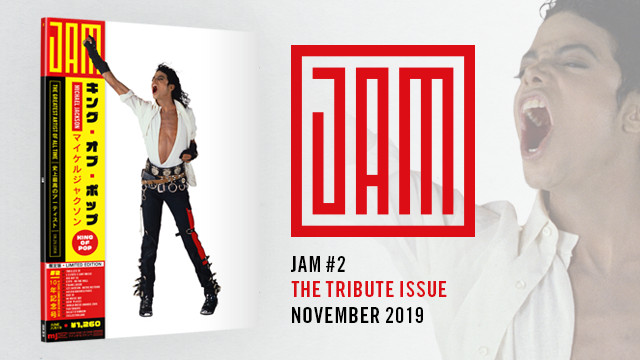 About the project
Hi everyone !
Welcome to the Ulule page of JAM, the fanzine dedicated to the one and only King of Pop: Michael Jackson!
This publication is about Michael Jackson's career and legacy. It includes special and exclusive interviews, stories and more, all written by a team of devoted MJ experts. along with exclusive stories,
JAM Mag is back and plans to reach you this November ! It aims to be a tribute to Michael Jackson from fans to fans, more than 10 years after his untimely passing.
THE PROJECT
We wish to release the second issue of JAM, our Michael Jackson fanzine. We are moving forward with the designing and layouts, along with developing the content, in order to be ready for November 2019 ! Here is a first visual and glimpse of the new work, and we are still drafting other ideas for the main cover !
The idea is to bring you exclusive stories about the King of Pop to get a better undrestanding of his artistry and his humanitarian work... And simply put, we want to pay tribute to the man.
This time, we also want to present a series of rare and unreleased photographs, most of them from the archives of Michael Jackson's personal photographers.
NEW: This magazine will include texts both in English and French !
JAM#2 :
64 pages
Format : A4
WHY A CROWDFUNDING ?
We have decided to launch this new project with a crowdfunding campaign as, more than ever, JAM is your magazine. The production of this magazine remains costly. We invested in the first issue with our own money. However, in order to make the project sustainable, we want to believe the crowdfunding system is a stable and safe way to ensure its longevity. We want to maintain the high-quality level of JAM and to enable our non-profit organization, MJStreet to grow up on the good ground.

We are lucky to have this magazine dedicated to the King of Pop, and now thanks to YOU, we can have another chance to make it last and make it even better !
BENEFITS
For this first and special crowdfunding campaign, we have designed a series of items that are available in the packs listed on the right side of this page.
In addition to your issue #2 of JAM Mag, you can get: En plus du magazine JAM #2, les packages vous permettent d'obtenir :
Postcards (4 different designs in all)
Exclusive JAM#2 poster
Exclusive MJStreet Tote Bag
Stationery (notepad and stickers)
Wall calendar - 2020
Exclusive MJStreet Tshirt

WORK IN PROGRESS VISUALS
Set de cartes postales
Poster
Tote Bag
Le kit papetterie (bloc notes + stickers)
Le calendrier mural 2020
T-shirt
What are the funds for?
This crowd funding will help finance the following :
purchase or rare and unreleased photographs
design and layout
printing
distribution: online sale on dedicated platform (worldwide) and in selected retail stores (France only)
About the project owner
MJStreet is a non profit organisation and its ambition is to preserve Michael Jackson's legacy as an artist and humanitarian. MJStreet was initially created in 2004 as a forum and became a non profit organization in 2017.
Founding members are :

Richard Lecocq :
President of MJStreet and webmaster of MJdatabank.com, a website created and approved by Michael Jackson. Richard has also been a consultant on some MJ projects for Legacy Recordings and Universal Music (Thriller 25, The Very Best of Michael Jackson & Diana Ross, BAD 25) and has also been in charge of Michael Jackson's merchandising in France (2005 to 2009). As the editor in chief of JAM, he writes his first book "Michael Jackson - KING" (2011) and co-writes with François Allard "Michael Jackson, All the Songs" (Octopus, 2018).
Rachel Houdas :
Rachel is the secretary of MJStreet. As a great Michael Jackson fan, she launches her website in December 2012. It is dedicated to all the information available on Michael Jackson's travels and visits around the world. As a regular contributor to JAM, she is writing her first book dedicated to Michael Jackson.

François Allard :
François is the secondary secretary of MJStreet, François creates his website MJStrangerSite in 2003. He uses this platform to gather all the results of long researches regarding Michael Jackson's music and rare recordings. As a co-editor in chief of JAM, he also co-writes with Richard Lecocq the book "Michael Jackson, All the Songs" (Octopus, 2018).