Participez au financement de "Belvédère"
Nouvel album piano solo d'Irwin Gomez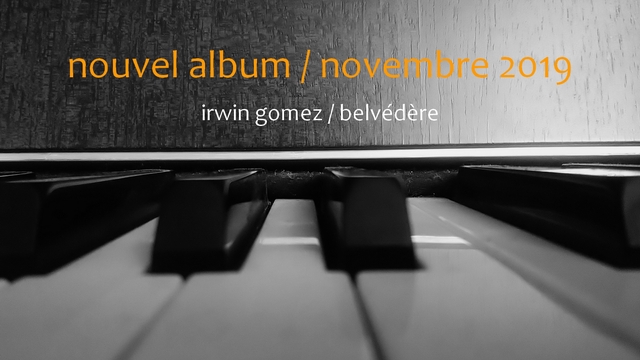 About the project
- LE FUTUR ALBUM -
Belvédère (piano solo)
Tel un tour d'horizon, un éclairage sur les différentes influences empruntées : Chilly Gonzales, Brad Mehldau, Radiohead, Gustavo Santaolalla ou bien Keith Jarrett.
Le but de ce disque était de revenir à une musique plus directe, acoustique, quelques fois cinématique; une démarche à contre-courant des modes actuelles, laissant cette fois totalement de côté les apparats électroniques.
*******
- TRACKLIST -
01 under the earth - 02 spring moves - 03 before the crash - 04 from here to eternity - 05 indian waves - 06 leaving home - 07 sur le fil - 08 save the pulse - 09 retour à la maison - 10 the picking piano - 11 opening doors -
L'album "Belvédère" verra le jour le 22 Novembre 2019 (en physique et digital)
*******
- VISUEL ALBUM -
*******
- TEASER ALBUM BELVEDERE -
Le teaser de l'album pour vous mettre l'eau à la bouche ;)
*******
- ECOUTER "UNDER THE EARTH", PREMIER TITRE DE "BELVEDERE"-
What are the funds for?
- FINANCEMENT DE L'ALBUM -
Le financement servira à presser l'album "Belvédère" en physique (500€) et régler la SDRM (500€).
Les fonds supplémentaires éventuels serviront à la promo, la com du disque & com concerts.
Le mixage et mastering étant déjà fait par mes soins.
L'album comprendra 11 compositions originales (environ 55 minutes)
Le format choisi sera un CD pochette + Digital
*******
About the project owner
- IRWIN GOMEZ -
Pianiste-claviériste & compositeur dans "Budapest" (post trip hop), "Esperanto" (world jazz), "Froid" (musique minimaliste) ou bien "Bazar Bellamy" (french rock) mais aussi compositeur à l'image (ciné concerts Gindou & bandes sons diverses). Son parcours de pianiste jazz et musiques actuelles ainsi que ses multiples expériences sonores l'ont amené depuis 2017 à créer des pièces miniatures (pour piano solo) ainsi que diverses oeuvres (avec improvisation) dans une fusion pop-jazz. Entre Chilly Gonzales, Brad Mehldau et Radiohead, sa musique est au carrefour de l'espérance et la nostalgie de l'enfance.
*******
- VIDEOS -
*******
*******
*******
*******
- CONCERTS -
26/05/2019 - festival "Piano(s) à Pompignan" - Pompignan
03/03/2020 - église - Val Thorens
16/04/2020 - musée Ingres - Montauban
20/09/2020 - jazz sur les places - Lyon
et bien d'autres à venir !!!
*******
D'AVANCE UN TRES GRAND MERCI POUR VOTRE PRECIEUX SOUTIEN !!