iPhone in a Bottle
We will send an iPhone to explore the oceans!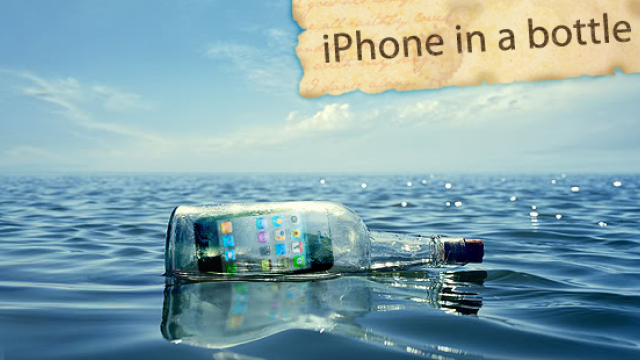 About the project
We want to put an iPhone in a bottle and throw it out to sea. It will take photos and upload them on iphoneinabottle.com for everyone to see!

All our supporters will have the chance to put their name inside the "bottle" and become part of this unique event.

In detail: We were inspired last year to do this after a student sent a camera to space using a weather balloon. We want to follow the same concept but with a twist. The difference is that we will send two iPhone 4's, but not to space. We will send them out to sea!

The iPhone will be in a custom made "bottle". We will throw it in the sea and wait for it to reach shore in another country. But we will not just sit and wait. We will design a system with which we can monitor the position of the "bottle" using GPS trackers. We will also program the iPhones to take random photos during its journey, and whenever there is GPRS or 3G reception it will upload the photos to the project's website.

We will place 2 iPhones in the bottle. One will be "Sea View" and will face forward, capturing images of the sea and hopefully some ships and land ahead. The other will be "Fish View" and it will be facing downwards, hopefully capturing images of some fish which come to eat off the bottle.

Everything will be powered by solar chargers so as to keep the system working (indefinitely I hope). We will track the position live usiing a GPS tracker which has worldwide signal, and the journey will be plotted on a map and shown on the website in realtime.

We will also build an iPhone application which anyone can download for free and watch the "bottle's" journey.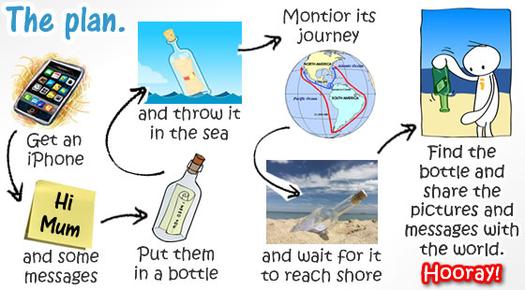 What are the funds for?
The cost is a bit high, but this will cover all the equipment, programming and testing. Below is a brief list of the most expensive parts necessary:

2 x iPhone 4 (preferably 64GB 32GB to maximise capacity and store as many photos as possible)
2 x Solar chargers
2 x GPS tracking devices. One will act as a backup in case the first one fails
GPS receiver with which we will receive the "bottle's" location
Development of the website to show the journey and the photos taken
Development of the iPhone application which will automatically take photos during the journey
Development of the iPhone application which people can download free and monitor the bottle's journey
About the project owner
We are the founders of a small web development company in Cyprus called iWeb. We are always in search of new, interesting and fun projects and we can't wait to dig into this one. It won't be easy, but we won't stop until we make this project reality. Back us, and become part of history.