Imagine Plants, by PagaBags
Ethical + Eco-Fashion + Empowering Women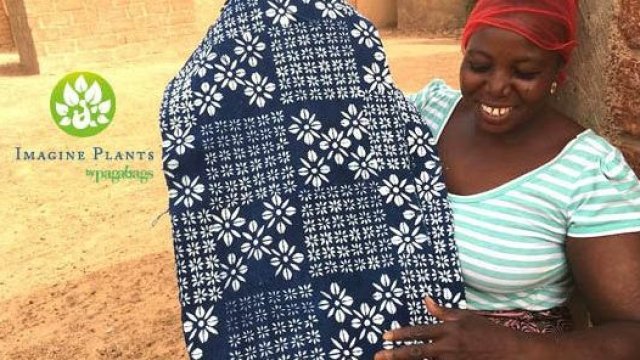 About the project
Imagine Plants are beautifully handwoven cotton bags and accessories made using traditional plants dyes in an ecofashion fashion project with women in Burkina Faso I
Imagine Plants is a new collection created by PagaBags, an ethical fashion label known for its recycling of plastic bags, handwoven with cotton, in a battle against plastic pollution.
With Imagine Plants, PagaBags is taking up a new challenge : That of promoting plant dyes in a battle against toxics.
Imagine Plants is the story of love at first sight for :
Faso Danfani, handwoven cotton cloth.
Bogolan, plant dyes and their rich and luminous colors reflecting nature.
Imagine Plants is in a womens alliance in eco-fashion handmade with care for people and for the planet.
Incubator of ecological and innovative fashion, Imagine Plants participates to the conservation and the promotion of an extraordinary cultural heritage.
Wear your values, be an ambassador for ethical fashion, good for people and good for the planet.
Paga Bags is an ethical fashion company created in partnership with women associations in Burkina Faso.
PagaBags is about empowerment of women :
We garantee that women are paid a fair price and provided professional training.
We ensure a access to health services and have initiata Back to School Program.
From recycling plastic to using plant dyes, our whole team is excited about our new adventure (and challenge!) in hands-on creating a new collection using plant dyes !
It has been 9 months since we started working on Bogolan (that is how we call plant dyeing in Burkina, Bogolan means made with the earth ! ) and looking to understand the merits of plants and how they are used.
It all began with our meeting up with Maiga, a master in traditional plant dyeing.
First, he took us to the market where the plants are sold and explained to us the merits of plants. Then, we accompanied him to his workshop for some demonstrations in how colors are achieved
Bogolan uses grains, leaves, bark, mud, macerated for days or longer, offering warm and luminous colors to cotton cloth !
We worked with Maiga in creating deep indigo blues with the indigotier, and warm earthy ochre using sorgho grains.
We absolutely loved the colors and we loved the zero impact on health and the environment.
Stencils are made from Upcycled X Rays films to create elaborate prints.
While mudpainting (as they call the technique) uses a brush to create unique and original designs !
Here we are, quite excited !
In 2018, we realised our first, small collection using 5 colors :
And using wax prints for lining !
Size :
4,8 in x 4 in.
Available in ochre, black, chocolate and light gray
Description :
The perfect side bag to carry your papers, metro card, smartphone.
Size :
5 in x 7 in.
Available in ochre, indigo, black, chocolate & light gray. Colorful wax lining inside!
Description :
Bathroom basket in 100% coton with wax lining.
Please note the picture above shows the size but but not the color (we are currently making the baskets !)
Dimensions :
21,5 in. around x 6 in. high
Available in indigo or off white.
Description :
Sahel Clutch in cotton with off white cotton lining.
Size :
10 in. x 6 in.
Available in 2 colors : Black & Indigo and Black & Chocolate.
Description :
Handwoven in thick cotton with plant dyes.
Size :
15,5 in. wide x 100 in. long.
Available in Indigo as in picture.
The perfect weekender, sports bag or carry-on travel bag in thick cotton and wax lining.
THERE IS MORE !
Chloé et Louna, 2 stylistes in textile design textile from Mulhouse, France, and committed to ecological textiles are on a trip around the world. And this month they are stopping in Burkina Faso to visit PagaBags and discover Imagine Plants and work with us in creating our first collection that we plan to launch in Spring 2019 !
What are the funds for?
We are asking for your support to help us launch our first collection in Bogolan !
During the first six months of the year 2019 :
WE WILL BE RESEARCHING COLORS :
Bogolan is not an exact science. But, in fashion color precision is important
We plan to work at establishing protocols, like recipes, to help plant dyers gain in precision and to help promote Bogolan develop on local and international markets.
WE WILL BE CREATING DESIGNS :
We love the different designs that we have discovered during this year. And we would love to work more seriously on designs for our future collection and do this in collaboration with the women weavers who are so excited about the opportunity to participate in creating our new collection !
WE WILL BE TRAINING WOMEN WEAVERS IN DYEING TECHNIQUES :
The women weavers we work with are desirous to learn how to use use plant dyes.
By learning how to use plant dyes (traditionally a man's job), the women say they will gain in self-esteem and also be able to position themselves for development of clients on local markets.
Learning how to use plants and creating their own designs means empowerment for these women !
About the project owner
When I created PagaBags, I established a business model based on social values and environmental protection.
Ethical fashion is everything to me. It is concrete, it creates jobs and promotes artisans in poor countries whose know-how would otherwise be ignored.
It also costs more to produce ethically, and takes more time too ! Empowerment, Slow Fashion, access to health plans, professional training,… these questions are, for me, the essence of ethical fashion business.
Creating ethical fashion also means listening to the people you work with and thinking out of the box, all the time. That is how I came to understand, for example, the importance of associating women in decision-making when it comes not only to color, but also to design.
Since I first launched PagaBags, I have witnessed an awareness among consumers that is impressive, and encouraging I
Our clients are all, without exception, concerned consumers who care about how a product is made and its impact on the planet. They express their concern each time they by a PagaBag and often they take the time to write me a personal note on how carrying a PagaBags makes them feel !
Thank you for your support !
Meredyth Bowler Ailloud