Hush - Artist's BJD
Collectible doll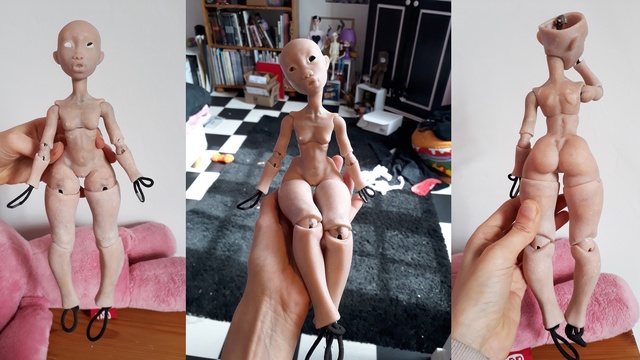 About the project
✧・゚: *✧・゚:*  NAPALM DOLL  *:・゚✧*:・゚✧
As a child i didn't like dolls. It hasn't changed! And yet I discovered a passion for BJD.
Little, I was rather into dinosaur, animals figures and pirates playmobil. In fact miniature sculptures filled with details attracted me already since a long time. The real-life dinosaur reconstructions, the special effects in sci-fi and horror movies have stuck me to all ages. All this artistic field (make-up, costumes, etc ...) influences me. 
After studying comics in Belgium I went to the "salt dough" (as my mom said) and a little less than a year after Choma was created! I realized it from A to Z: creation of the mold in silcone, molding of the doll in colored resin, drilling of parts and sanding included.
Pictures by Ebidoll
I hated this step. All this time spent to achieve an imperfect result. I realized that it is imperative to have professional equipment and I do not want to invest in this area. I want to use my time and energy in the artistic part by creating new pieces.
What are the funds for?
In order to escape this step and have a doll of a color and a perfect quality.
I will order a professional to mold 10 dolls:
            5 color cocoa tan and 5 color soft tan
If the goal is exceeded​ I intend to have he done in

other colors

. I'm thinking of doing a survey on what you would like to see :)
Postage costs
Creation of protection / transport bags
More pictures of Hush :
​
Counterparts ex:
Counterparts n°3 et n°4 exemples:
Counterpart n°6 exemples:
Counterparts n°8 et n°9 exemples:
About the project owner
I am a freelance French artist under the name of Gwendoline Napalm.
Bachelor of Comic Book at the Academy of Fine Arts in Tournai, Belgium (High distinction, I did not even know it existed) Expatriate from my native french South for 3 years ...
The middle earth trip was obvious for me but I first went through the land of Mad Max to finance the rest of the exploration. To finally land in Japan st.Kawaii country.
Gore, Kawaii and video games populate my creative world.
I have been sculpting since december 2016 following my visit to Ldoll (Europe's largest BJD convention)