Barcelona musical city
Capturing a city in songs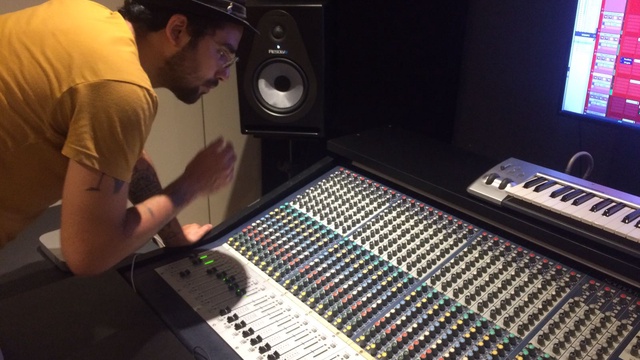 About the project
Hello  my name is Luis Borjas, I'm a Sound Engineer student in Barcelona Spain and I want to show you how it sounds with its street musicians.
Have you ever wonder how musicians would sound with that environment that surrounds them?

Normally when we see a musician on the street we only want to listen to them, however they like it when people start to applaud, follow their rhythm or, if they play a known song, singing along. Is for this reason that in this project the audience becomes a part of the musician's environment, a part of that musical magic that appears every time we hear a melody.  

We encourage you to listen beyond the music, beyond the everyday, listen and feel.
"To capture a city in songs is what moves people, share it with the world, that is our goal"
Why Barcelona? Truth is, due to its diversity. Barcelona is a touristic city, therefore there is always something new to see and to listen, even tourist that know how to play any kind of instrument cheer up and play in parks, squares, subways or some streets and crowded avenues.

Musicians who go to the subway with classical guitars and cajon box interpreting their songs or versioning someone else's, always stating that they are a group that want to get their material so everybody can heard them.

In this project we want you, who is far away, to help and listen to these talents, with just one contribution you will not only be giving money, but you will be telling them through this project that "we will make your dreams come true" by working together.

Creating an easy to transport Dynamic Studio,without losing the quality of the sound, this project could be more than just a recording studio, going beyond the ordinary, from having a clean and plane voice without space (Acoustic room) to a clean voice with space (Without acoustic room). These equipments could be transported on a practical way due to their size  besides been protected by their boxes. It will only be plug&play.
With the Dynamic Studio we are looking the opposite of a conventional studio without losing the sound quality. We are aiming to record the street musician, the one you listen when you are on a park and plays good all songs or the one that on your head you are saying "he really knows how to sing and play the guitar" that MUSICIAN that doesn't have the financial possibilities to get his music know b recording on very expensive studios.
 We try to capture that essence that surrounds the street musician in sound, that atmosphere, the wind, the people's footsteps, the place where he is, capture him with his voice, his message and his music.
"Dynamic Studio will be the tool for all those who ever wanted to record and did not achieve it due to lack of money, in the dynamic. In Dynamic HomeStudio we will capture the full essence."
We will not only work with street musicians, but also any musician or group that wants to record and do not have the budget, we will ensure that with little you would get more, both recording and mixing and mastering will be closer than they can imagine.                                
  "Give the opportunity to these great artists to show you how the streets, parks, metro stations or squares of Barcelona with only their music."
What are the funds for?
With this help you are giving the opportunity to several talented young people and adults to fulfill their dreams, driving their careers or their desire to continue doing what we all love, which is MUSIC, with your grain of sand we will build together, a huge musical castle and full of great artists, who knows? Maybe tomorrow they'll be famous thanks to you!
Being a dynamic Studio, we seek to record musicians with a low budget, helping them to have their songs recorded in excellent sound quality, also to be able to transport the equipment in the case of recordings of drums that have to be recorded on a rehearsal room, Therefore musicians will feel in their comfort zone and sound more natural and sincere.
To achieve this, we need good quality equipment that don't occupy a large space like the equipment of large industries.
This budget will include:
Sound interface
3 large membrane condenser microphones
3 microphone cables
3 microphone stands
Carrying case
A total of € 1550 (including 8% of Ulule)
About the project owner
My name is Luis Borjas, I am 25 years old, I am a I'm a Sound Engineer student in Sonopro Institute, Barcelona Spain, I am a musician, I play drums, guitar and sing. the reason why I'm doing  this project is because I know what it is to want to be listen to, to show  your skills and your talent, I appreciate the talent of the street musicians, because it is the most sincere and free expression of people.
I also love animals, I have a cat and a dog that is very big, I like cooking and sweets! Here I leave my instagram @louiscalafalas
FAQ
If you still have an unanswered question, feel free to ask the project owner directly.