Holidays - "Sunday Beast" EP/Tour
Help the group Holidays to press their new EP "Sunday Beast" and to go on tour around Europe in 2013
About the project
Holidays is a dream-pop Italian band from Rome "with songs and DIY-visuals inspired by their European travels, Roman summers, and youthful nostalgia" (SBWR). If we should describe their music, we could say that it's a "sunny bucolic daydream, drenched in reverb and lovelorn lyrics" .
After releasing their first album "Young Love" in March 2012 on the classy DIY italian label "Keep It Yours" (The Babies, A Classic Education and others), they spent the summer touring all around Italy and across Europe. Young Love was well-received by the international "blogosphere" and websites such as Dazed Digital, NME, LesInrocks, Rolling Stone and Vice took a minute to talk about their deubt album. 
But the summer came quickly to an end, and it was time for Holidays to go back back in their studio, a villa lost in Viterbo' countryside, not far from Rome, to compose the new songs inspired by the experiences they made. After some hard times and many months of work, a dozen of new songs was ready and the "Sunday Beast" EP was born ! 
It was not easy to select the songs to include in the EP, but at the end, the group arrived to make a selection. 
On "Sunday Beast "you will find songs like "Morning Crumble" the first single published of which you can listen to live studio version recorded at the end of the Sunday Beast Studio Sessions. The rest of Sunday Beast is like taking a walk into unexpected places...but, in this (long) EP, there was not enough place for all the songs ans since fans are a priority to the group, Holidays decided to create a special digital version just for the Ulule contributors that will feature some exclusive tracks that couldn't find their place on the standard version of Sunday Beast. Some of those songs will be uploaded on the Soundcloud of the group so that you can take a quick taste of the bonus tracks you will get by joinging to the Ulule project !
The live shows confirmed at this moment are the following :
28/03-ROMA (W/EGYPTIAN HIP HOP)

11/04-LYON- LE SONIC

12/04-DIJON-FESTIVAL KILL YOUR POP
13/04-PARIS-POINT FMR (w/YOUNG DREAMS) 
14/04-PARIS-BRUNCH ACOUSTIQUE- LE LAPIN BLANC
17/04-CAEN-SECRET LOCATION
20/04-BORDEAUX-EL CHICHO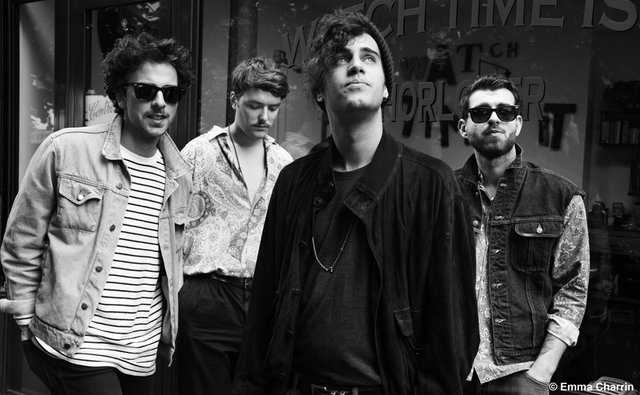 And here you are the first album "Young Love" in streaming on bandcamp for you :
What are the funds for?
So here you are the details of our needs. We actually need much more than 100% to create a fund for the summer tour but already 100% is a huge goal. 
SO here you are how we will spend the 3500 euros of the Ulule collect : 
Details for the album pressing and mixing :
Pressing Sunday Beast on colored vinyl :  1500euros
Mixing the Sunday Beast EP : 300 euros
Tour details :
Van rent : 1000 euros
Fuel and highway costs : 700 euros
About the project owner
FAQ
If you still have an unanswered question, feel free to ask the project owner directly.