OXIGENOA EUSKARARI 6000 METROAN ERE !
SOME OXYGEN FOR THE BASQUE LANGUAGE (EUSKARA) AT 6,000 METRES TOO!!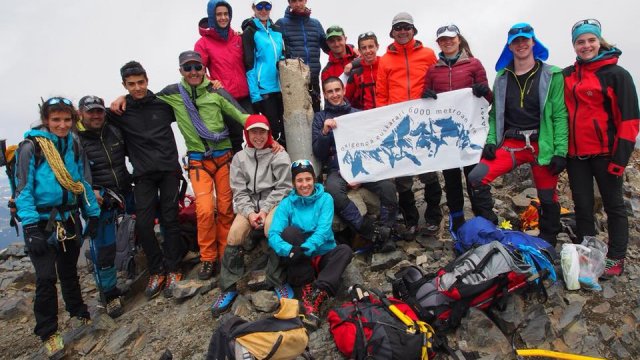 About the project
We are young Basques aged from 16 to 18 and we want to speak Basque on the "roof of the world". We are going to meet a group of 10 Sherpas who also speak a minority language which must be preserved and developed. So we have a common goal: discovery of another culture and sharing a human adventure in culture and sport.
The Basque language 6,000 metres high....
Speaking euskara on the roof of the world.....discover our language thousands of kilometres from the Basque country through a 29-day journey on foot on the outskirts of Mount Everest...putting euskara at the heart of our project both at the organisational level and the communication level...meeting young Sherpas who also have a minority language to preserve and value. During the weeks of walking we will establish links and each learner will learn 100 words of the other's language.
Meeting, solidarity, sharing, autonomy
Meeting and exchanging between young people 16-18 years old from all the provinces of the Basque Country and young Sherpas: discover their culture and language.Share a human adventure in culture and sport.
Collaboration and solidarity in the conception and realisation of this project.
From this expedition we will emerge stronger and more self-reliant. It is the opportunity for us to fight for a project and a cause which we really hold dear to our hearts: the development and dissemination of the Basque language, Euskara.
2010...oxygen for euskara
"Oxigenoa euskarari" started in 2010. It was created by the initiative of the Basque Commission of the Town Hall of Laudio (Alava province) and the association of high-mountain guides "Mendiak eta Herriak".
The initial objective was to foster the dissemination and use of Euskara among the young people from the Basque country in connection with the world of mountaineering.
2018...at 6,000 metres too
Today the project continues and is getting bigger. It is now for young mountaineers in the whole of the Basque country.
From now on we wish to :
Exceed the framework of the Basque country and and meet other mountaineers from across the world,
Share our culture, our language and discover other young mountaineers' culture and language too.
According to the budget we planned, there should be at least a dozen young mountaineers coming from all over the Basque country: Alava, Lower Navarre, Biscay, Guipuzcoa, Labour, Navarre and Soule.. We will join a group of young Sherpas with whom we will share this human adventure in culture and sport. Together we will organise the travelling and we are trying to find financial resources thanks to your help.
The members of the trip: Sherpas
Dorjee Gyaltzen, Ngima Nuru, Pemba Ongdi, Pemba Dorjee, Lhakpa Rita,Lhakpa Doma,
Dorje Tashi, Mingma Lhamu, Mingma Doma, Pasang Gantxi
The members of the trip: Basques
Felipe Uriarte in the origine of the project "some oxygen for the euskara", surrounded by young participants :
Eneko Arretxe, Enaitz Ibarguren, Jon Fonbellida Goitia, Unai Iturrieta, Iker Zubizarreta Ugarte,
Igor Mugarza, Gexan Garate, Eneka Sarria Muzica, Malen Osa Ansa, Amaia Ugarte Guridi,
Besaide Astobiza Sanchez, Maddi Oyhagaray Urmeneta.
"Since a very young age I have loved mountains and I often go for walks with my father. I have always dreamt of going to the Himalayas and that is why I find this project so interesting and enriching because on the one hand we will transmit the Basque language to the Sherpas and on the other hand we will learn their language That is why I have decided to participate in this project. I consider it an opportunity of which we must take advantage, I am very motivated to fulfill my dream." Enaitz Ibarguren
"This adventure will stay with us our whole life, walking in the high mountains of the Hymalayas for a month side-by-side with young Sherpas will be a rewarding experience for young people of our age. The trip will expose us to cultural diversity by meeting the Sherpas who speak a minority language like the Basque language. Finally this project will allow us to rub shoulders with wonderful natural landscapes, a dream for mountain enthusiasts like me." Eneka Sarria Muzica
"This project is very important for me. It will allow us to consolidate and share our language, Euskara, with the Sherpas for a month. On the other hand, it will allow us to discoverbeautiful places and villages as well as another culture In addition, a trek is something I have never done and takes a lot of work to organise. That is why I think we are very lucky to be able to participate." Gexan Garate
Our 29-day journey will cross Sherpa country from Kathmandu in Nepal :
Around Everest, Lhotse, Makalu and Cho Oyu, through the valleys of Imja, Khumbu, Gokyo and Thame.
Towards 3 peaks of more than 5,000 metres: the Koumala at 5,500m, the Tso La at 5,420m and the Lenjo La at 5,350m.
And.... at 6,000m .....on the Island Peak 6,187m and the Lobuje Peak at 6,119m by the East face.
Making a film
The expedition will be followed by Mikel Fernandez, director and cinematographer from Guipuzcoa. He has already followed young mountaineers during practice trips in preparation for the expedition. When returning he has planned to make a documentary including several themes which will be broadcast on a large scale.
Radio, TV, schools etc...
On our return we will present our expedition to primary and secondary schools in the Basque country and in town halls in order to share our discoveries and experience.
Already some local televisions have interviewed us and little by little we are letting the media know all about our trip.
Why?
Help us to take part in this adventure.
It is also to participate in an action to promote the use and dissemination of Euskara among young generations throughout the world.
How?
Thanks to a financial participation, we can have a sufficient budget for such an expedition which is our greatest challenge.
The whole expedition, the guides, the director, the cameraman, the logistics (hotel) are already organised. The young Sherpas are awaiting our arrival.
Already the association Mebdiak eta Herriak and our families are supporting us and for our part we are going to organise concerts and various activities.
We walked for a week in early July in the Pyrenees. Also, we did a circuit climbing up Posets (3,369m) and Aneto (3,404m) the two highest peaks in the Pyrenees. During this week we slept in shelters such as Angel Orus, Estos, Portillon and also La Renclusa. This was a sort of test to adapt ourselves to the weight of the bag, rigid footwear, crampons, ice ax and spending nights in shelters.
What are the funds for?
About the project owner