Hezad - Microsongs EP
14 titres, 14 illustrations, un vinyl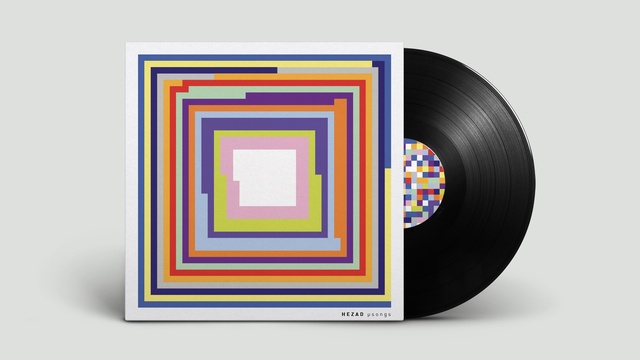 About the project
Microsongs, c'est un EP de 14 titres, pressé sur vinyl, et accompagné de 14 (magnifiques) illustrations d'artistes différents.

Pourquoi 80 préventes seulement si le vinyl est pressé en 100 exemplaires ?
Parce que 15 exemplaires sont réservés aux personnes qui ont participé gracieusement à ce projet, qu'ils soient illustrateurs ou graphistes, et que je me permets de garder 5 exemplaires pour en avoir au moins un pour moi, et 4 pour d'éventuels besoins futurs de communication.
Possible d'avoir un aperçu de la tracklist ?
Mais mieux que ça, voici carrément toute la tracklist !
1 - Apex
2 - An Entity
3 - A Better Sight
4 - Canopy
5 - Retrofutur
6 - Four Chords For Astor
7 - Skylines
8 - What was that ?
9 - Drum and Grass
10 - Asking for a favour at the worst time
11 - Liars
12 - Crawlers
13 - Centipede
14 - The last one

 
Et euh ... Un aperçu visuel et musical ?

Mais oui ! Hugo de Faucompret a produit un mini-clip pour le morceau Drum and Grass, que vous pouvez découvrir ci-dessous.

Antoine Antin a produit une boucle animée pour le morceau Asking for a favor at the worst time que vous pouvez découvrir ci-dessous :



Hum ok, ok. Autre chose ?

Oui ! Si jamais l'envie vous prenait de jeter une oreille à mon "carnet d'esquisses" musical, vous pouvez aller faire un tour sur mon Soundcloud, mais je ne suis pas sûr que ce soit ultra représentatif de l'EP (Quoique ...)


Remerciements et crédits
Beaucoup d'amis se sont impliqués dans la production de cet EP et je tiens à les remercier du fond du coeur pour leur temps et l'honneur qu'ils m'ont fait en acceptant de participer à ce projet :
Thomas Pons
Bruno Wennagel
Stéphane Micol
Julien Rossire
Jocelyn Gravot
Julien Chheng
Colin Caradec
Yuko Kakizawa
Hugo de Faucompret
Antoine Antin
Oussama Bouacheria
Noé Varin
Ulysse Malassagne
Djilian Deroche
Julien Chapat
Une mention particulière à Antoine Antin et Hugo de Faucompret qui ont poussé leur implication au delà de tout ce que j'aurais pu espérer en produisant des clips animés à partir de leur illustration et à Julien Chapat pour le concept de la pochette et toute l'aide qu'il a apporté dans la réalisation du design final.
What are the funds for?
Les préventes vont permettre de financer le pressage du vinyl en 100 exemplaires et les impressions des illustrations ainsi que de la pochette.
About the project owner
J'ai sorti une première démo il y a une petite dizaine d'années qui n'existe plus aujourd'hui mais qui peut encore se trouver dispersée ici et là sur le web (The finnish sunset). J'ai aussi eu le plaisir de jouer dans plusieurs groupes rouennais dont Paperplanes. Entre temps, j'ai continué à enregistrer des morceaux à la maison et je suis aujourd'hui l'heureux beugleur de La Pègre Douce.
Vous pouvez me retrouver sur :
FAQ
If you still have an unanswered question, feel free to ask the project owner directly.