Green Gifts: Movement built by the ZW community
Make an Impact by not making an Impact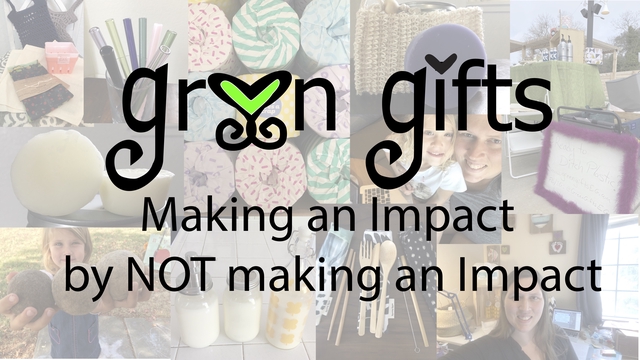 About the project
👀 Look around, at your house, community, environment. Do you see any waste?
Ever thought, this is just too much?
The idea of getting your household's annual waste down to a single mason jar seems like a ridiculous endeavor to most people. But millions of people are already putting out their curbside trash bins half as often (or better!) just by making small adjustments to their consuming habits.
More importantly, those people are sharing their advice and progress with others and creating a ripple effect of awakening to the serverity of our waste problem. There is also a whole new and exciting sector of manufacturers and retailers coming to life in our society. The term used to describe the trend is "Zero Waste", hijacked from industrial practices. For most it mainly means to limit SUPs, single use products, those that are designed to be used for a very short time, sometimes seconds, then discarded.
💪 How are we tackling such a large issue? Hopefully, with everyone's help.
We are creating an e-book that will combine the advice and inspiring stories of at least 50 contributors that are already making huge strides in the Zero Waste Movement. We are creating community through
Online groups
Webinars
Coaching and other resources
These are the first steps, meant to get as many people as possible engaged, the next steps involve real physical action. We will have a second campaign meant to support all the existing Zero Waste retailers, manufacturers and artisans, encourage new small businesses to be created and provide real and convenient resources to communities all over the US. We will introduce you to your local shop through a nation wide tour, and document it with a web series.
📖 Why do you need this e-book?
This e-book brings together the advice and unique stories of 50+ contributors in the Zero Waste movment from shop owners, manufacturers, artisans, academics, bloggers and influencers from all over the country, many of whom may be in your own community! You will get an inside look of their discovery of the Zero Waste Movement, their journey and their struggles. It will include how to connect with them and learn more.
E-book VIP
This is an advance copy of the E-book and access to exclusive content including monthly updates, previews. For example: you will get more indepth interviews with the book contributors, behind the scenes videos of the development of HQ and the tour. Any time we hit a major development or milestone, you will be the first to know.
Webinars and Coaching
If you are ready to step up your Zero Waste game, our webinars and personal coaching are a great way to gain additional knowledge, learn useful DIYs and home hacks, hear from industry experts and discuss current challenges. An email poll will go out in March to all those that have opted to take part in workshops to ask for best dates/times and the content you would like to focus on. Webinars will begin in April and will be monthly, but may be split into two or more sessions to manage attendance so that participants have a chance to ask and get answers to questions. There will also be follow up emails within 48 hours of each webinar with useful content, action items, surveys and additional answers to questions.
The one-on-one coaching is very customizable, we will focus on the topics you are struggling with. The goal will be to help you reduce your household's waste by at least half and to help you discover ways to also help your community.
What are the funds for?
1️⃣ Phase one funds are going to be put towards the creation of the e-book, hiring a team (assistant, accountant, lawyer, graphic designer and marketing manager) and to secure a space that will be known as HQ for these efforts. It will have products for purchase, displays and loads of info on waste reducing services, workshops, lectures and installation art. It will be the place you come to learn what this movement is capable of.
2️⃣ Funds will also be used for marketing phase two, the real disrupting force.
About the project owner
I'm Stephanie, founder of Green Gifts, a local zero waste household products delivery service operating in Sacramento, CA. I started with just wanting to help my neighbors reduce their plastic consumption, but as I started researching what other similar retailers were doing around the country, I found we all had the same hurdles. It is now my mission to address those hurdles for all of us. Marketing and distribution are two of the biggest. I have spent most of the last year networking with amazing retailers and manufacturers. We all have unique stories and a ton of knowledge to share.