Gperc
The Missing Link Between Guitar and Percussion
About the project
Hello,
I am Frédéric Riedel, guitarist and inventor of what I like to call a new musical concept, the Gperc.
Gperc ? What is it ?
Gperc... Percussive Guitar... Percussion Guitar... Guitar Percussion...
Gperc is a percussion for electric guitars. Gperc is a removable plate attached to the upper part of the guitar. It is adapted to the standard guitar playing, and strumming techniques used by guitarists. It is designed to play guitar and percussion at the same time.
View of the Gperc installed on a Tom Launhardt TC61 guitar.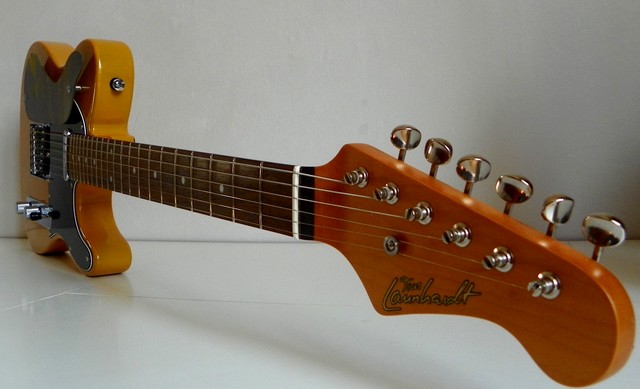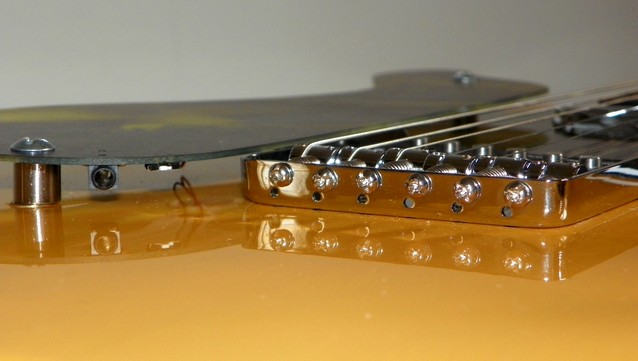 How does the Gperc work ?
The guitar player's right hand hits, and rubs the Gperc plate that provides a natural sound close to percussion sounds such as congas, djembe, bongo,...
Gperc provides a natural percussion sound. It is the result of the percussion plate vibrations captured by a piezoelectric pickup. That piezoelectric pickup has a volume control, and a separate output. The Gperc can have its own volume level and is routed through its own effects chain and amplification system.
Front view of Gperc.

Back view of the Gperc.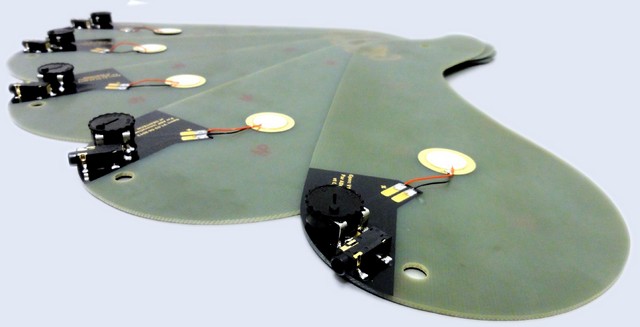 View of the Gperc piezoelectric pickup.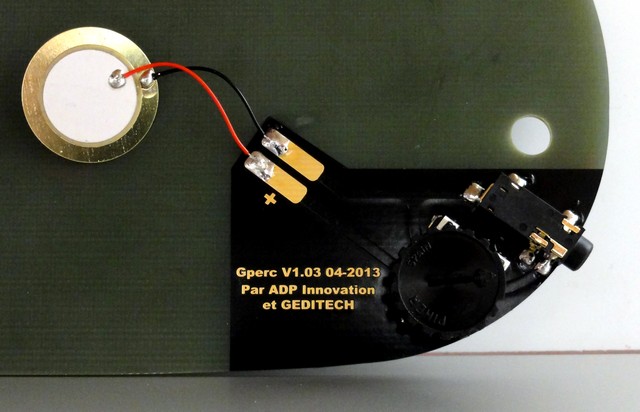 View of the separate output of the Gperc.

Gperc does not involve any simulation nor any percussion sound samples of any sort.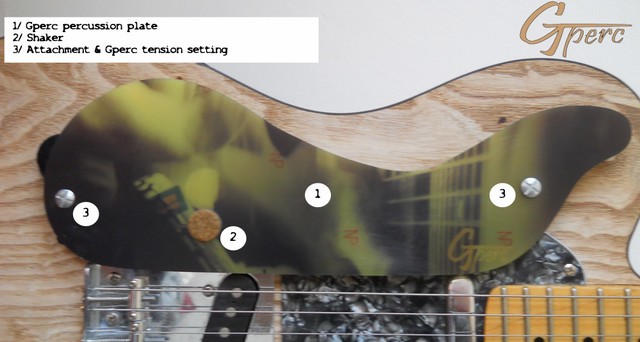 Gperc, how does it sound ?
Well, a video should speak louder than words... And two videos are better than one !
Blues demo of the Gperc
Rocafrique by Frédéric Riedel
Gperc doesn't require the highest guitar skills to make some cool percussion sounds that will liven up the guitarist's rhythm playing. The adjustement period is short.
Every guitar player can develop his own way to play the Gperc.
Some Gperc playing techniques.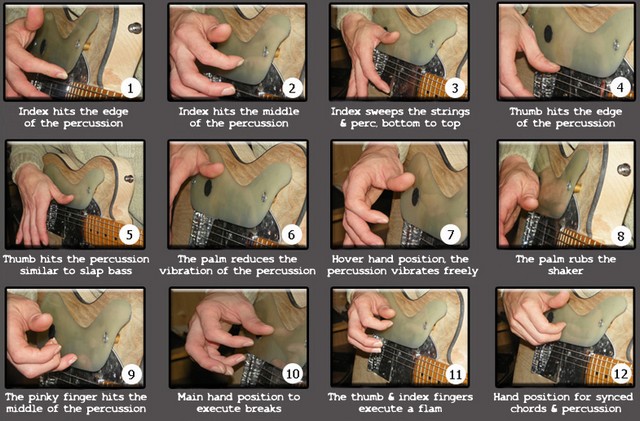 The Story behind the Gperc
Want to know more about how Gperc idea was born ? Clic the spoiler link below.
As so many ideas, the Gperc idea was born by accident. A few years back, I attached a resin plate to my guitar to facilitate some guitar playing positions. While playing guitar that way, I stopped many times because of a weird noise. I kept thinking "That's funny ! It almost sounds like someone is playing maracas with me !"
That's how the Gperc idea popped out...
From that point, I started to experiment different materials and shapes to build a functional prototype. I've had the chance to hand the Gperc prototype to several guitar players for testing purposes. That lead me to believe that the Gperc can open up new musical horizons for many guitarists around the world.
With that in mind, I asked my brother, Pascal Riedel, to help me identify, and contact industrial partners, and artisans in order to bring the Gperc to life. 
What are the funds for?
The funds will serve two purposes.
A/ Production of the first batch of Gperc V1
Part of the funds will be used to launch the production of the first batch of Gperc Version 1 kits for electric guitar (Stratocaster and Telecaster body shape styles). The Gperc kits production from the plates processing to the electronics wiring will be entirely made in France.
B/ Research & Development : future versions of Gperc
The other part will be used to start a research and development process in order to make two other versions of the Gperc, and the evolution of a future enhanced version. These goals are described below.
B.1/ Developing a more flexible attachment system.
As is, Gperc is removable but it is attached to the guitar with a pair of threaded-inserts. We think about guitar players who would like to have a Gperc with a more flexible attachment system that doesn't require threaded-inserts. We've have tested many solutions but we have so many more to try before satisfaction.
B.2/ Developing a Gperc version for Les Paul body shape type of electric guitars.
The current version is perfectly adapted to the Stratocaster, and Telecaster types of guitars. But Les Paul body style has some constraints that require some research in order to adapt the Gperc system to this type of guitars.
B.3/ Developing a Gperc version for acoustic guitars.
Many guitar players asked us for this. As is, the Gperc is not directly adaptable on acoustic guitars because of the resonating chamber of the body. So, in order to make a Gperc for acoustic guitar we have a lot of research, and prototyping to do.
These goals require a considerable amount of research, and prototyping. The more funds we will collect, the more comfortable we will be to quickly find solutions... And to develop so many more versions of the Gperc. 
About the project owner
The Gperc project already involved several people...
Frédéric Riedel, guitarist and inventor of the Gperc. I found a lot of support from the following people...
Pascal Riedel, my brother, who helps me to bring the Gperc concept to life on the development, production and commercialisation aspects through ADP Innovations,
Alek Baral, sound engineer, who is here from the beginning of the Gperc by bringing unlimited moral, and intellectual support.
Elise Hauters of CPM Industries who helped us with the research on the Gperc attachment system.
François Lefèbvre of GEDITECH who helped us for the Gperc plate processing, and to optimize the Gperc electronics.
JAPG who helps us with Gperc related real life events.
Sémi Souames who had the idea of a crowdfunding campaign and helped us to design it.
Thanks to Jacques Carbonneaux (journalist/guitarist), Brice Delage (guitarist), Kevin Seddiki (guitarist/percussionist), Maurice Dupont (luthier), Sébastien Gavet (luthier), Farid of Club W for the first sound tests in a real venue, and every guitar players we've met here, and there. All of you showed enthusiasm as well as a lot of healthy questioning about Gperc. This matters a lot for us to advance the project.
Thanks to all the future contributors who will help me to bring Gperc to the world. Together we are about to push up the boundaries of electric guitar.
You can also find us here :