Good Morning ! Warm-ups - tome 2
A sketchbook by Antonin Gallo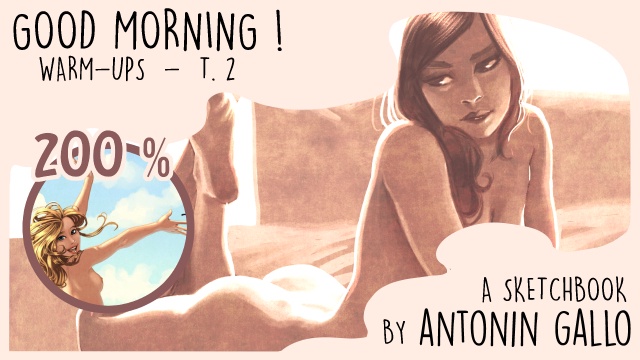 About the project
What are the funds for?
The formula changes a bit, for the best i guess, but it still the same stuff and the main features : Basically a comicbook-sized-120 pages sketchbook/
Oooh what a beautiful cover page blank. Duh ?
It looks like a scam ?  Don't walk away, I'll tell you why. It'll have a pretty book jacket, with a pretty illustration on it. It'll be so nice hung on the toilets door !
There's a pledge to have your blank cover and back cover painted by myself.

In addition to the inevitable goodies such postcards, bar coaster, posters and others bottle openers, there will be some great surprises if we exceed the original 100% target. "Stay tuned" as we say in France when we try to appear cool (oh come on, English people also use some french expression...).
(Yeah, we call this pie chart a "camembert" in France and "binouze" is a colloquial term for "beer")
And free international shipping !
About the project owner
Antonin Gallo (also known as Monsieur To) is a French illustrator and comics author who works essentially for enterprises. He doesn't speak English very well but won't apologize because he's a froggy. Compared to one year ago, his hair is cut off to smartly hide he has started to lose it.
Facebook page : https://www.facebook.com/Antonin-Gallo-Monsieur-To-101601295628/
(Don't trust social media picture)