GLOBE TROUTTER New Zealand - Aotearoa
Beautiful book on fly fishing in New Zealand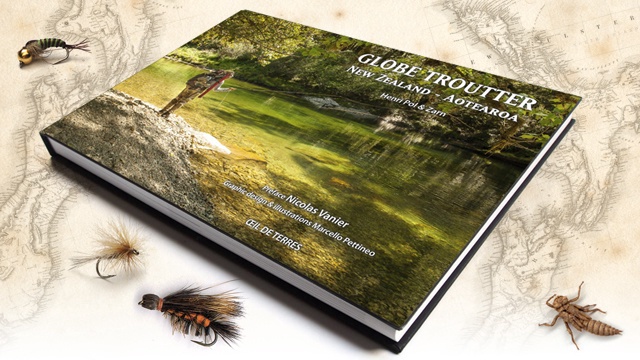 About the project
""" AVAILABLE ON """
http://www.zw-fishing.com/index.php
THE BOOK
"This book is a magnificent hymn to nature and a place full of wild fish and rivers." Nicolas Vanier
Zarn (Patrick Martin) is a true "catch and release" fly fisherman and a globe trotter. He spends several months each year in New Zealand.
For a long time, I had the desire to accompany Zarn, my friend of 30 years, to follow him, as a non-fisherman, along the rivers of the world. We shared many things in our life but never had we went so far and for so long… NEW ZEALAND: The end of the world seen from our little corner of France. I have always dreamed to visit the most remote countries. I was not disappointed!
Soon after our return, while mixing my pictures with his own, we came to share these poetic moments of nature, fishing, passion and friendship all combined in a beautiful book.
With this book, we take you with us to the South Island of New Zealand, along crystal-clear rivers to fish in a lush nature between lakes and tree ferns, a dreamy setting. We also share with you the sweetness of our bivouacs, in immersion in these landscapes of Eden.
Our encounters with Marcello Pettineo, who carries out the original artwork and illustrations, and Nicolas Vanier (adventurer, writer, director) who signed the preface, were instrumental in publishing this beautiful book which looks like a travel diary, with fishing and with Zarn as a travel guide. We are very pleased with the result and this fishing book is unlike any other.
"Following Zarn, Henri Pol captured the symbiosis of the landscape and the fisherman. He understood that fly fishing is a difficult, demanding, but exciting art. By sharing these unforgettable moments, he offers us the rare gift of a talented eye full of poetry and friendship." (From the Preface by Nicolas Vanier)
NOT JUST A BOOK ONLY ON FISHING
By our desire for aestheticism, this book is not only aimed at fishing enthusiasts. The choice of images, naturalist drawings and short texts will seduce all those who enjoy, like us, traveling and travel books, beautiful books…
ABOUT THE BOOK
The book is bilingual: French - English. Texts, legends and preface are translated in both languages.
The book, printed with the help of Escourbiac, France (a true reference in the "Beautiful Books" industry), will have 160 pages with about 200 color and black and white photographs, including many full pages and double pages and twenty original drawings by the famous naturalist, Marcello Pettineo. We chose an Italian format, 30x20 cm. It will be printed on matt coated paper 170g / m2 with a hard cover. Escourbiac has the "ImprimVert label" and uses PEFC paper sourced from sustainably managed forests.
In summary:
 Format: 30x20 cm
 160 pages
 Over 200 photos
 More than 20 engravings
 Text in French & English
A FOREWORD BY NICOLAS VANIER
"All this and more are translated it into images by Henri Pol, the poet photographer who followed the fisherman step by step without weakening despite his heavy equipment and sometimes twelve hour treks to reach rivers that are rarely seen"Nicolas Vanier
Nicolas Vanier (French adventurer of the polar circle, writer, director) is also a fisherman. We came across him through our mutual passion for fishing and photography. The attaching character of Nicolas quickly made us forget his world-renowned status in the adventure world. One thing leading to another, we quickly became friends.
When we pitched him with the first iteration of the book, he immediately joined our project and he did not hesitate for a moment when we asked him if he could write us a preface. That was the icing on the cake.
THE BEGINNING OF A COLLECTION
most crazy dream, after having experienced this tremendous adventure whether in the journey itself or in the making of the book, is to continue the adventure. Pick another destination and come back with a book in the same concept (photos, drawings) as a sequel to it. Thus, the GLOBE TROUTTER collection will be enriched with additional books to collect our future adventures in and around, the remote rivers of the world. All future books in this collection will be titled GLOBE TROUTTER subtitled by the country of destination.
Participating in the financing of this first GLOBE TROUTTER - New Zealand - Aotearoa is also giving us the motivation to start this collection of rare books.
"Quickly left Christchurch, on the road that takes us to the interior of the island, and already the panoramas succeed one another. Already space, already this mythical light... and already, nature. A music will now be present every day: the song of the water. A sensation was not going to leave us during this stay: freedom. »Henri Pol
WHY AUTO EDITION?
Our personal experiences with publishers and their conditions have led us to think about an alternative mode of operation.
We wanted to live our project and this adventure fully, choosing ourselves our photos, the layout, and the concept. We wanted to tell our journey in our own way as we sometimes do at our interactive exhibitions or screenings.
The concept of Ulule allows us to produce a beautiful book, independently and free to make our own choices. Although it is different than going through a publisher, we have a unique capacity for dissemination. The choice of translating the texts into French and English increases our publishing and circulation capacity.
What are the funds for?
The objective of 300 books allows us to finance the printing but we will have to finance ourselves the counterparties and the various expenses (shipping costs, Ulule's commission, translation of texts, communication).
If the target is exceeded, we will increase the number of prints.
Any profits generated from the sale of the book will be invested in our next destination.
Zarn and Henri Pol are part of the collective of photographers Œil de Terres. It is through this association, ruled by the law of 1901, that the authors will carry their project to manage the budget. Œil de Terres is also the name chosen for this auto edition.
A SPECIAL PRICE FOR FIRST SUBSCRIPTIONS
We offer a 5 € discount to the first 200 subscribers, offering the book at 47 € instead of 52 €.
SPECIAL EDITION AND LIMITED EDITION
For subscribers and collectors who want to have an individualized book we offer 2 choices:
- A Luxury Edition: limited edition to 100 numbered copies with portfolio and reproduction drawing in a canvas box. Copies signed by the authors.
- A Special Edition: special edition with a customized binding crafted by Isabelle Coorevits, famous art-bookbinder. Edition limited to 10 copies numbered from 1 to 10 and dedicated. 
YOUR NAME IN THE ACKNOWLEDGMENTS 
From 100 € your name will be included in a reprint of acknowledgments that will be delivered with the book.
For the counterparts of 2000 euros and more passed before October 31 the logo of the company and the thanks will be in the book.
UNIQUE OFFER
Zarn offers a subscriber, and only one, a bamboo fly fishing rod realized and signed by him.
Offer limited to a single.
AND MANY OTHER COUNTERPARTIES 
RESERVED FOR OUR INSTITUTIONAL PARTNERS OR PRIVATE UNDERTAKINGS:
 An original way to prepare your gifts customers in a participative approach for a cultural project and possibly profit from the tax advantages related to sponsorship and sponsorship.
 For 2000 € TTC they will receive 60 copies of GLOBE TROUTTER + 2 books in their luxury box signed and numbered + their name and logo in the pages of thanks.
 For 3000 € TTC they will receive 100 copies of GLOBE TROUTTER + 2 books in their luxury box signed and numbered + their name and logo in the pages of thanks.
CHOOSING YOUR COUNTERPARTY
A SELECTION OF NATURALISTIC IMAGES AND DESIGNS FOR COUNTERPARTIES
Some counterparties offer photographic prints of Henri Pol and Zarn and drawings (reproductions or originals) of Marcello Pettineo.
Here is your choice. Note the reference of the image and click on its reference in the chosen counterparty.
PICTURES :
DRAWINGS :
"The drawings in progress will be updated on this page as they are completed, and well before the end of the subscription"
Study N° 372 New Zealand brown trout, the first of the three original drawings of the book Globe Troutter which you can acquire in one of the counterparties of the project in original but also in limited edition 1/15 print signed by the artist. It will also be referenced on my website with my other drawings for those who wish to acquire later on this project.
Study N° 373 New Zealand rainbow Trout, the second of three original drawings from the Globe Troutter book that you can purchase in one of the counterparts of the project in original but also in limited edition 1/15 signed by the artist. It will also be referenced on my website with my other drawings for those who wish to acquire later on this project.
Study N° 374 Flyfishing New Zealand, the last of the three original drawings of the book Globe Troutter that you can acquire in one of the counterparties of the project in original but also in limited edition 1/15 edition signed by the artist. It will also be referenced on my website with my other drawings for those who wish to acquire later on this project.
PANORAMIC :
POST-SCRIPTUM
NEED A PERSONALIZED DEDICATION ? DO NOT HESITATE TO SEND YOUR TEXT BY MAIL .

IF THE SALES OBJECTIVE IS REACHED THIS BOOK WILL BE AVAILABLE BEGINNING DECEMBER, A GOOD GIFT IDEA FOR CHRISTMAS  :-)
About the project owner

ZARN

Zarn (Patrick Martin) is an alien, a real one. He is a poet. A photographer. An adventurer. A fisherman. A traveler. A free man. A mad man.
In a world increasingly driven by money and selfishness, in a world where normal people spend their time making concessions with their dreams, giving up little by little on what they truly love, by reason, calculation or necessity, he does the opposite. Completely the opposite.
He follows and pursues his dreams, without any second thoughts, without restraint. Some give their bodies to science, he gave his life to fishing.
Let's face it, we are many to envy his freedom, his wonderful trips, but let's be clear: satisfying his passion does not come without concession… and it comes with a price - his summer months are spent working relentlessly so he can afford to travel. The long distance. And the loneliness, no doubt.
No, there is nothing easy about these expeditions and the life choices they involve.
And all this for what? Basically, to fly-fish in some of the most beautiful places in the world, because for him, this is an essential component of his life.
What motivates him, of course, is fishing. The most beautiful fish. The biggest. The rarest. The wildest. The farthest. These are the ones he wants. But the fish would be nothing without the setting. The roadsides, the reservoirs, the overfished spots, the technicalities of fishing, he left all of them to us, with a big smile.
Zarn - what he truly loves - is space. A desire for an active fishing, walking upstream, of an endless river, on an Earth where only the will of the fisherman, or the need of contemplation, could interrupt its progression. Large or narrow, mountainous or peaceful, on these waters, happiness is always a just a turn further, and the pleasure of catching is no greater than that of discovery. A real space-devourer, a franchiser of scalpels, of unmarked passes, here is our man!
Relentless, one must be when the wind builds-up, and you must push a few more kilometers to see this tiny little tributary hidden behind the next hill. How many of us would you do it, after fishless day, looking a snow-tinted water, in the rain, with the vehicle already so far downstream?
One must see him getting excited looking at a map, exploring different access points to a last valley surrounded by a thousand-year-old forest, planning the time necessary to cross these few kilometers separating him from happiness. Prepare the bags. Fold the tent. And go! Give yourself the chance to meet with the unknown. Going on foot, pushing the door of our reality and immerse yourself with nature, find unchartered water and catch fish today as wild as they were thousand years ago.
Yet Zarn is not a solitary man. Quite the opposite, although he has passed the age of wanting to be friends with everyone. Generous to those who sincerely share his passion, he is sometimes disappointed and does not really appreciate those who divert fly fishing from his original spirit and simplicity, like some magazines or retailers. A free man.
He very naturally and solely practices "catch and release". But how could it be otherwise when one loves trout as much as he does?
Nicolas Pariset
HENRI POL
It was during his adolescence that Henri Pol (Henri-Paul Chabal) discovered poetry and photography.
Poetry has long been his favorite medium of expression and he still has a great passion for Arthur Rimbaud, his work, his life, as well as for Jim Morrison. Henri Pol has published several collections under different names.
He likes to immerse himself in a disjointed novel, depicting an adventure or a dark story with edgy characters. He also loves biographies of 20th-century artists, stories about adventurers and admires "gonzo" journalism.
Declared photographer since 2005, he puts away the pen and his dictionary of rhymes with the will to put poetry in his images. He particularly likes human photography that carry a message (exhibition "Abandons et Héritages", 2009). But he can also get excited about a place, objects, or nude photography. He does not restrict himself in anyway. Provided there is a note of poetry in the image!
In 2011, he published "Poste Restante" (Ed. La Fontaine de Siloé) and participated in several publications.
His travels took him from the West Indies to Morocco, passing through Albania and Cameroon where he participated in a charity mission of international solidarity. Because of his old and strong friendship with Zarn, he had to go, with him, to the end of the world, in New Zealand.
Henri Pol is not a fisherman but he is attracted to this world made of passionate characters, like Zarn. Following his friend through the rivers, experiencing with him the excitement in the fight and the beauty of the release, sharing the camps and the lights of the world is a real pleasure for this photographer who knows how to disappear, to capture the emotion of the moment.
Henri Pol is a founding member of the collective of photographers Œil de Terres.
MARCELLO PETTINEO
Inspired by the journeys of the great naturalist artists of the past, and influenced by the ambiance of the cabinets of curiosities, the naturalist studies of the artist are displayed as pages of a gigantic travel notebook.
His passion for drawing, nature and fly-fishing has taken him from Mongolia to Canada, Montana, the Caribbean, Seychelles, Lapland, Argentina, ...
His first contact with the African continent, specifically - the Central African Republic – that has awakened in him, the need to be involved for the animal cause.
During that time, he discovered, and drew, little-described species such as the Derby Elk and the bongo. In Congo, the encounter with the Mondika gorillas will only increase his awareness and it's in Tanzania that he discover the fragile balance between the herds of nomadic peoples, the felines and the large herbivores that live near Lake Natron.
He supports the "Cheetah for Ever Association", where he serves as an ambassador for the emblematic cheetahs of Masai-Mara, and "Tikki Hywood Trust", which relentlessly works to save the pangolins from an announced disappearance, "Helpsimus" for the protection of the great hapalemur of Madagascar, and most recently, the "Doli Association" for the preservation of the elephants of Central Africa.
The drawings he makes when returning from his travels will become the main object of his expeditions. He offers us with a timeless vision, drawing his inspiration from the work of the great naturalists of past centuries, the firsts to observe the diversity of life on Earth. In doing so, his art raises questions about the negative impact that humans have had on nature, in such a short time. www.marcello-art.com
  JOIN US ON OUR GLOBE TROUTTER PAGE