Generation Y
The self-published manga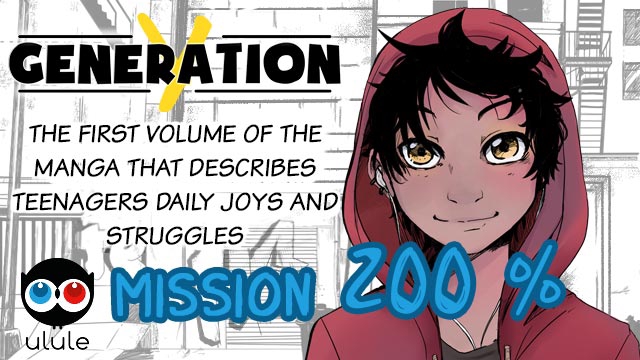 About the project
Victim of bullies during his childhood, outraged by the inaction of adults, Yamato vows to protect the most vulnerable people from this sometimes cruel world.
Generation Y is a manga that narrates the concerns encountered by teenagers in their daily lives.
From cyber bullying to communication issues between parent-child, a wide range of topics is covered.

Follow Yamato and his friends and let yourself be moved by their encounters!
The book and rewards will be sent around August 2020, except for the people who took the original drawings, which will delay the sending.
In addition to the book, you can collect goodies with a Generation Y theme. Here is the list:

The Victorious Victim metal pins :

This 4.5 cm wide golden plated metal pin is the same as the one worn by the members of the group created by Yamato.
It is noted "Victorious Victim" and symbolizes the ascent after a moral or physical shock.
There are only 50 copies and will therefore be offered to the first 50 contributors from 15 euros.


The ex Libris :

It will be printed in A5 format and numbered. Visual in progress

The sketchbook :

This counterpart brings together the preparatory sketches of Generation Y. Some are over ten years old!
It is 46 pages long and is printed in black and white on ridged paper.

The acrylic standee :

It is 14 cm high on a base of 10 cm. This product is collector, since there are only three copies!

The majority of you will have heard about my manga on an online reading platform.
So, you will ask me, why pay for something that is available for free on the internet?
Here are some answers:

1. To support the author, of course !This is the main utility of this ulule campaign. I try to live from my art while leaving it as available as possible, and it is a very precarious balance. So don't hesitate to encourage me if you like what I do.

2. For the bonuses : Several bonus pages will be exclusive. The pages are also reworked, and sometimes a few pages are added to a chapter, when during the proofreading I see that the understanding would only be better with it.

3. For the goodies : Some goodies are only available through this campaign.

4. For the book: it's still better when you can hold it, feel it, rub your face on each page, right? (what do you mean, "I'm weird"?)

Here, I hope I have convinced you! Thank you for your future support and sharing!

What are the funds for?
The requested amount will mainly be used for printing the manga in professional quality.
As I started posting on international sites, it will be printed in French and English.
The shipping costs are includedin the contribution for Belgium and France, but calculated during the confirmation of your order if you come from another country. If you're from another country but you can pick it up during a convention, take the shipping option France or Belgium and leave me an explanatory note.

Part of the funding will be used to produce goodies (enamel pin, ex libris) and to run my first stand at Dokomi in Germany, and a semi-pro stand at Japan Expo in Paris. I also plan to do a lot of canvassing in several bookstores, which will generate costs. Your help will be invaluable for this self-published book to gain visibility!

There is also the Ulule fee (8%) and the small percentage that remains will cover the paypals fee for those who will use it.

In summary :
About the project owner