Frida e(s)t toi : le livre
Portraits de femmes, inspirés d'un cliché de Frida Kahlo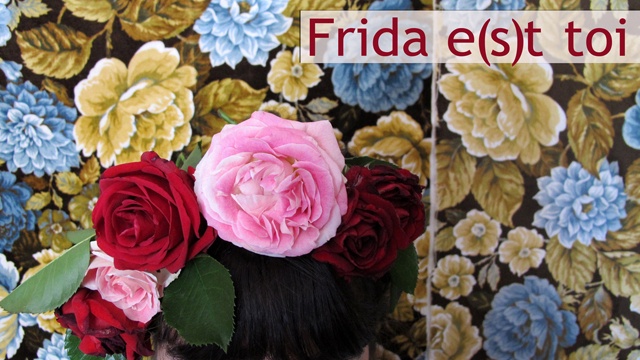 About the project
Frida e(s)t  toi : Une exposition photographique en parallèle de la création du spectacle ON DEMANDE DES AVIONS ET ON RECOIT DES AILES DE PAILLE, un solo autour de Frida Kahlo, interprétée par Christine Serres, comédienne et metteur en scène de la Cie Groupe 18.
Frida Kahlo a toujours été intimement liée au portrait, aux autoportraits. Dans son œuvre, c'est par leur biais qu'elle se révèle. C'est pourquoi Christine Serres m'a choisie pour réaliser une série de portraits de femmes, inspirés du cliché (ci dessous) de Frida (signé par Nickolas Muray).
Pour ce travail, mené de janvier à septembre 2017, j'ai photographié une soixantaine de femmes, de tous âges, de toutes couleurs. J'ai demandé à chacune d'elle de me révéler sa part de « Frida », le temps d'une mise en scène, dans son décor de lumière naturelle, et parée d'accessoires personnels. Une aventure extraordinaire !
Sont exposés, jusqu'au 07 janvier 2018 - à l'Espace Dantza 19 rue Bourbaki 64000 PAU - 21 portraits imprimés sur tissu format 40x60, et 43 portraits présentés dans un bel et grand album.
Frida Kahlo - photo Nickolas Muray
What are the funds for?
Afin de garder une trace de cette aventure humaine extraordinaire, cette prévente en ligne permettra la parution, via un imprimeur, de 120 livres photos couleurs au format A4 paysage - 100 pages - contenant tous les portraits de ces femmes façon Frida Kahlo plus une sélection de photos d'ambiance. L'envers du décor de ces moments de rencontres.
About the project owner
Originaire du Béarn, et vivant à Pau, j'ai toujours avec moi mon appareil photographique depuis l'âge de 15 ans. L'image est mon moyen d'expression, mes mots à moi. Sans thème prioritaire ni techniques particulières, je saisis l'instant dans un transfert d'émotions. Christine Serres m'a proposé de "faire des portraits de femmes révélant leur part de Frida" - en parallèle de la création de son spectacle autour de Frida Kahlo. N'ayant jamais réalisé de portrait mis en scène, j'ai accepté de relever ce défi. Ce face à face avec l'humain, les regards de toutes ces femmes m'ont beaucoup inspiré . Ces "moments de portraits" reflètent de magnifiques rencontres émotionnelles que je souhaite partager à travers ce livre retraçant ce projet.
Valérie Toulet photographe et Christine Serres comédienne et metteur en scène - Cie Groupe 18
FAQ
If you still have an unanswered question, feel free to ask the project owner directly.