Frida e(s)t toi : the book
Portraits of women, inspired by a photograph of Frida Kahlo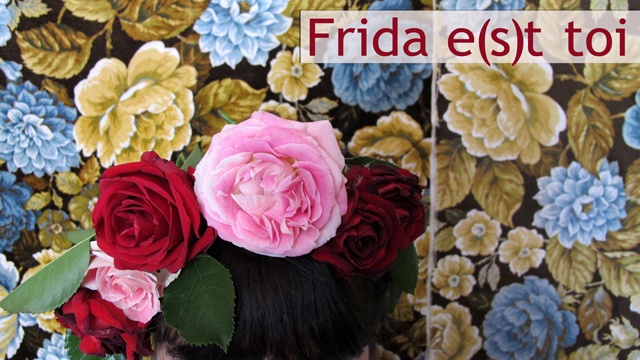 About the project
Frida e(s)t  toi:  A photographic exhibition in conjunction with the play ON DEMANDE DES AVIONS ET ON RECOIT DES AILES DE PAILLE, (WE ASK FOR AIRPLANES AND ONLY GET STRAW WINGS) a one-woman show about Frida Kahlo, performed by Christine Serres, actor and director of the Groupe 18 Theatre Company. Frida Kahlo has always been intimately linked to portraits – self-portraits. And when we look at her work, it is through them that she revealed herself. It's for this reason that Christine Serres chose me to realise a series of portraits of women inspired by a renowned photograph of Frida (see above, by Nickolas Muray).
Over the course of 9 months, from January to September 2017, I photographed over 60 women of all ages, and all colours. I asked each of them to reveal their « inner Frida » just for a moment, in their home environment, with natural light and their personal accessories. An extraordinary adventure!
ON show until 7 January 2018 at l'Espace Dantza 19 rue Bourbaki 64000 PAU - 21 40cmx60cm portraits printed on canvas, and 43 portraits presented in a splendid and spacious album.
What are the funds for?
In order to keep a record of this incredible human adventure, this online presale will enable us to publish a book. 120 will be printed in total, A4 landscape format – 100 pages – with all the portraits plus a selection of behind the scene shots showing what's just beyond the frame and capturing special moments
About the project owner
I've had a camera with me ever since I was 15, and my means of expression is through images; they're my words. Without any specific theme or particular technique, I endeavour to capture the moment in a transfer of emotion.  Christine Serres asked me to "take portraits of women showing their inner Frida" – in conjunction with the creation of her one-woman show about Frida Kahlo. Having never taken any staged portraits, I accepted the challenge...These face to face encounters, the expressions of all these women inspired me greatly. The portraits reflect the remarkable emotional encounters which I want to share through this publication.
Valérie grew up in the Béarn area, and lives and works in Pau, southwest France.
Valérie Toulet photographer and Christine Serres Actor and director - Groupe 18 Theatre Company.
translate : COACH BEAN