Free To Air
Eco-friendly clothing - Designed & screen-printed in Belgium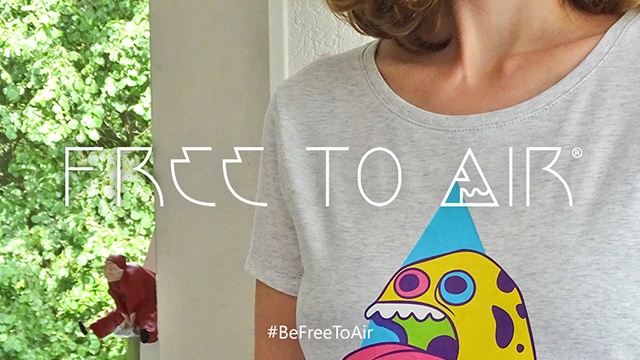 About the project

Welcome to the crowdfunding page of Free To Air.
Free To Air is a feeling, an idea, a vision, but most of all it's a project.

And the aim of this project is to create a Belgian clothing brand for women and men, which is eco-friendly and produced in a fair manner. Free To Air will offer quality products that are screen-printed and embroidered in Belgium such as t-shirts with original visuals, polos, bags and accessories.





Free To Air distinguishes itself through quality, through its ecological and responsible approach but also through the fact that by offering color variationswomen and men can share the same visuals.




Other variations will be offered during the off-season. So it will be highly possible to find women's pieces in the men's collection and vice versa.

The visuals are as important as the fabric on which they are printed. We therefore pay particular attention to the details during their creations. That's why we chose screen printing because this technique offers quality and durability.

Whether you are a teenager, a mom entrepreneur or a retiree, there will definitely be a Free To Air for you.

These are true art pieces within everyone's reach.




An eco-friendly and fair production is clearly a specificity of the brand. Our clothes are mainly produced with organic cotton by a Belgian manufacturer, who's a member of the Fair Wear Foundation, and printed in Belgium with respect for the environment.




Because of its use of outdated production methods, the textile industry is one of the world's most polluting industries. And on top of that, it is also one that generally has the least respect for its workers.

Free To Air is therefore not just an eco-friendly and fair brand, it is a way that simply allows anyone to take action through original clothing.




To be able to offer you an original and environmentally friendly option, Free To Air needs your help to launch its first collection. In exchange for your support you'll get discounts on selected items from the launch collection.

Free To Air is a brand made for everyone. That's why our products are available in a wide range of styles but also sizes, from XS to XL for women and from S to XXL for men. Check the size chart below so you can determine which size is right for you.
There is no option to select your size when you choose a reward, so we'll send you a message to ask for it after you've successfully completed your contribution.

It is important to note that Ulule is not offering a shopping cart system for this kind of campaign. It is therefore impossible to select multiple rewards at the same time. If desired, you'll need to perform a separate operation for each reward you want.

If desired, you can also choose to support the project by making a donation without receiving a reward. Simply hit the "Contribute" button or choose the "I do not want any rewards" option in the list of rewards and fill in the desired amount.

But know that as a contributor to the project, wanting a reward or not, you'll get at least a big THANK YOU and your name will be added to the list of contributors on our online store at www.freetoair.be.

Discover all the rewards below.
Take into consideration that almost all rewards are available in limited quantities, so don't wait too long if you see something you love.




! Note: the TW1 t-shirt is slightly wider than the other women's t-shirts shown above. Take this into account when choosing the right size using the size chart.




The delivery of the rewards is scheduled to start during the month of August and will be free for Belgium.

Note: the pictures of the products above are photos of prototypes and not of the final products.
What are the funds for?
We already invested a lot in Free To Air to be where we are today. Not only heart and soul and a lot of time, but we also invested in key elements such as:
trademark registration
artwork registration
a computer (because the one used to create the visuals unfortunately crashed)
computer equipment and software
a website
prototypes

Now we need your help to raise 15 000 € to be able to finance the following:
production of all the rewards
part of the launch collection
logistics
Ulule's 8% commission


This fundraising campaign is essential to reach the minimum order quantity required by our partners to produce the launch collection for our online store and to produce all the rewards.

! Important note: Ulule works according to the "ALL or NOTHING" principle. So if the goal isn't reached within the next 30 days, everyone will be refunded and no one will be rewarded.

So this campaign is a great opportunity for all of you to give birth to an original Belgian brand that will brighten your summer.

About the project owner
Free To Air is designed by Anderson, aka Muke, a 30-year-old artist from Brusselspassionate about graphic design and a graphic t-shirt aficionado. The origin of Free To Air comes from a simple desire to create custom t-shirts for friends and for himself after having worked in the printing industry. That simple desire finally became a much more ambitious project a few years later.



Make sure to follow us on Facebook and Instagram to stay up-to-date on the latest news and developments. Please don't forget to like, comment and share this page and to subscribe to our social network pages to help us spread the word.


Thank you all and especially all those who, in one way or another, already show their support for Free To Air! ;-)





Return Policy

If you realize, after delivery, that the size you chose is not right, you can of course change it. Items returned must be in the same condition as when you received them. Returns will be at your expense and delivery times can vary depending on product availability.