FLASHSNACK
Illustrated collection of gustative memories. Some food and some remembrance.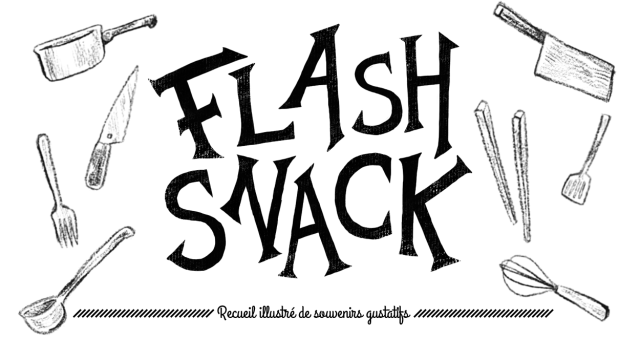 About the project
Flashsnack is a self published collaborative fanzine project.
A thirteen-artist co-creation sharing meals, recipes, snacks and ingredients that struck, marked or amazed them through comics, illustration, photography and writing. Everything put together into a 70-pages beautiful hardcover book. It is our first book and we wish for it to be as striking as it can be, so that everyone who gets to have it in their hands can appreciate its content the best of ways. The book's content is suitable for younger and older audiences, but everything is in french.
The project has two goals. First is to be a stepping-stone for its 13 artists. It is hard to have self-confidence and to believe in our own work, even harder when we're young and lack experience. Flashsnack is that will to show the rest of the world how talented and full of potential these artists are. Second is to remunerate everyone who worked on it. Arts and design is a field where there is too often unpaid work. As we are people who wish to make it their living, we cannot afford being a part of this way of unpaying working people. Each participating artist will have fair remuneration. You can check their works out right now, careful some of us have quite peculiar styles : Garros, Luluugah, ChibiRan, Palcopie, Cajal, Foule, Oror, JakeChirak, Crouton, StarFaky, Aly, Anouk, Kenki, Peanutable.

We can't yet show you the whole book's content, but you'll get to see some of its extracts throughout the campaign!


We are very lucky and honoured to a text written by Michel Galvin as a preface. He's an author, illustrator and storyteller and we very much admire his works. He indirectly and directly contributed to our project's birth and always encouraged us. We are thrilled to have him between our pages. His world isn't far from ours, working with dreams and memories. Do check out his work !
We want to rightfully thank each of our contributors, whether it is a small push or the acquisition of our big cauldron ( if so, you are an incredible Chef! ). Everyone deserves a huge thanks from us ! Without you help, the project couldn't exist but we are assured that you will allow us to pursue this dream and maybe be even take it further.


Our campaign takes place between September 10th and October 19th. The rest of october will be used to print and produce the book and goodies. November will then be for packing and sending your different rewards ! If you are around Paris, do not hesitate to contact us so we can meet-up for an in hand delivery ! We'd love to meet any of you !


As for a family meal, the bests ones are those shared with the most people. We hope to be able to extend the book's distribution to as much people as we can. That is why we also offer libraries, schools, bookshops and other structures the option to order Flashsnack at a reduced price. Do get in touch with us if you want to exchange about it: [email protected]
What are the funds for?
The most expensive would be to

print the books

. Hardcover is an aesthetic choice we do not wish to change, even if it is expensive.

Goodies

are all the other rewards available.
As we mentionned it, we wish to

remunerate all of our artists

. It is more than normal to have a part of the money going back to them.

Ulule

take an 8% on the raised money.
Shipping is included in you rewards price.

If we are lucky enough to raise more than what we need, we thought about stretch goals so we can thank you all ! Let's see how far we can go...
About the project owner

Behin FLASHSNACK are a lot of artists but also three bandmasters. They started, organised and built the project with their small little hands.
TOUNGSTOUNE is a young artists collective and FLASHSNACK is our very first project to see daylight. We have other ones in preparation but for the moment we are very proud and happy to share FLASHSNACK with you. You can follow us on Twitter, Facebook ou Youtube if you want updates on our projects.
And for more details, you can check out our website: www.toungstoune.co