EXP.20
Help us to make possible the first experimental photography festival in the world!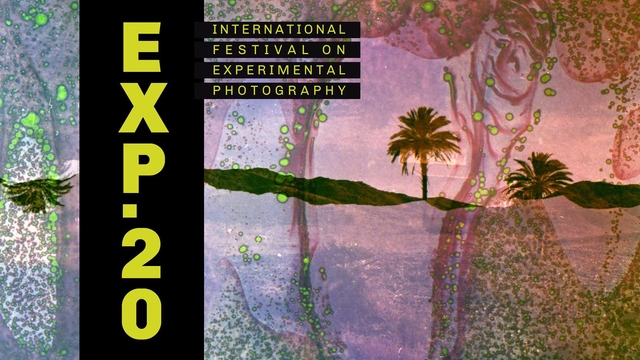 About the project
There is no experimental photography festival in the world, and we have decided to create it. Yes, with your help! On the weekend of 17th-19th January 2020, within the unique framework of the Institute of Photographic Studies of Catalonia (IEFC), international experts and photography lovers will gather during the EXP.20 festival with the aim of creating a common space for sharing, learning and discussing experimental photography from its many sides: from the creation of cameras, lenses and films to the processes of printing, intervention and production of copies, exhibitions and photobooks. Among the activities of the festival there are round tables, presentations of projects and experiences, workshops and four collective and individual exhibitions.

If you take part in this campaign, you will contribute to creating a meeting point for experimental photography in Barcelona. Photography is nothing if it can't be shared and if we can't create together.
Confirmed artists
Raúl Rodrigo Díaz, Paris
Carlos Baselga, Vila-Real
Diego López Calvín, Madrid
Renata Ursu, Italy
Douglas Nicolson, London.
María Rojas, Madrid
Lluís Estopiñan, Granollers
Belén Vilanova, Mataró
Joan Teixidor, Barcelona
Anna Peixet, Valencia
Sibux, Martorell
Karina Morante, Madrid
Guy Paterson, London

Follow us on INSTAGRAM, FACEBOOK and on our website: experimentalphotofestival.com!
What are the funds for?
The hardest thing is to start. This is our first time, and we need help to finance the festival. We need funding to pay some basic expenses of the festival:
Transport, accommodation and food for speakers coming from France, Italy, England and the United States, among others.
The materials that the participants will receive and the ones that will be used in the workshops.
The four exhibitions that we will organize at the IEFC, the Pati Llimona and the bar 33/45.
About the rewards:
In addition to our infinite gratitude for helping to make the festival a reality, we want that everyone who
feels like collaborating with the project finds their favorite reward:
A camera to make Solarigraphies created exclusively by Diego López Calvín for the festival
Two 35 mm film rolls modified with film soup by Carlos Baselga especially for the festival
A copy of the book-fanzine about film soup created by Carlos Baselga especially for the festival
The festival t-shirt created by our designer, Laura Ligari, a very limited edition
The official festival tote bag created by our designer, Laura Ligari, a very limited edition
A copy of the book Habitantes inesperados \ Unexpected inhabitants \ 12 key ideas for double exposure and filmswap by Pablo Giori
Do you feel like it? Do you want to help us?
About the project owner
We are Pablo Giori and Laura Ligari, two photographers based in Barcelona interested in photography as work and as a hobby. Laura works with fashion photography and Pablo with historical photography. We started collaborating a long time ago, and we created the BADEM project on double analog exposure, and we decided that we needed to create a meeting point for all the people interested in experimental photography.