Launching of 'Being And Becoming'
A Film about child-led learning without school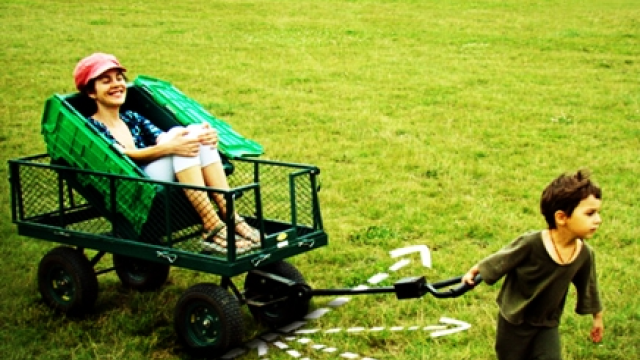 About the project
Thank you very much for your contribution.
A feel-good documentary! It brings serenity and mindfulness to all parents, whatever choice they've made for their children, whether it's school or not. The stories that are shared support all parents' relationships with their children. 
This possibility helps us open our minds, and question and reaffirm our choices.
An actress and a director, Clara Bellar shot during two years a documentary film, "Being And Becoming" (99 minutes). The film describes how young people who don't go to school learn from the interaction with their surroundings and the wider world, how to grow and find a fulfilling career path. It is a documentary about natural learning without school, and it's also a movie that makes parents want to spend more time with their children.
This film was entirely self-financed by the director, including editing. Several technicians were not paid and will be the day that the theatrical release and DVD sales generate some money. Now there are no more funds available for the last phase.
The French networks of "home education" funded both press screenings and the film received a neat media return (see bottom of the page or http://beingandbecomingfilm.com, Press clippings). New expenses are coming up to follow up the release: after the release in Paris in June, the film will be shown in Britain where it was party shot (and later in the United States where it was also partly shot) (http://beingandbecomingfilm.com, Relase). It will be released on DVD in the winter 2015, meanwhile you can subscribe at www.editions-instant-present.com/etreetdevenir.
We appeal to people who are sensitive to the issue of "learning differently", including unschooling and natural learning, whether they are parents, grandparents, teachers: these families are small laboratories of experiment that can serve the entire educational community. This possibility intrigues and questions, it is also a valuable safety valve for suffering children in the traditional school system.
Released in May, the film received nice press coverage, rightly so because the film is very well done, with beautify images, nice finds, and overall, the director met many interesting and engaged people to talk about this subject.
PRESS CLIPPINGS
"THE documentary film event" Europe 1
"Troubling and unsettling" L'Express
"A meditation on mind expansion, an anthropological study inspired by an alternative movement, this investigation inquired into a philosophy of life that is often misunderstood and misjudged. Whether one agrees with it or not, the documentary is a success." Studio Cine Live ***
"An ode to an alternative lifestyle" Telerama
"One of this film's greatest contributions is that it opens the debate." Premiere
"Extols open-mindedness and freedom" Le Monde
"A film that points out a real problem in society." France Inter
"We come out of it shaken. What if another path was possible…" Famili
"To change education - or to leave it?" Nouvel Observateur
"Raises pertinent questions" Marianne
"A striking documentary that places the child and their growth at the heart of all educational choices."L'enfant et la vie
"A militant film" Le Point
"This film makes us feel like realizing our dreams" Le Journal des femmes
"A choice that gains more and ore enthusiasts" Femme Actuelle
"THE FILM that places school in question" Version Femina
"A captivating journey, to be seen by all means" La Muse
"A beautiful film. Fascinating because the questions it raises are fundamental and because it compels a paradigm shift. At the heart of the documentary, there is philosophical reflection on happiness."Parents.fr
"A rare film, not to be missed" Famili.fr
"Clara Bellar has pointely touched upon the happiness that allows children to be and become, their best. "This film opens the door to the field of possibilities. Not to be missed under any circumstances!"femina.fr
"Food for thought" Place des Ecoles
"A feelgood documentary - this film makes us produce oxytocin" Santé Intégrative
"A happy outlook on childhood and parenting" Mediapart
"Deliciously disturbing" Un grand pas de côté
"Watch out, a subversive documentary" La vie
"It shakes up, for sure" Parents
To learn more about the film : http://beingandbecomingfilm.com
Trailer : http://vimeo.com/91040919
Facebook : www.facebook.com/BeingAndBecomingFilm
What are the funds for?
The minimum start-up costs that are coming up are 4,500 euros:
Theatrical release: DCPs copies of the film; posters, flyers; postage for mailings to the theaters.
Going to DVD: Editor. 2 weeks for the transition to DVD, monitoring, creation of the menu, editing the extras, standardization of the subtitles.
Beyond: Subtitles in additional languages ​​(1,500 per language); 4;000 are owed to post-production technicians (in participation).

About the project owner
I am Claudia Renau, I'm helping Clara Bellar for the release of her film. I met Clara Bellar 4 years ago when she was beginning to think about her film. She had a lot of questions after having met a few families living without school, it seemed both very attractive and very scary to her. We shared our lifes of families living without school, our thoughts and doubts, our meetings and outings in Paris. As she was starting her career as a film director and as no feature film existed on the subject, she worked on filming the project for two years.
I am an publisher for the publishing company Editions l'Instant Présent (Present Moment) (www.editions-instant-present.com), a cooperative of 5 people, which will release the DVD in spring 2015.