Edmunds
New collection of boxers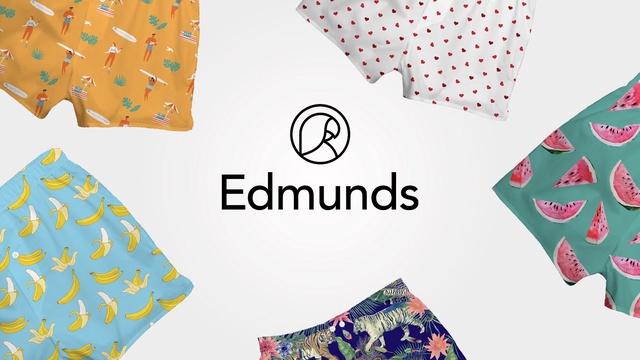 About the project
Edmunds is a men's accessory brand created three years ago. Specialised in bowties, we now wish to expand our product range (which already include bowties, suspenders and ties) and propose a new product : boxers. Therefore, we seek to collect 10.000€to help us in this new adventure !
You can already pre-order one or several boxers in the "counterpart" column. We revisited the boxer and gave it a modern twist with colours and patterns to create an energetic line with a touch of humor.
Our boxers are entirely handmade in our workshops.
Fabrics are without a doubt Edmunds' added value, with original and outstanding patterns for a unique style. From bananas to pineapples, Edmunds' new collection calls for sunshine and hot summer nights spent sipping cocktails. All printed by us on a 100% cotton fabric.
Finally, we chose to cover the elastic with the same fabric as the rest of the boxer : surprise guaranteed for the person who will discover it !
!! Ladies, you can skip this paragraph 🙈, gentlemen you will understand the importance of what follows.
Our boxers have an internal pouch for maximum comfort : the comfort of a boxer allied with the design and the aesthetic of shorts, the perfect match ! That way, you gentleman can be sure everything stays put with elegance 😯.
Another non-negligible asset : the back seams are sideways and done à l'anglaise. In other words : there will be no unpleasant frictions.
Which size to choose ?

Something for every size ! You are rather robust, fit, tall or even rather short and you're afraid you won't find your size ? Edmund's got you covered !
Our boxer shorts are available in five sizes, from S to 2XL, to accomodate all morphologies. If you don't know which size to choose, refer to the adjacent size guide.
And don't forget... Size's not always that important 😏
What are the funds for?
Edmunds go for the big adventure thats is crowdfunding to launch a new product : boxer shorts and, eventually, realize our dream : to develop our own men's ready-to-wear line.
Of course, Rome wasn't built in a day : boxer shorts are the first step, our firt goal. Then will come our ready-to-wear line... Until then : patience 😉! 
What will happen if we significantly exceed our 10.000 euros goal ?
Well, if thanks to your amazing enthusiasm we skyrocket our expectations (we count on you 😊), we have prepared a second milestone.
If we reach 20.000€, we are committed to offer 3 more patterns developped based on the wishes/suggestions of our happy crowdfunding investors : you !
Why should you take part in this crowdfunding ?
Taking part in this crowdfunding means not only buy really cool products before everybody else and support a great project but also be a part of our brand's adventure !
About the project owner
Edmunds' team is made of a trio de choc : Matthieu, marketing and e-commerce expert and Camille who takes care of all the creative aspects as well as the development of the products. All of that led by the boss and muse of the brand : Monsieur Edmond, a bright-coloured parrot with a tough personality !
Since 2014, the Belgian brand commercialize bowties and men accessories in a wide range of patterns, colours and sizes. Created by Camille De Meeus and Matthieu Blanpain, the brand regularly offers new products as well as a customization service for weddings and companies. Edmunds is a brand full of projects and in full growth.
Our goal ? To offer products that make people smile because we truly believe that small things matter. Therefore, we revisit classic accessories such as bowties, suspenders or even ties through original and coloured patterns.