Discovering schools around the world
A world tour of alternative schools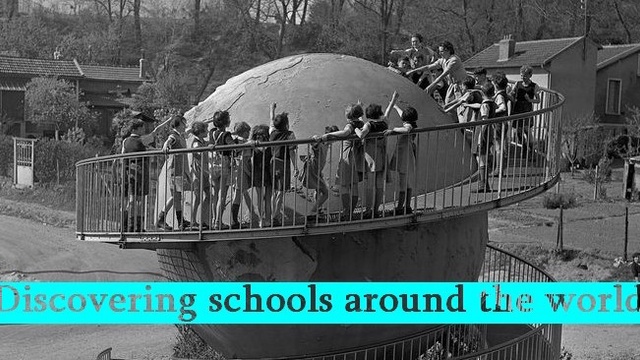 About the project
In September 2018, I will be starting a world tour of alternative schools. I would like to travel for a year in order to meet teachers and children in educational institutions which develop a different vision of learning.
The schools I will be visiting are either public or private and they are inspired by multiple pedagogical methods: Freinet, Montessori, Sudbury, Steiner and others. They are scattered all over the world: France, Spain, Great Britain, Italy, Hungary, Czech Republic, Finland, Ukraine, United States, Canada, Argentina.
1- An education research project
¤ About me
I have been thinking about this project for several years: I have know that I wanted to be a teacher since I was 17 years old. From that moment and before I even started my Master's degree in Education, I managed to meet teachers and I went to observe their classes. However, I quickly realized that although I admired the work of the teachers I visited, the expectations of the school programs did not always seem adapted to the children's needs.
As I saw more classes and met new teachers, I started to be interested in "alternative" pedagogies. I decided to learn more about them, which led me to read the works of Célestin Freinet, Maria Montessori, A.S. Neil and Marshall Roserberg among others. From then on, it seemed obvious to me that the traditional teaching methods were not the only way one could teach: as children have a natural thirst for learning and curiosity about the world around them, their interests are often repressed by the school obligations and the teachers' timetables.
In the course of my Master's degree, I wrote a thesis based on the idea that teaching autonomy, free self-expression and making the pupils responsible for the way the class works may contribute to making them understand and enjoy the act of learning. It reinforced my belief that children learn best when they do it for themselves and by themselves.
Children learning with Montessori teaching material
¤ My current situation
I am now 22 years old. I am a graduated teacher and I have been working in public primary schools near Bordeaux for two years. These "alternative" schools are still fascinating to me as they seem to be research structures which train the future autonomous, responsible citizens.
Today, even if I have read a lot and have a bit of experience, I feel like I still need to be trained to become a better teacher. On the one hand, the French Master's degree for teachers is very traditional and hardly mentions these pedagogies. On the other hand, I have of course experienced different methods in my classes to develop the children's autonomy and responsibility, but the pedagogical freedom in the French public school system is quite limited. Therefore, I have decided to take a sabbatical year without salary to do this research project abroad.
Children doing a School Meeting
I would like to see if it is possible to transform schools into living places where the children do not have to sit on chairs all day answering to teachers' instructions. Schools where the children are given responsabilities and learn how to live together by creating the rules of their own communities. Schools where learning is not only vertical – from the teacher to the pupil – but horizontal, being therefore achieved with the cooperation between the children. In a word, schools which link the children's educations with their lives.
I am planning to create a website where I will write about my experiences: Sur la route des écoles (it is being created at the moment). I also have a facebook page that you can follow!
2- A self-financed project... that needs your help!
¤ The trip organization
As I will be doing this project during a sabbatical year, my only funding is my personal savings. In order to minimize the travel expenses and to have a travelling experience that seems more authentic to me, I will use hitch-hiking for transport and couchsurfing (it is an application that provides free accommodation with locals) as much as possible.
Yet, I have to plan significant expenses due to the length of my trip. This is why I have had the idea to create a crowdfunding campaign to be able to fully achieve this project.
¤ How will the money be used?
One-time expenses
The plane tickets. Some of the schools that I will be visiting are quite distant from one another and I will have to take the plane: Zaporijia (Ukraine), New York, Vancouver, Budapest, Buenos Aires... The money from this campaign will help me buying the tickets to Argentina and Peru (at the moment, I already have the ones to New York and Zaporijia).
The train tickets. I will occasionnally need to take the train as I am going to areas where it is best not to drive during Winter (hitch-hiking on the snowy roads in Ukraine is not highly recommanded).
The travel equipment.
The fees from Ulule : 80 euros (about 100 dollars).
Daily life expenses
The trips using public transportation (bus, tramway, etc.) to go to the schools.
Accommodation: some schools are located in secluded areas where it is not possible to use Couchsurfing.
Food.
Travel insurance.
If I get more funding than I asked for at the beginning, I will be able to have a wider experience and to discover schools in Asia!
Therefore, I need your help to undertake this pedagogical world tour. I have invested all my time and energy in this project and I hope I will find help to make it happen. If you find this project exciting or if you know people who could be interested, please feel free to participate or to share it.
THANK YOU!