L'École de la Bière [Beer School]
Take a class at Beer School and quench your thirst for beer knowledge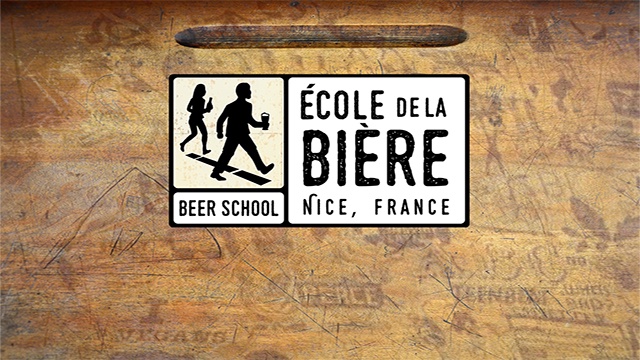 About the project
WHAT IS THE BEER SCHOOL?

Here in our beer shop "Allez Hops!" we greet customers every day who have questions about beer.  How is it made?  What is the difference between a blonde beer and a wheat beer?  It quickly became obvious to us that there is a real thirst for knowledge about beer and brewing, especially here in the south of France. We enjoy serving our customers' needs, and now with the Beer School, we can help them learn about beer so that they will be able to make informed choices about what to drink. We've designed workshops about tasting beer and about brewing beer... there is something for everyone!
Your new Beer School will be based in the heart of Nice, France, and co-located with the established microbrewery Brasserie BLEUE and the Allez Hops! beer shop at 15 rue Défly.  The school offers an ideal learning environment, precisely at the intersection of beer creation and beer enjoyment.
The École de la Bière curriculum will offer a wide variety of beer training and tasting workshops, including:
Tasting Workshops :
Beer 101 : An introduction to beer appreciation and tasting
Beer Discovery
Featured beers from the south of France
The classic beer cultures (🇩🇪 🇬🇧 🇧🇪 🇺🇸...)
Types of beer (Lagers, Ales, Spontaneous fermentation)
Beer style deep-dives (Blondes, Wheat beers, IPAs, Stouts, etc.)
Custom themes and topics limited only by the tastes and interests of the students.
🥄 Brewing Workshops
Brewing A to Z : A hands-on workshop for aspiring brewers who wish to learn the essentials of making great beer.  Learn by doing with the school's 50 litre test system.
Professional Brewing Experience : Join the Brasserie BLEUE brewers as we brew up the next batch of our famous beer BLEUE.  During breaks in the brewing process, special workshops are presented covering brewing theory and beer tasting.
Brew Your Own : Create your recipe, choose your name and design your label for 200 litres of your very own special and personalised beer.  Training and tasting workshops presented during breaks in the brewing process.  Take it home - or sell your beer in our beer shop, Allez Hops!
Brewing with the Association of Sommeliers, Nice - Cote d'Azur - Provence
Credit video : Gianni Exposito Media Nice
🍽️ Beer and Food Experiences
Beers and cheeses
Coooking with beer
Pairing foods and beers
🎓 Preparation for the Cicerone® Certification examinations for beer lovers and beer service professionals :
Serving beer
Treatment of beer tap systems
Brewing
Beer styles
Beer faults
Beer and food
École de la Bière instructors Daniel and Arthur are Cicerone® Certified and can assist your preparation for this rigorous examination. The École de la Bière is independent of the Cicerone® Certification Program.  Cicerone® certification can only be achieved directly through the Cicerone® Certification Program.
Most importantly, the École de la Bière will be THE venue for beer lovers in Nice - residents and visitors alike - to meet, learn, experience and share.  We welcome your visit the École de la Bière soon. Chat with our instructors and brewers; browse through our library of beer books and periodicals; tour our brewery, and sample the latest recipes.
WHY THIS PROJECT?
We are creating the École de la Bière to promote the continued development of a community of beer lovers in Nice and beyond.  Our success will be measured by the passion and enthusiasm of our students, apprentices and guests who visit the École de la Bière to learn, to experience and to enjoy great beers.  Join us!
The École de la Bière will offer free access to our library of beer books and periodicals
What are the funds for?
To offer our future beer scholars the best possible experience, we first need to undertake some renovations...
The current space to be renovated
Our Ulule project will fund the transformation of existing unfinished space in our beer shop into an inviting and comfortable learning environment.
Your generous contributions will permit us to :
Upgrade the existing bathroom to be accessible to our clients with disabilities (3000 €)
Install heating and air conditioning (4000 €)
Refinish the existing walls, floors, ceilings and lighting (2000 €)
Add a tasting-room wet bar, including a sink, refrigerator and dishwasher (est. 2000 €)
Pay the Ulule campaign commision fees (est. 960 €)
Plans for the new learning space of the École de la Bière
These works will guarantee a pristine new space for learning and experiencing the fascinating world of beer and brewing.  If we are so fortunate as to exceed our target, we will use the additional funds for additional enhancements, including an outdoor tasting terrace!
About the project owner
Arthur, Julie and Dan - The team behind the École de la Bière
Arthur, Certified Cicerone ®
Arthur co-founded the Brasserie BLEUE microbrewery and the Allez Hops! beer shop with the goal of offering the people of Nice the greatest possible choice of quality beers, local and from around the globe.
Born and raised in the famous wine country of Burgundy, he nevertheless found his passion in beer - attracted by the inherent freedom and innovation afforded by this equally historic beverage.
In 2017, Arthur travelled to England to undertake the rigorous Certified Cicerone examination.  In London, he observed the astounding popularity of craft beers and the enormous revitalisation of the beer industry, never more popular in a history of thousands of years.
Arthur is active in the promotion of local craft beers and brewers on the Cote d'Azur, where he helped create the local brewers association, BIAM - Brasseurs Indépendants des Alpes-Maritimes.
Daniel, Certified Cicerone ®
Daniel is the second co-founder of Brasserie BLEUE and Allez Hops!
American by birth, French by choice, Daniel and his family have made their home in the Nice area for more than 25 years.
Daniel earned the esteemed brewing certification "Diplôme Universitaire Opérateur de Brasserie" from the University of La Rochelle, as well as a certification in practical brewing from the BrewLab training school in Sunderland, England.  Back when Daniel was drinking beer rather than brewing beer, he earned his MBA at the University of Chicago Graduate School of Business and an undergraduate degree in Computer Science from Purdue University.
Daniel is the current President of the Brasseurs Indépendantes des Alpes-Maritimes.
Julie, Cicerone ® Certified Beer Server
Julie is the Creative Director for Brasserie BLEUE and Allez Hops!, where she takes care of everything related to design, branding, identity, web presence and social media.
She is also co-founder of the Pixiecom marketing agency.  Her extensive portfolio includes successful design and branding projects for clients across the USA and France.
Impressed with the explosion of creativity and choice in the craft beer market, Julie looks to bring her experience in art and design to continue to develop the vibrant community of brewers and drinkers who are passionate about great beer.
Follow us on Facebook to stay informed about our events and new beer arrivals !