CHESS against failure
To mate underperforming at school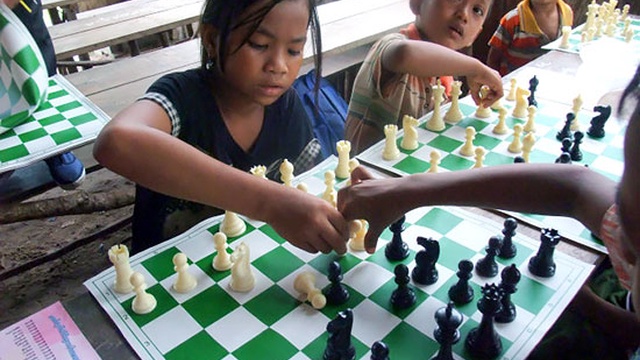 About the project
  ____________What's about ?  
• Provide  20 complete games Chess and 1 large wall board for 4 schools.
• Get out there from February to May 2016 to initiate adults and children. This will be done with the approval of four NGOs or local official structures of Cambodia and Laos working in the field of education in disadvantaged areas.
• This material will be supplemented with school supplies and magazines of Chess.
• A booklet of Chess rules and principles will be written in 3 three languages                                                       (French / Khmer / English and French / Lao / English)
_______________Why Chess ?
• They are universal, are played everywhere, at all ages and among all ages. They are a common bond.
• They are trainers. Many studies show that regular Chess significantly improves academic performance. They develop skills such as imagination, sense of observation, attention, concentration, memory, anticipation, deduction, determination, thoughtful risk taking, ...
• They are learning because they facilitate socialization, respect for others, respect for rules, tolerance and peaceful provide essential weapons to grow progressing.
 _____________By Who ?  
Le Cercle des Echecs de Cagnes, supported by ...
Head Office address : Maison des Associations 7 Av.de l'Hôtel deVille  06800 Cagnes-sur-Mer
Association 1901 d'intérêt général, ability to provide tax receipts.
Sub-Préfecture of Grasse : W061006814
Siret n°443 876 529 00019  - Paru au JO du 05/06/1968  
Approval of the Youth and Sports Ministry : n° 06 S 49 / 2000D                                                                         http://cagnes-echecs.com       
His représentative : Frédéric ZABORSKI, President  club since 2011.  
 ______________For Who ? Where ? With which NGOs or local official structures ?
* The School of Chiro (Cambodia)   with obt Cambodia. http://obtcambodia.wordpress.com
* The E.N.S. to Luang Prabang, Laos  (poleactivitesfrancophones.org)      whith "Compter sur demain" (comptersurdemain.org)                                                                  
These two structures, enthusiastic about the project, joined very quickly.
Soon, most probably, will join the project:
* French school to Siem Reap (Cambodge) (ecolefr-siemreap.org)
* School to Kok Phung Thai, près de Paksé, (Laos), whith Kok Phung Thai Primary SchoolFund  (sabaidy2tour.com)
______________How ?

The objective, in the medium and long term, is to install the game of chess in the school structure.
For this, the older students, accompanied by one or more adults in the school, will benefit from this initiation. They will, in turn, pass on to others what they have learned.

The pedagogical approach : * A mix of the Chess rules and games to observe, reason, analyze, count. Take the time to appropriate the space of the board, to appropriate action specific to each part before starting to play.
In a second time, games will be played by reducing the number of parts                                                                    (eg : 8 pawns against King + King + 8 pins).
In a third time, the main principles of the game will be introduced : the importance of the center, the King's protection, the protection of parts together, ....

Basic Duration : 20 hours spread over ten days + 1 as they want the rest of the day !

Extension : A distance (email, skype, mail), follow-up action will be implemented by French players or elsewhere, with the leaders of each school in the form of advice, documents, useful informations.
_________________Why help us ?
• Because in helping us, may, in the short term, 100 people discover a new area that will entertain them, will advance and strengthen.
• Because you will allow, these 100 people to discover other new field.

• Because over there ....................
.
The reasons are the weight of tradition, ignorance of the importance of school education, poverty; all of which disturb Cambodian and Laotian youth.

                                     Yet, these youth (33% under 15 years) is eager to learn. 
    • Because there, most have no electricity, no running water, no toilet healthy.                                                    .                                          
                                     Yet, they are friendly and smiling.
Because ............................. 
                                          Yet, they know how to be generous.
• Because here, each at his level, can help.
• Because here, a tax deduction is possible
• Because our association is authorized to issue tax receipt.
------------------> For an individual, give 10 euros = 3.40 euros (-66%)                                                            ------------------> For a company to 100 euros = 40 euros (-60%)
What are the funds for?
____________What will your gifts ?
| | |
| --- | --- |
| FUNDING | si 4 écoles |
| 80 complete games + bags | 480 € |
| 4 big Wall chessboard | 150 € |
| School supplies | 600 € |
| Trilingual  Guide (photoc 30p. Color) | 83 € |
| Mailings | 1 200 € |
| Relocations | 60 € |
| Daily life (40 days) | 300 € |
| 4 translators | 600 € |
| SubTOTAL | 3473 € |
| Web hosting | 302 € |
| TOTAL | 3775 € |
                                                                  " I wait for you ! "
About the project owner
________________About us : 
  The Circle of Chess of Cagnes is one of the clubs of the Alpes Maritimes. It has a fifty members, including offers classes for children on Wednesday afternoon. A small club, certainly, but in competitions, the 2 teams are combative.                                                                                                        
                    cagnes-echecs.com                       http://echecs.asso.fr/FicheClub.aspx?Ref=310
   Frédéric ZABORSKI, Président du cercle des Echecs de Cagnes
* France Champion Blitz ( fast parts: 5 min each), 3 rd category (Open C) in Nice in 2011.
* Now that I have time, I took my guitar and my songs. I let them down a number of years. But they are not spiteful ....
* Newborn worldwide retirees of Education (elementary education), after 40 years of loyal service, I kept what became second nature : transmit knowledge and continue to reap other .                                                                                 * In my classes, I have seen that the practice of Chess game federated group, found that shy took the insurance, that calmed the agitated, the "terrors" forgot their fists. Moreover, from this game, a lot of school learnings can be initiated : calculus, geometry, language (clearly argue).
All these benefits will  be probably the same at 9000 kms from here.

After three months of preparation (I'm not sure I ever worked so hard), the project is ready.
During my research on the internet, I ended up on the site of Karelle Bolon, many times champion of France Chess. What she did in Cambodia, remarkably, in 2013 and 2014, is in the same vein as the action that I try to lead. She immediately responded to my first contact and really helped me, advised, oriented. For all this, and for the photos she has agreed to lend me, I thank her.
                                Now, You who read these words, You are the only one who miss…
                                         "Donner est un cadeau que l'on offre et que l'on s'offre."                                     
FAQ
If you still have an unanswered question, feel free to ask the project owner directly.