Dream Broad for The Culture
More Than a Magazine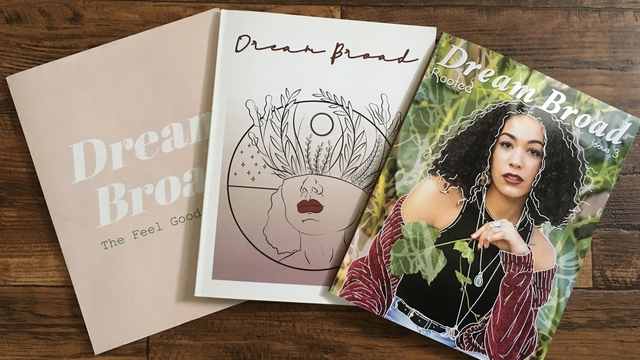 About the project
Dream Broad Magazine was founded by two women out of Sacramento, CA. We were desperate to find our own purpose in life. It was necessary for us to intertwine culture, community, self-care and entrepreneurship. What was out there, had not resonated with our own vibes. If we were feeling that gap, we knew other women were too. With the contributions of talented women in Sacramento and the Bay Area, we started a movement.
We have worked diligently to pull together over 50 women who share a social media network of over 60,000 followers. We are on our third publication of professionally edited photographs, well written articles, unique experiences and flourishing principles of sisterhood. In 2020 we will have hosted our third retreat dedicated to empowering women.
We are here to reserve this platform for people striving to have their voices heard, to heal from traumas that are preventing them from leveling up and to find solace amongst a group of individuals living to support this vibration and others like it. This brand has evolved and been able to make offerings from retreats, to high school and college student outreach. We need the help of those who have the abilities to assist us in scaling and offering clear direction in order to keep propelling upward.
What are the funds for?
This year we have made the decision to go forth as a non profit. The Dream Broad Team has decided we want to be able to reserve space for complete wellness that focuses on individual growth, community engagement and small business leadership.
We have also found that we enjoy mentoring teens and adults who are working on a path to find their collegiate and professional voices. We are so repetitive with our stance on creativity because it is truly the key that unlocks a persons unique and imaginative individuality. We need so much more of that movement amongst ourselves.

In reaching our goals we'll be able to first, propel a 2020 scholarship fund for our future college students in the collective. Second, we can provide a space to one of our peers at the upcoming Rise Tribe - Lead - HER - Ship Retreat, this March during women's month. Third, we will be able to file our paperwork for a 501c3 Non Profit entity.

This is critical because every dollar that has been brought in and then some - has gone into the printing and the operations of this magazine. We do not take home any funds. It's important to us that we create a structured business model for the future of this brand and the women that have so selflessly helped to build it.
There are so many great things we would be able to do with financial support. This is just the beginning to a great future:
Operations - Pay for material and print overhead
Engagement - Curated events for our contributors and supporters
Education - Scholarships for our highschool seniors
Employment - Pay our staff
Relations - Aggressively seek out partnerships
About the project owner
This project was started by best friends of 17 years turned business partners Akilah Delgado and Isabel Gonzales.

Akilah has studied journalism, social science and leadership. Isabel Is a photographic artist with a background in web design and interactive media. Together they make the perfect pair.