Draconis
Découvrez un univers riche et coloré peuplé de dragons !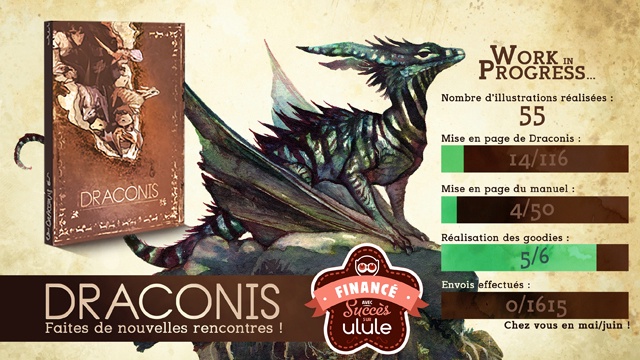 About the project
Illustratrice et graphiste, j'ai travaillé l'an passé pour Agate RPG sur le projet Dragons, l'adaptation de la 5ème édition de Donjons et Dragons. En 2017 j'ai rejoint l'équipe des Ombres d'Esteren pour laquelle je suis en train de réaliser un jeu de tarot. J'ai deux campagnes Ulule à mon actif, Angkor (2014) et Eluveitie (2016), qui m'ont permis de prendre pas mal d'expérience ! :)
Si vous ne connaissez pas mon travail, n'hésitez pas à visiter ma page facebook !
Je ne serai pas toute seule dans cette aventure puisque Nimu rejoint le navire et travaillera sur l'écriture ! :
Petite fée délurée, vivant dans son monde merveilleux, Nimu évolue entre écriture et créations basées sur le fantastique et l'imaginaire. Bercée depuis sa plus tendre enfance par les contes et les légendes, elle a grandi entourée d'êtres chimériques, jouant avec les lutins de la forêt et volant sur le dos de créatures magiques. Tiraillée entre son univers mystérieux et la vie réelle, elle se fait fort de partager son brin de folie dans ce monde qui se prend trop souvent au sérieux.
FAQ
If you still have an unanswered question, feel free to ask the project owner directly.