MWANA KONGO
Découvrez le Congo en photo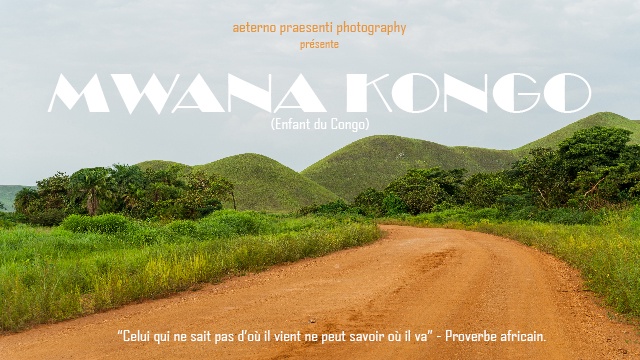 About the project
Le projet "Mwana Kongo" ("Enfant du Congo" en lingala, une des langues véhiculaires du Congo) a pour principal objectif de faire découvrir  au monde, y compris aux congolais eux-mêmes, et ce par le biais de la photographie, la République du Congo ou encore Congo-Brazzaville, souvent confondu à la République Démocratique du Congo (Congo-Kinshasa).
Pour ce faire, Nathanaël va parcourir le Congo, en juin 2018, du Sud au Nord. Une première expédition a été faite dans le sud du pays en février 2016. Cette dernière a donné lieu à une exposition d'un mois à Paris, en janvier 2018.
A terme, dans une deuxième phase, le but sera de parcourir toutes les régions/pays d'Afrique qui faisaient autrefois parties du royaume Kongo (RDC, Angola, Gabon, Cabinda). 
Ce projet est aussi l'occasion de changer les perceptions, parfois partielles voire fausses, que peuvent avoir les gens à propos du Congo et de l'Afrique en général en montrant autres choses que la misère, en s'éloignant des centres-villes bondés pour aller vers des contrées plus vertes, plus colorées, voire désertes...
What are the funds for?
Le financement servira en partie à financer la deuxième expédition au Congo qui aura lieu en juin 2018,  Il servira à financer le séjour sur place à savoir le transport pour parcourir le Congo du Sud au Nord, les guides qui nous accompagneront tout au long du parcours ainsi qu'une partie de l'hébergement.
D'autre part, il servira à financer les récompenses des différents contributeurs (cartes postales, t-shirts, séances photos, photos encadrées)
Le cas échéant, le reliquat servirait également à financer une grande exposition "Mwana Kongo", qui aura lieu début 2019 à l'issue de la deuxième expédition, ou à financer la deuxième phase du projet en parcourant toutes les autres régions de l'ancien royaume Kongo. 
About the project owner
Nathanaël DJIMBILTH est un photographe autodidacte franco-congolais basé entre Paris et Fribourg (Suisse).
En février 2002, il arrive en France, en banlieue parisienne, pour échapper en partie au chaos dans lequel était plongé le Congo suite  à une succession de guerres civiles  dans les années 90.
Voyant la photographie comme un moyen d'immortaliser chaque instant, il commence très tôt à signer ses clichés avec le leitmotiv "aeterno praesenti" pour "éternel présent".
Fin 2016, après avoir travaillé cinq ans dans les achats, il décide de tout abandonner au profit de sa passion. Après quinze années passées loin de sa terre natale, l'appel du pays se faisant plus pressant,  c'est tout naturellement que Nathanaël décide de photographier le Congo. Un pays qu'il connait finalement que très peu, pour n'y avoir passé que son enfance, et que beaucoup ignorent ou méconnaissent.
"Celui qui ne sait pas d'où il vient ne peut savoir où il va" - Proverbe africain.