Disconnect Store Berlin
Counter-culture records, books and art.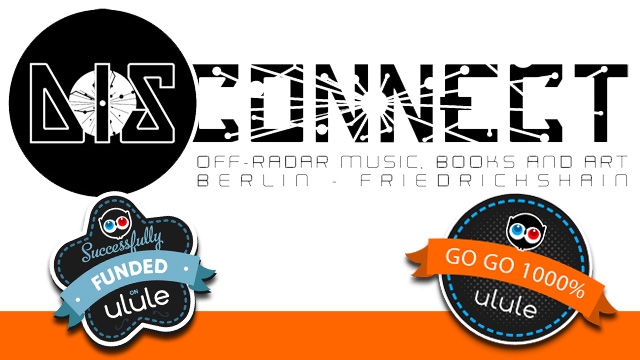 About the project
A physical store specialised in edgy electronic music, out-of-sight art and subversive books. Featuring an array of limited, exclusive, unique, mostly locally-crafted products including sound-boxes, custom lego dj equipment, organic Belgian beers, forbidden Russian tea and coffee and cacao sourced from radical production collectives in Latin America.
A spot to hang out, to have a drink in the reader's corner while enjoying off-radar sonic blasts and read hard-to-find ouvrages and spacid sequential art.
But it will also be a modular space easily convertible to host events like music performances, art exhibitions, lectures, talks, movie screenings, workshops and many other subversive activities.
Three friends joined forces to create this associative and uncompromisingly independent store. Check out our respective websites to get an idea of what we'll propose. Keep in mind we'll have many more new things coming up.
- https://praxis-records.net/shop
- https://haedre.bigcartel.com
If you don't already know, records stores have been on the decline for about a decade, but the Praxis/Yaya23 store (formerly located at Lenbachstr. 9 in Berlin near Ostkreuz Station) did survive for a long time. Like many of its kind, it wasn't only a place to buy wax but above all an important hub for the local (yet worldwide-connected) electronic music networks, a place to discover new sounds, plan events, make contacts and much more.
But alas, the notoriously aggressive gentrification in the German capital which has been pushing small independant businesses and low-income tenants towards the outskirts of the city has included that beloved space in its bodycount.
Article in German in the "Morgenpost"
Article in German in the "Freidrichshainer Zeitzeiger"
The former Praxis/Yaya23 record shop at Lenbachstr. 9 - Photo: Giovanni Lo Curto
That said, we've been lucky enough to find a new place! We're back, now located on Finowstr. 25., and still in Friedrichshain.
And as Haedre has now joined forces, we chose to give it a full new start: bigger, nicer and under one banner.
What are the funds for?
Well, this place was a terrible pizzeria before, here's glimpse at how trashed it was.
There's quite a lot to do and we did already the main "gross" parts, scrapping walls, etc... We'll be using as much recycled material as possible, stocks are already there so our costs are ridiculously low if you compare them with other businesses. Yet our funds are non-existent and in order to turn that space into something decent we need more money. Not counting the extra expenses and other funny surprises that often come together with such an enterprise.
In short:
Construction materials: around 800€
Furniture: around 800€
Extras: 500 → 1000€
We also must organise a decent visibility campaign in order to reach a broader audience, which means investing in some propaganda like posters and flyers.
Propaganda (Flyers, posters, stickers, business cards...) : around 200€
That is why a financial kick, even a small one, will offer us some ease for the beginning. It'll also show that a supportive community is there and willing to help make it happen, which is very important for our motivation to have that moral support.
You got it, 500€ will merely cover some costs, but for us it'll already be a significant relief! We'll open either way, but our goal is to bring in more so that this space can reach its full potential and offer the best welcoming atmosphere, for you and our community.
Here's what we've thought about if we get to:
1000€: Material costs and advertising covered
1500€: Furniture, curtains, proper gallery art hanging rails and hooks ...
2000€: New vinyl listening stations, new speakers, ...
2500€: Professional book display, professional poster display, nice cups, teapots and glasses for the drinks, ...
3000€: Professional light system
Apart from having helped a cultural D.I.Y. music and art project? Sure! Take a look at our rewards:
Please take note, that:
- Most physical rewards have to be picked up at the shop. It is possible to get some shipped if asked. Shipping fees would be added.
- Various promotions are cumulative.
- Your name on the supporter's board: We'll print a nice board with all the names of the backers to display on a wall, thanking you all as supporters. If you don't want to be on it, please let us know.
Something like that, yes.
- Vouchers: Redeem them for anything in the shop. Not nominative so you can offer them to anyone. Valid for one year.
- Techno-Templar: A special offer for "Devlok, the Techno-Templar - Complete Cycle", Haedre's 100% watercolor and ink, surreal sci-fi graphic-novel. A new edition comprising all four chapters and additional illustrations in one book of 76 200gr. paper pages and soft cover.
- Datacide: A special subscription offer for the Magazine for Noise and Politics.
https://datacide-magazine.com/
- Praxis Bandcamp: A special offer to get the whole digital discography of Praxis Records
https://praxisrecords.bandcamp.com/
- T-Shirts: Handmade silk-printed with the Disconnect logo. *Due to current charge of work, the T-shirts will only be ready for April or May. They can also be shipped. For this option, additional shipping costs will be asked.
(No picture yet)
- Painting by Haedre: A personnalised (You can choose a subject, the artist will interpret), hand painted with watercolor and ink, signed and framed painting by the sci-fi master Haedre. http://www.haedre.com
(No picture yet)
About the project owner
Keep updated through our links
Praxis Records & Books
- https://praxis-records.net - http://facebook.com/praxis-records - https://twitter.com/praxis_records
Haedre, art of the future
- http://haedre.com - https://www.facebook.com/haedreart/
- http://instagram.com/haedre.art - http://steemit.com/@haedre
Yaya23 Records & Soundsystems (Speaker constructions & installations)
- https://www.facebook.com/Yaya23
Just a last detail, as we have a tight schedule till the opening, this a fast campaign! Do not wait too long if you want to participate as the end date is the 18th of March! Also the project is all or nothing, either we reach the goal, either everyone gets refunded.
Hey, you've read all! If you can't financially participate, there are other ways to give us a hand. Above all, you can share and talk about our project to your friends, that is of an unestimable aid. If you're in Berlin and have a few hours to kill, why not to come around and give us a hand at scrapping the walls, your name will also be on the founder's board!
If you're a creator and interested in having your products displayed at DIsconnect, don't hesitate to pay us a visit.
We look forward to hear from you and see you at the opening, Saturday the 23rd March.
Simon, Christoph and Jan.