Diffu
An open and federated platform for articles publication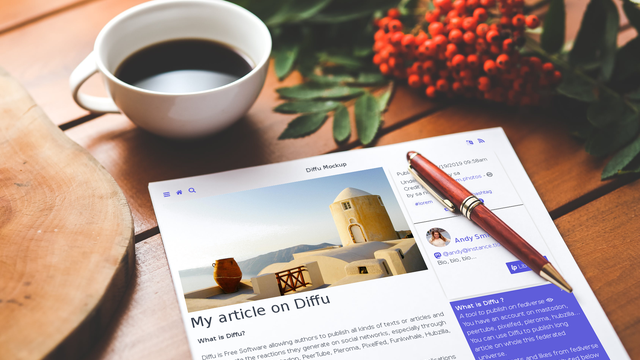 About the project
What is Diffu?
Diffu is a Free Software allowing authors to publish all kinds of texts or articles and to aggregate the reactions they generate on social networks, especially through ActivityPub such as Mastodon, PeerTube, Pleroma, PixelFed, Funkwhale, Hubzilla, GNU Social ...
Diffu is a kind of free and federated alternative to Medium or other applications that are not always easy to install.
Why such software?
There are multiple platforms for publishing textual content and sharing it on social networks, but generally they do not include on the article page readers' reactions from these networks. This is what Diffu application allows.
This software comes naturally in addition to so-called microblogging networks that limit the size of publications to a few characters. Diffu connects to them to broadcast longer content in a consistent and seamless way.
With Diffu, following the restrictions defined by the administrator of the instance, it will be possible to create an article just by giving his Mastodon identifier for example (not the password, just the username and the name of the instance ). The author will receive a secret link by direct message on his account Mastodon allowing him to access his environment of publication and to write a new article. The latter will be associated with its author, his Mastodon profile appearing as the signature of the article. When publishing the article on the Fediverse, the author will be mentioned in the pouet that he will only have to share. The address of the page of the article will be used on other social networks of course.
What are the goals of Diffu?
Diffu is above all an application for authors in the broadest sense (bloggers, journalists, writers ...) with a simple and clean writing environment avoiding any distraction during writing.
Its minimalist design allows highlighting content and its author rather than the tool with an emphasis on readability, accessibility and respect for open standards while protecting the privacy of authors and readers
Written in PHP and delivered in the form of a simple zip file, it can be easily installed on a standard web hosting (even shared).
What will it look like?
For us, but also for you, we made a mockup of the Diffu application. This one is not functional, of course, but it allows to see what it can look like.

Go to https://mockup.diffu.social
Front page of Diffu :
An article page sample :
In which case install Diffu?
In addition to a micro-blogging service, a Mastodon instance administrator can offer Diffu to its users and limit author access to them (only one Mastodon domain for example).
An organization (association, company ...) can provide a publication platform to its members and thus obtain a website with rich content
Anyone wishing to host their data can use Diffu as a personal blog platform interconnected to social networks. Reducing moderation of anonymous comments, this happens upstream, on the social network where users are authenticated
Several instances can provide an expression tool for censored people by protecting them through the "anonymous" mode (Diffu then has several moderation mechanisms).
Financing development
To write this software, we are planning a crowdfunding campaign. We will launch a call for contributions as soon as it becomes operational!
The characteristics of Diffu in its basic version: Milestone 1 (7.000€)
User side:
a homepage with recent, popular or selected articles (customizable)
display of articles
list of articles by the same author or the same tag
use of an ActivityPub account (for example Mastodon) to obtain a ticket allowing the creation of a new article. It will be associated with this account as author
writing an article using the Markdown syntax in an optimized writing environment
uploading and attaching a banner image to an article with associated credit
notification of new readers' reaction (comments, likes, re-sharing) through ActivityPub (can be muted)
moderation of comments if necessary
availability of different RSS feeds
choice of the content license (type CC, public domain ...)
integration of retribution links of authors such as Patreon, LiberaPay, Flattr, PayPal ...
multilingual interface: original French and English then open to translators
Administrator side:
definition of moderation policy and workflow: whitelist, blacklist, pre / post-moderation, accepted languages, predefined categories, etc.
definition of the terms and conditions, and the privacy charter
specifying user roles: administrator, curator, moderator, author (default)
selection of articles to highlight and moderation of content
If the funding level reaches some additional levels, new features are possible.
Milestone 2 : 11.000 €
If the fundraising campaign reaches Milestone 2, we can go further!
possibility to create a more complete Diff account and connect via the OAuth mechanism
better integration of the ActivityPub protocol:

follow an author, a category, an article (for its comments)
to share an article from another instance on your instance with your Diffu account
mirroring the publications of selected instances via the Federation

new editor wysiwyg as clean as possible, the Markdown editor remains available
inclusion of images, embeded social networks blocks, videos (from a dedicated platform like PeerTube, Youtube ...) in the body of the article
exporting / importing account data to move from one instance to another
association of the author's Twitter account to share articles and to grab the reactions of the users of this network (by mixing the reactions from ActivityPub and Twitter on the page of the article).
Milestone 3 : 14.000 € and beyond
Victory!!! we can realize the application you are dreaming on!
concept of group allowing the writing of articles in multi-authors mode
connection with other social platforms
publication of an Android and iOS application for writing articles in mobility mode!
many evolutions and improvements defined by the users and in particular by the contributors of the project, after publication of the first Diffu releases
If you, like us, are convinced of the usefulness of such an application, then help us by contributing to this crowdfunding campaign!
What are the funds for?
Apart from the 8% ulule levy, the rest of the collection will be dedicated to to the writing of Diffu code which will then be accessible to all under the GNU / AGPL license
About the project owner
Befox is an Open Source specialized Company based in Ardèche, in France, composed of two persons, Michaël and Jean-Pierre, computer enthusiasts and Free Software activists.
For 10 years, Befox has been supporting companies in their projects using free software: GNU / Linux server, merchant site, software interconnection, application hosting ...