Lights in The Eyes
A charity project that shines in the eyes of sick children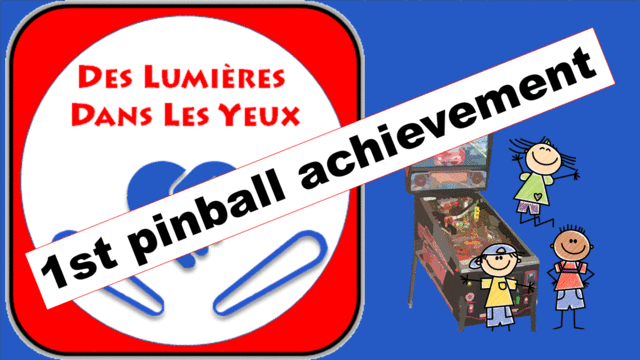 About the project
UPDATE!
The fundraising has reached its first objective, but it is far from being completed.
Please read below to understand why and to participate:)
Benoit
Our goal is to improve the environment of pediatric services in hospitals.
For this purpose, we have already installed two pinball machines in Strasbourg University Hospital (Hautepierre). These two machines were made available by a member of our association and the success is there: more than 20,000 games played in less than a year!
We were then able to benefit from the support of a municipality in Bas-Rhin (Souffelweyersheim). Here is an excerpt from the video made for the occasion.
However, the funds raised so far are not enough to take it to the next level!
We would like to install new machines (about 6300€ for one machine) in order to start on a perfect basis, with a guarantee and a possibility of a maintenance contract.
We have already selected three places: two in the Hautepierre Hospital (paediatric consultation and onco-hematology), the third in the Ronald McDonald House for parents and siblings.
This means that ideally, we would like to harvest
about €19,000 to buy these three pinball machines!
It's a lot of money, and each of your contributions will allow us to move forward with our project.
The collection threshold, set at €1750, would allow investment in a first new machine in addition to the funds already collected. Please note that if it is not reached, the entire funding is cancelled and the commitments are returned to you.
You can now send us cheques payable to: Des lumières dans les yeux at the address: Illiade / Des lumières dans les yeux – 11 Allée François Mitterrand 67400 Illkirch-Graffenstaden, France
A machine would be good enough; but we want to go further thanks to you!
THANK YOU ALL FOR YOUR INVOLVEMENT - WE BRING HAPPINESS TO THESE CHILDREN
What are the funds for?
Buy new machines and plan their maintenance.
We want to offer continuity of service, machines that play well, without frustration. And this cannot be done easily with second-hand machines given the success of the project.
As far as payment methods are concerned, prefer CB to Paypal, the latter taking a larger share.
Some testimonies!
About the project owner
My name is Benoit, I am the Founding President of the association "Des Lumières Dans Les Yeux".
With my wife, Nathalie (Secretary of the association), we are the parents of three children aged 7 to 12.
Passionate about technology, modern or old, we take this opportunity to share this with our children, to teach them the pleasure of restoring a beautiful toy that has become "vintage"! Our children are healthy, and it seems important to us to teach them that other children do not have this luck, and that it is possible to help others through simple actions.
This project was originally a family project, and the Association then became a reality with friends and other pinball fans.