Dealing With Your Trash
A Guide For Responsible Waste Management in Urban Areas in Africa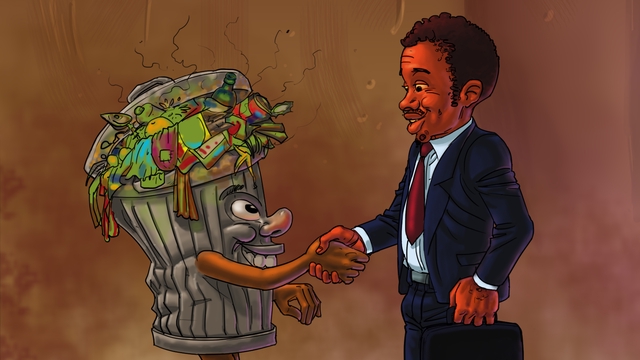 About the project
ABOUT THE BOOK
The book has been written, read, corrected and formatted in its final form. It has also already received its ISBN number. The guide will be 28 pagesin pocket size with illustrations. It will be printed on environmentally friendly paper.
Originally written in French, the English version of the book will be available in January 2020.
Foreword
The house is our first living environment. We spend most of our lives there: from our childhood and probably until our last days. The types of houses are not the same from one country to another or from one continent to another. It depends on people's standard of living, the level of development of countries, cultural habits, the climate, etc.
In Africa, houses or homes are almost the same in urban and rural areas. We find neighborhoods with luxurious houses, others with minimum comfort and finally those that have only the bare necessities to protect themselves from bad weather.
Regardless of the type of housing, whether we live in a villa in Johannesburg, in an "entrer-coucher"(1) in Abidjan or in a "kikuku"(2) in Kinshasa, we all have one thing in common: we are all consumers and producers of waste that destroys nature when managed improperly.
The next pages of this guide offer some simple and even simplistic methods for managing our waste at home and adopting a responsible and sustainable way of consuming.
(1)Entrer-coucher: Tiny apartment or studio in West Africa, especially in Abidjan (Cote d'Ivoire)
(2) Kikuku: Tiny apartment or studio in Kinshasa (DR Congo)
Back Matter
Waste management is not only an ecological and public health issue but also a matter of ecological citizenship and responsible consumption. The issue of waste management on the African continent is a ticking bomb causing extensive damage to the environment and communities. Waste management turns out to be a major challenge for public authorities in African countries. Citizen participation is, therefore, key to raising awareness and make a change.
This book is the first issue of a series of four that presents the issue of waste in the everyday life of an African "citizen". It suggests to the reader-consumer practical solutions to sustainably control its consumption and the resulting waste.
Dealing With Your Trash is a book, a guide for responsible consumption in urban areas in Africa. This book gives tips and tricks to manage your own waste at home and better manage your consumption. This guide is intended for people living in urban and peri-urban African cities. It is especially intended for school-age children and for families that often have trouble handling their garbage properly in their homes.
What are the funds for?
The money raised from this crowdfunding campaign will be used to print the first copies of Dealing With Your Trash guide.
In addition, a substantial part of the money raised from this campaign will be used to finance the implementation of the project ETEYELO PETO (which means "clean school" in Lingala, a Congolese language) in 3 public schools in Cameroon, the Democratic Republic of Congo and Côte d'Ivoire. Eteyelo Peto is an educational project of sustainable waste management in public schools in Africa.
Acquisition costs for the book vary ($ 5, $ 15, $ 25, $ 35, $ ​​50, $ 100). An important part of each contribution will be donated to the African Initiative for Environmental Education for the implementation of the project in the following schools: The Modern High School of Port Bouet in Côte d'Ivoire, the Primary Schools 3 and 4 of Ngiri- Ngiri in the Democratic Republic of Congo and the HighSchool of the La Citée Des Palmiers in Cameroon. These three countries were not chosen at random. Our non-profit is represented until now in these three countries through local non-profit organizations.
The funds raised will be used to:
• purchase and install trash bins in schools (if target reached 100%);
• organize education and outreach sessions on waste management with students and their teachers (if target reached 150%);
• install a compost facility for organic waste in schools (If target reached 200%).
AIEE launched a school-based pilot project on waste management in Kinshasa in April 2019. The pilot project is financed by a local company
About the project owner
The book is both supported by the African Initiative for Environmental Education Association (AIEE) and Patrick Kasele who is the co-founder and Director.
Founded in July 2012 under the name Congo Green Citizen, the African Initiative for Environmental Education (AIEE) is a Congolese non-profit organization committed to promoting environmental education and building ecological values ​​in Africa.
Through its engaging educational projects, AIEE suggests effective and practical solutions to citizens, schools, governments, and businesses for the emergence of ecological values ​​and behaviors in all levels of African societies.
Patrick Kasele has been a Researcher in Environmental Education since 2012. He holds a Bachelor's degree in Corporate Communications from the Catholic University of Congo (UCC) and a Master's degree in Integrated Management of Tropical Forests from the University of Kinshasa (UNIKIN / ERAIFT). His research and experience include both the Environmental Education and the promotion of Sustainable Consumption and Production (SCP) in Africa.