Dazie Mae's new album
Help us release our 3rd album!
About the project
Dear friends, Welcome to the world of DAZIE MAE !
In 2009, we have released on the our first album "Velvet Dress and Stockings", published on the free music platform Jamendo. 2 years later, we spent a little more time in studio to record the album "SAD (Seasonal Affective Disorder)", completely financed by the donations for free downloads (and also available for sale at Fnac.com, Itunes, Amazon...).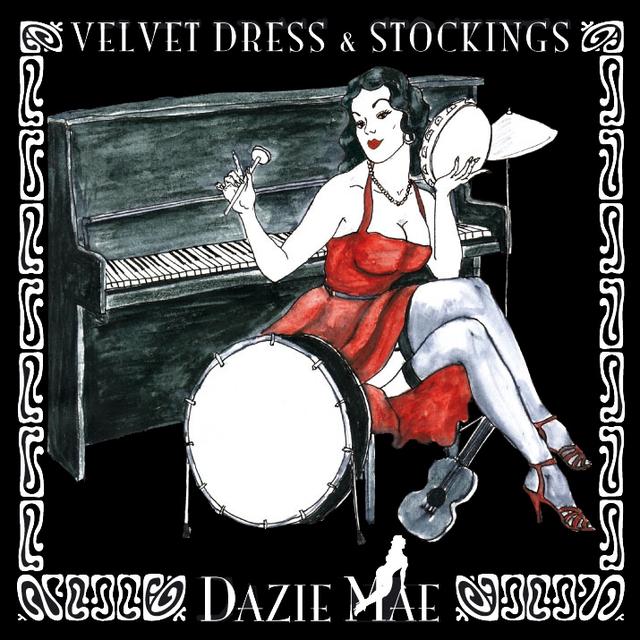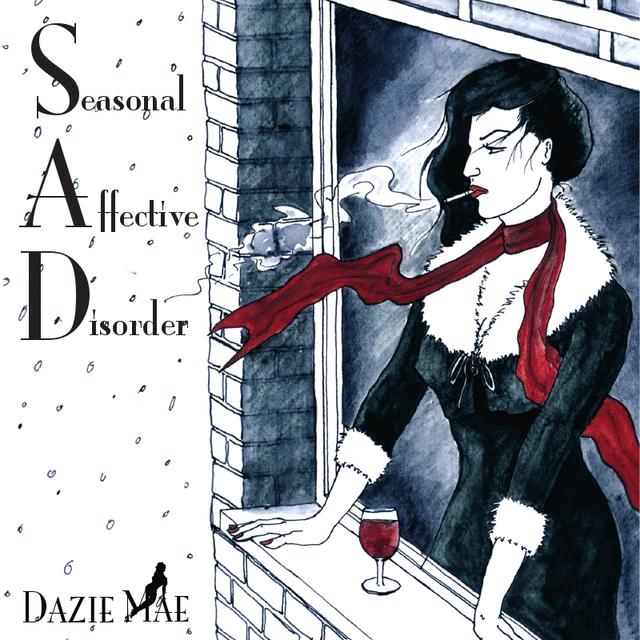 Here we are again with a third opus: "Songs Matured in Oak", 12 bluesy songs that we want to try to record and release in the best conditions as possible.
The songs do no come out of the blue: we already have been working, for the past 6 months, on twenty or so new songs that tell more stories about our heroin Dazie Mae. Titles include: Can't Take no chances with our love, Diner in Paris, Sad depressed and lonely, The Dice Man...
Listen to the track "Diner in Paris" (work-in-progress!) :
To discover our music, we suggest you listen to and download freely our first albums:
On Jamendo (more than 360 000 views and 19 000 downloads).
or
On Deezer
and of course our official website: http://www.daziemae.com
We also invite you to consult press review. For the past 3 years, our music has been used in numerous websites, commercials, video clips, short movies, in various fields such as communication, fashion (L'Oréal, Dior, Agnès B., Variance, Nat & Nin...), photography, retail (CDiscount...) etc. In 2010, a selection of our titles have been preloaded in the Archos A5IT player.
What are the funds for?
5 record & mix sessions in the topnotch studio "Bop City" (Pré-Saint-Gervais).
Print of the CD.
But our project doesn't stop there! We'll also have to finance several other elements, such as:
Sessions musicians during the recording of the album,
The creation of the album artwork (including the CD cover),
The making of a little video clip of one of the album's songs.
We have voluntarily kept our financing ambition low on Ulule, but we would be very pleased to overcome our goal :-)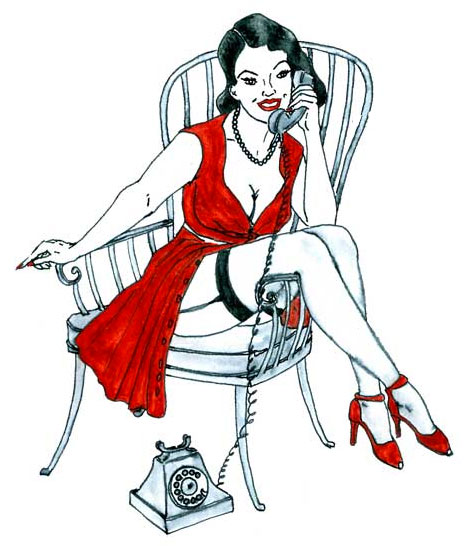 Please bear in mind that, since the beginning, we have made the choice of free music. Our songs are released for free under a Creative Commons license. Your contributions are therefore very important to help us with our forecoming projects!
NB : rewards include postal fees for Metropolitan France only.

Here is the schedule of the project:
February-early May 2012 : Prep work. Definite choice of the songs for the album. Rehearsal sessions.
Mid-May: Recording and mix in studio.
End of May: Print of the CD.
Early June: official release of the album on the web.
End of June: 1 or 2 promotional concerts in Paris to present the album.
About the project owner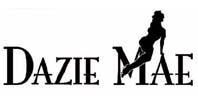 Members
Singer: Jeanne
After 5 years as leader of the famous « Flying Cheddars Lovers », a kind of « trash ballroom dancing band" specialized in covering Gregorian sacred songs, Jeanne has now decided to stop the booze !
Keyboards/Harmonica: Mathias
Mat's childhood took place in a little African village in south Botswana , where he was initiated to sacred dancings and musical habits of Congalaabawanaa. He's never been quite the same ever since.
Guitars: Tom
Tom met one day Pat Metheny after a gig in Nancy (east of France). He immediatly kicked the guy's face to steal his guitar. In fact he never leaves it alone, even taking it under the shower, which explain the weird sounds...
Bass: Serge
After being explelled from England for setting fire to a pub where some band were playing live using a "dreaded" drum machine, he writes his first album with around 54 post punk songs, all written in 4 days.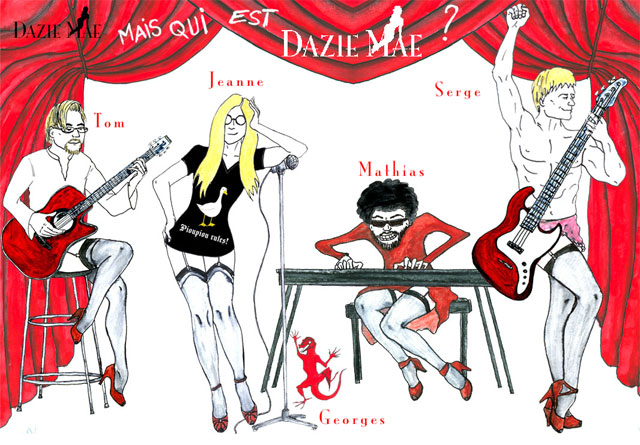 A short history of Dazie Mae
Why do we call ourselves DM ?
Of course, the famous Blues song from Johnny Lee Hooker. But also, with a slight different spelling, it is the "femme fatale" hero of the famous comic by Li'l Abner from the forties and fifties. And indication of how retro we are...

http://www.daziemae.com
-----------------------------------------------------------------------------------
Some comments on our first albums:
Kind of a cabaret sound, and a bit of jazzy blues . .. and if you have the blues . . . you won't, after listening to this album . . I could almost hear the scratches on this record . . . and the smell of the ancient record player working overtime . . .

What a great sultry voice, Jeanne has; and all the rest on the piano, guitar and bass are superb . . . I would love to see this group because you can sense the fun and energy. Its the kind of album you sit back and listen to for entertainment and that sweet sound of Dazie Mae tickling your eardrums and giving you some great mental visions . . .

I could actually picture this playing in some big all music hall, going away back in time. With some of tracks I heard. And that lovely, gorgeous, sexy,strong, vivacious,voice of Jeanne,that sings on this perfect,jolly,really interesting, let alone very entertaining album in general.Never a dull moment had from start to end. Everything is exceptional quality and the mood is great as well.