Datalove USB drives to reform EU copyright
Let's urge EU policy-makers to adapt copyright to the digital age, by sending them USB drives full of datalove!
About the project
All funding that exceeds requested sum will be used to finance La Quadrature du Net to push forward a positive agenda and proposals to protect citizens' freedoms online.
For the past 15 years, we have been flooded with repressive legislations attacking a free and open Internet in the name of an obsolete copyright regime. In the wake of the recent citizen victories against SOPA/PIPA and ACTA it is now time to advocate for a positive reform of copyright. This war against sharing can only be ended by taking into account the public's right, access to culture, and new cultural practices enabled by digital technologies, rather to combat them.
With your help we will produce and distribute to each Member of the European Parliament one customized USB drive, full of datalove, pre-loaded with the best freely shareable movies, books and music to help them understand digital culture, remix and their economies.
A full list of the material copied to the USB drive is available on http://share.lqdn.fr. Contact us if you feel something important is missing.
What are the funds for?
Cost of the project include:
- The manufacturing of the USB drives (8 Go) engraved with the Datalove <3 symbol, preloaded with data (753 for the Members of the European Parliament + the ones distributed as ulule rewards).
- Handling and shipping for the ulule rewards
- A travel to Brussels (from Paris) for 2 or 3 activists to hand out 753 Datalove USB drives to every Member of the European Parliament and their staff, and to document the operation.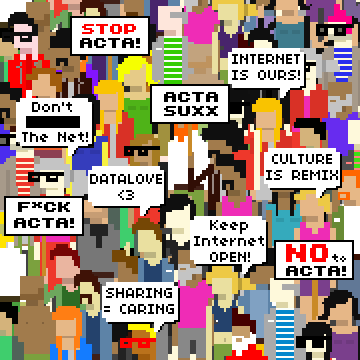 About the project owner
La Quadrature du Net is an advocacy group defending the rights and freedoms of citizens on the Internet. More specifically, it advocates for the adaptation of French and European legislations to respect the founding principles of the Internet, most notably the free circulation of knowledge. As such, La Quadrature du Net engages in public-policy debates concerning, for instance, freedom of expression, copyright, regulation of telecommunications and online privacy.
In addition to its advocacy work, the group also aims to foster a better understanding of legislative processes among citizens. Through specific and pertinent information and tools, La Quadrature du Net hopes to encourage citizens' participation in the public debate on rights and freedoms in the digital age.