Reedition of an autobiography
Dans le désert, il y a des scorpions...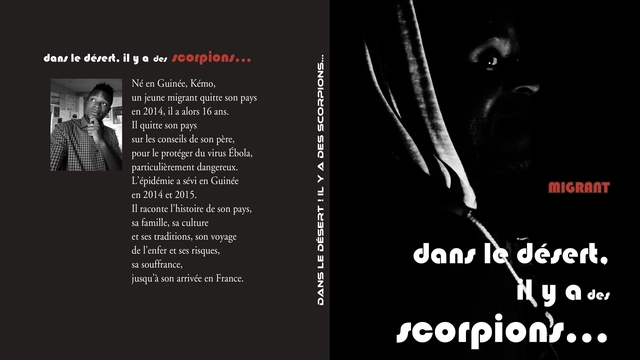 About the project
Kemo, a young man from Guinea tells his story in his book entitled "There are scorpions in the desert". He left his country in 2014 because of his caring father who wanted to protect him of the epidemy Ebola. He tells his story with the African tradition, his trip full of hardships and his arrival in France.

Recently, he launched a crowdfunding to reedit the book, as he has already sold all the 500 printed copies. He went even further with his project : based on his book, he explains to young French students in primary and secondary schools what immigration and solidarity is. With Bojana, Kemo tells his experience and illustrates it with drawings from his book while she accompanies him on the piano.
What are the funds for?
Thanks to the first edition, the book is completely prepared to be printed. To be able to print 500 copies, we need 2100 euros and we would keep 160 to the comission of Ulule. In fact, we would like to get 40 euros to take off this terrible Filmora 9 Logo of our trailer !
Besides, we would like to point out the gestion of the book which is a little bit particular. As you can see, we ask 16 euros for one copy which includes : 10 euros for the author (so the printing), 3 euros as shipping fees and we would give the rest of 3 euros for an association taking car of young unaccompanied migrants.
About the project owner