CYCLOPE
Cycling Documentary_Climate Change in Europe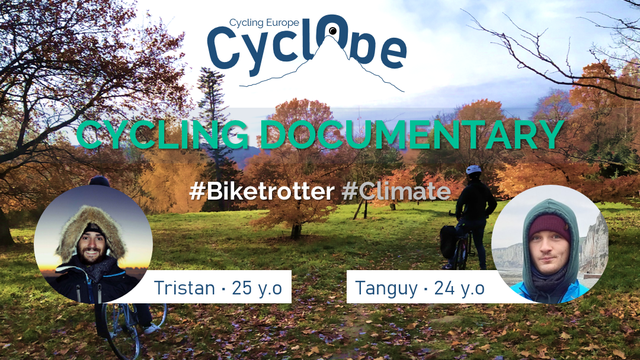 About the project
Cyclope (French for Cyclops, meaning CYCLing eurOPE) is :
A cycling tale of more than 10,000km through thirteen European countries, from Barcelona to the Norwegian Fjords and for 6 months (from May to October 2020);
A scientific documentary based on local observations of climate change by citizens and scientists;
An independent project led by 2 graduate students in climate change adaptation, and financially supported by the University of Paris Saclay, the CEARC research centre, La Recyclerie Sportive and the CROUS.
What are the funds for?
We undertake to use all your generosity to bring this project to a successful conclusion (food, accommodation, sport and video equipments, etc.). Our three levels:
About the project owner
Cyclope is the product of two students' energy and imagination both from multidisciplinary backgrounds. Versatile, they have ench their bicycles, set up their website (thanks to Zhiwei), trained in filming and video editing, and found several partners to lead the (first) trip of a lifetime.
Tanguy Sandré is a graduated student in Arctic studies. He is writing a thesis on adaptation to climate change at the University of Versailles Saint-Quentin-en-Yvelines. Coming in from the South, he will be in charge of setting up the scientific approach of the project. As a summer camp director and accomplished sociologist, the quality of his knowledge and his sense of rigour will be precious assets for the trip.
Tristan Vuillemin holds a degree in climate change adaptation from the University of Versailles Saint-Quentin-en-Yvelines. With a childhood in the Gatinais Francilien area, he developed a strong attachment to cycling and nature. A fervent lover of poetry, he pledges to Gaïa the mother an incoming meeting. His knowledge of bicycle travel and his creative spirit will be valuable assets in building rich relationships with the people he meets and avoid biksters traps.