Troubles - Erotic and surrealistic curiosities
Volume 1 : Sensations (1948 - 1953)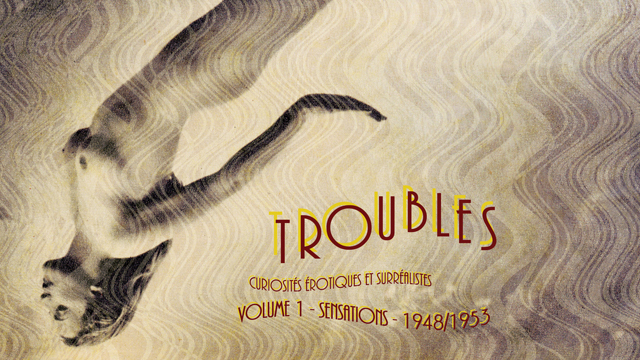 About the project
Popcards Factory is launching a new collection of books entitled Troubles dedicated to the erotic curiosities and oddities in French girlie mags of the 1940's and '50's.
Let us, first of all, place this project in its context.  From the beginning of the 20th century, dozens of magazines blossomed onto the French periodical publishing landscape.  They joyfully defied moral codes and decency.  Hidden behind clever masks, « artists' models » disrobed and illustrated the most beautiful pages of erotic publications that fooled no one in terms of their content.  Other periodicals, such as Paris-Plaisirs or La Vie Parisienne, combined sumptuous page layouts with racy content.
The first volume, which is the subject of this fundraising, is dedicated to Sensations, one of the most unique and surprising publications of this era.  Over some 58 issues, from 1948 to 1953, this mag enchanted us in so many ways, and demonstrated the close ties between popular culture and avant-garde artistic movements. 
The themes covered throughout the 192 pages of this richly-illustrated book (more than 400 photographs have been reproduced in this publication) are as follows:
o Erotic alphabets, or how to convert perverts of all stripes to the love of « belles lettres »,
o Abstractions and oddities, a selection of the most enigmatic pages which Sensations offered us,
o Anatomical blazonry, a graphical reinterpretation of a now-obsolete literary tradition,
o Sensual reveries, half-fantastical, half-grotesque, 
o Cutouts and superimpositions, typographical flights of fancy and stunning graphical effects,
o Interlude, games, contests and crossword puzzles. 
o Phantasmic settings, clever blends of titillations and nightmares,
o The Sensations Pin-up, a fascinating and vaguely troubling creature,
o Disrobing and provocations, stripteases with extremely elaborate settings,
o Letters to the Editor, readers' letters which reflect a real panorama of desire in the 1950's
…And, last but not least, a reproduction of all the covers of Sensations.
Florian, creator of the blog Au Carrefour Etrange, did us the great favor of writing the foreword of Troubles.
The entire text was translated into English by Allegra J. Cramb.
192 pages, 18 x 24 cm, soft cover, retail price: 37 Euros, Release expected in June 2014.
You can follow the progress of our project on https://www.facebook.com/sensationstroubles.
What are the funds for?
The print run of the book will be limited to 1000 copies.
This fundraising effort will help us complete our financing and allow us to obtain the high quality that we believe in.
Since this project will only be distributed in a handful of partner bookshops and by our own hand, your contribution will guarantee our independence.
We offer you Troubles at a price of 33 euros (The book will be sold for 37 euros in bookshops).  Shipping will be free within France and available at a very reasonable price for the rest of the world (6 euros).
The following options are available for your contribution:
o For 33 Euros, The numbered and signed book (option limited to 200 contributors),
o For 43 Euros, The numbered and signed book + a set of ten postcards printed exclusively for this project (option limited to 200 contributors),
And, for only 50 very special contributors!
o For 55 Euros, The numbered and signed book, a set of ten postcards printed exclusively for this project, and an original issue of Sensations magazine.
About the project owner
Popcards Factory is the creator of www.popcards.fr,www.filmfix.frand www.popcards-factory.com. He is committed to providing an offbeat, fun take on kitsch and vintage through advertisements, postcards, educational materials, culinary recipes, graphic novels, etc.
Popcards Factory has already published several books:
- The Les héros de l'ordinaire (Everyday heroes) series presents little woolen poodle dogs in enlightening adventures based on true-life stories: Tom, le garçon d'ascenseur (Tom, the elevator boy) talks about the unexpected consequences of the disappearance of elevator operators, and Solange et la cabine d'essayage mystérieuse (Solange and the mysterious fitting room) takes on the "rumor of Orléans".
- La féerie des coquillages (The enchanted realm of seashells) is a book about a museum in Granville which exhibits monumental works of art made from millions of seashells.
- Les films que vous ne verrez plus jamais (The films you'll never see again), designed in the style of an alphabet book for Hugo & Desinge Editions, invites you on a voyage through the wilds of B-movies and their craziest posters.