Our 1st eco-friendly, 100% animal-free sneakers!
CONSCIOUS. An initiative by French sneaker brand Garçonne & Chérubin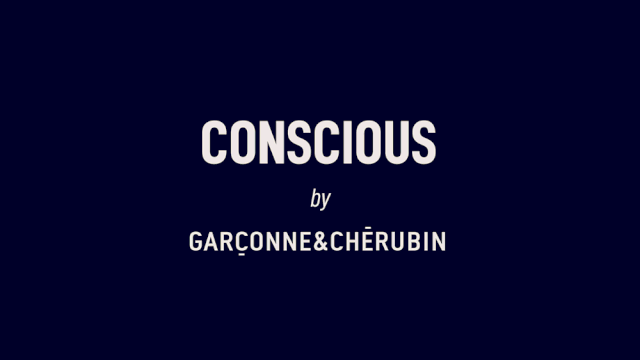 About the project
GREEN MOMENTUM
The ecological urge to limit global warming raised the question of our responsibility towards the planet who kindly hosts us.
First as consumers. Second and mostly as entrepreneurs.
Time has come for us to start our own fashion revolution to decrease our impact on the environment. Because we believe that any type of project going this way is an opportunity to spread the message that we all need to change and adapt to the limits we are given by nature.
It is this philosophy that led us to launch our 1st line of eco-friendly sneakers: « Conscious ».
100% ANIMAL-FREE
We have chosen to focus on our main improvement opportunity: the use of leather.
To do so, we started looking for 100% animal-free materials (certified) and more ecological materials than those we normally use.
For the body, we chose a thick recycled cotton canvas, that is just the right feel for a summery look.
For the upper and back quarters, and for the inside lining, we have found a technical material called microfiber.
It is as robust and comfortable as leather, and aesthetically very close.
Microfiber also has great breathability.
As for the sole, we replaced the former one by a 30% recycled rubber cupsole.
In order to limit our carbon footprint, we sourced our materials in Portugal and Spain, within 500km from our factory, based in Felgueiras, north-east of Porto.
CLEAN DESIGN
When conceptualizing this sneaker, we had one main idea in mind: to create a sneaker both eco-friendly and timeless. This is why we picked our most versatile, minimalist and elegant design: the Sport 3.0.
PRICING
We never followed the fast fashion trend and yes, we know that a pair priced at 160, 180 or 200€ is not accessible to everyone.
With « Conscious », we are able to conceive a product that is more ecological... and also more affordable!
The sneaker is offered from size 35 to 46 for just 99€instead of 149€ (and 169€ instead of 298€ for the Pack!), throughout the 30 days of the pre-sale campaign.
♧ EARLY BIRD PRICING ♧
The first 100 pairs are sold at a special price of 89€ instead of 149€!
LET'S SHARE!
We chose Ulule to host our crowd-funding campaign because it is in line with our ecological spirit and gives us the opportunity to communicate in a more direct and humane manner with our community.
Please send us your questions and feedback, and help us share the good vibes with your friends!
What are the funds for?
HOW WILL FUNDS BE USED?
The funds will be exclusively used to produce the pairs you will have pre-ordered. We set an objective of 100 pairs, which corresponds to the minimum amount to validate your interest in this new project.
EXPRESS DELIVERY DATE: 1 MONTH
The campaign ends at the end of June. We will work hard to ship your orders by the end of July so that you can profit from your shoes during summer.
About the project owner
OUR TEAM
Garçonne & Chérubin is a Paris-based shoe brand, founded in 2014. Our goal as a company is to reflect the cosmopolitan vibes of our home-town though high-quality pieces of footwear, in an aesthetic of our own.
With « Conscious », we wish to prove that it is possible - and crucial - to propose eco-friendly alternatives to what is already there while staying true to one's creative DNA. We wish to inspire you as we were by other people before.
Feel free to ask us questions, and thank you so much for your support! ♡