Comics Corner
The first place for Comic fans in Paris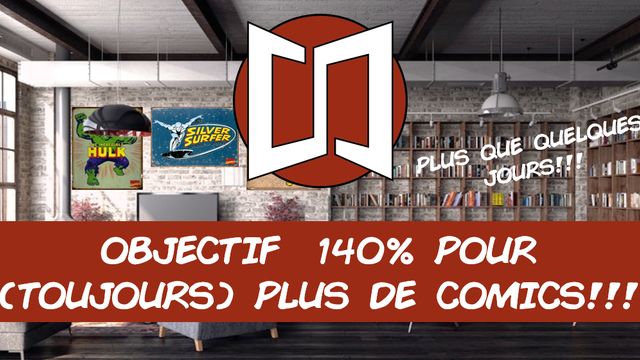 About the project
Creation and opening of the first reading and discussion space dedicated to Comic Books.
Hi everyone,
This message is for people who are crazy about comic books, passionate about colorful costumes, fans of illustrated heroism, those who thrive on life, who love uncomplicated action, who thirst for justice, who marvel at well-merited vengeance, who get excited by colorized adventures, ignited by a well-delivered punch line, in short, for Comic Book fans.
In 2017, the first ever Comics Corner will open its doors in France! We have chosen a venue measuring over 100 m² in Paris' 5th arrondissement, two minutes' walk from the Pantheon. The project is already at an advanced stage: we have the location, the sector, future commercial partners.
We are "just" missing the funds to be able to start the building work, buy equipment and books and organize the opening planned for March 2017.
But, let's start by answering the question on everybody's lips, what is the Comics Corner?
Le Comics Corner is first and foremost a living space, imagined and designed for everyone from die-hard fans to curious visitors.
My goal is to gather together in the same place everything that superhero enthusiasts love.
At the Comics Corner you will find:
All the latest from the major publishers Marvel and DC Comics, as well as from independent labels.
Exclusive goodies
A reading area to read and discover the hundreds of titles that line our shelves
An artistic co-working space, to draw and participate in numerous workshops.
All-you-can-eat snacks and drinks.
There will be a 5€ hourly fee in order to access our reading and co-working areas. Don't worry, there will be discounts for our most loyal customers and also for students and those looking for employment (stay strong, we are with you!).
You will have access to our library containing more than one thousand titles. There you will find all the classics from the major publishers Marvel and DC Comics, but also titles from independent labels and other surprises.
All of our titles will be available in French, and we are also planning to have an original language section for our more demanding customers.  
And regarding everything that we do not yet have on our shelves, we will have tablets available containing the most popular series in their entirety.
Pick your favorite, get comfortable in one of our chairs and immerse yourself in the adventures of your most loved superhero.
We are going to create the perfect environment to stimulate your creativity. Drafting tables, pivoting lights, high-speed WiFi, scanners and printers: everything you need to let your imagination run wild.
Come and draw with your friends and meet people who share your passion.
You can also display your work on the walls of the Comics Corner.
We will offer workshops and master classes run by talented artists who wish to share their know-how.
We will keep you informed of the different events we are concocting: workshops, autograph sessions, expositions, design competitions and many more.
I hope with all my heart that you will share my passion for the Comics Corner. In the meantime, you can keep updated on our Facebook page: https://www.facebook.com/lecomicscorner/
And here are some of the thank you gifts you can expect to receive, you bunch of sponsors:
What are the funds for?
Our original goal of 2 500€ will allow us to furnish the Comics Corner with the latest technological equipment: a high-quality scanner, a projector, and tablets.
If you go crazy and we get over 2 500€, we will aim for 3 500€ in order to develop our library and make sure that you always find something new on our shelves.
We've lost it, we have brushed aside our previous goals with a flick of the hand and we are now close to 5 000€! With this amount, we will be able to get especially talented artists to come and hold private master classes and workshops.
Thanks to your generosity and support, we will make the Comics Corner and experience like no other.
Thankyou, thank you,thank you!
About the project owner
The project is carried by me, Jimmy Bismuth. Comics occupy an important place among my many passions, and it was by discussing with artists and readers that I realized the absence of a place dedicated to this thriving and enthusiastic community. After some surveys and questionnaires, the Comics Corner took shape in my mind at the beginning of 2016.
I quickly obtained the support of several associations, such as the WIP Agency which accompanies artists to help them to make themselves known, and the Drink N Draw Paris which organizes weekly sessions of drawing, open to all.
Today the people who accompany me are numerous and I can count on the help of an eccentric graphic designer, an unpredictable drawer, a hyperactive business planner and of course my relatives who advise me and motivate me when it must.
Thanks to all of you.