COMBMIND
- a challenge for your brain!
About the project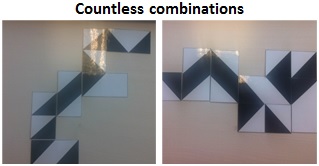 What is COMBMIND?
28 cards

or bricks,

unlimited

combinations,
a few

simple rules

,
and hours and hours of gameplay!
How do you win?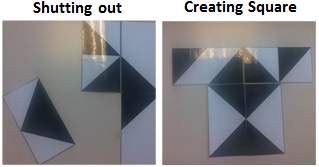 There are two ways you can win:
Eliminate your opponents ability to lay a card, or

 Lay down a strategy that makes it possible for you to

create a black square

.
You can learn to play within a few minutes, but it will take you a long time to become good at it!

2 player

game
Forces you to develop your sense of structure, strategy, patterns and combinations.
How did I get the idea?
It's an idea I had  after solving a mind puzzle in a newspaper that really challenged me. I didn't keep the paper, but I kept the idea for years, and being a professional concept developer, I finally got around to testing it on family and friends: it worked and so here I am now wanting to produce it.
What are the funds for?
Goal 1
Funds of 15.000 kr DKK (roughly €2000) are needed to physically manufacture the game.
Goal 2
If that goal is reached, it is a secondary goal to raise an extra 40.000 kr DKK (€5000) to create an app for Android and iOS so the game can be played on smartphones.
If the project doesn't reach its goal, you'll get your money back.
About the project owner
I'm a 36 year old Concept developer, Idea Maker and marketing specialist. I live in the northern part of Denmark with my family, which includes 3 children who take up a lot of my energy, but also inspire me. I live for finding new ideas, and besides making some of them into commercial products, I also publish a lot of ideas on my blog:
My goal is to launch one of the 1000 ideas because I want to test myself. I have new ideas all the time, and though it is not possible to launch all of them,  I want to at least make some of them publicly available instead of letting them become forgetten in the back of my mind.