LIVE THE BURNING MAN with Compagnie Off
The Color Wheels: LED generation, August 26th to September the 2nd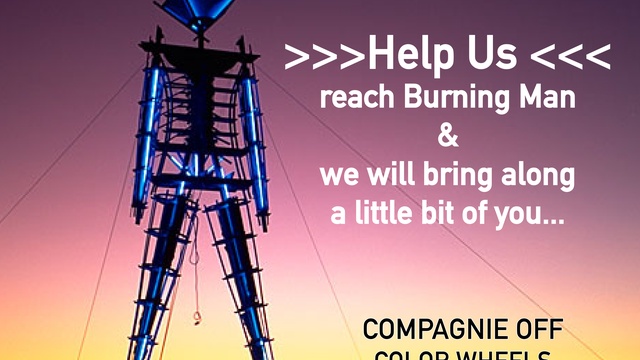 About the project
COMPAGNIE OFF AT BURNING MAN
Compagnie Off is the only French live act to be officially invited by Burning Man (Nevada, U.S.A.) in 2018. 
Among 500 submitted, 76 were selected, including 14 international projects.
"The Color Wheels: LED generation" is a wide-format creation, mixing visual exploration and live performance, especially created by Compagnie Off for the 2018 Burning Man.
Forming a fixed installation during the day, the 10 luminescent wheels (2 to 11m wide) come to life at nightfall, operated and choreographed by 15 artists and technicians, accompanied by electronic music, in a radiant and participatory surge.
This  great scale project was granted the Art Honoraria by Burning Man for 20000$ (16000 €), but this amount is far from sufficient to properly carry out the project. The total budget for this crazy ride is 55000€, and that's why we are undertaking this crowdfunding campaign.
Help Us reach BURNING MAN,
and we will bring along a a little bit of you...
BURNING MAN, AN INTRODUCTION
Tens of thousands gather each year in the Black Rock desert, Nevada, for a week of artistic creativity. This event happens at the end of august and lasts a full seven days.
Burning Man is a human and artistic utopia, driven by the monumental scale of its acts, set in a supernatural environment. An ephemeral city of 70000, a setting for limitless artistic creation.
Burning Man's success and format are characterized by several principles:
- promoting open-mindedness
- excluding any form of monetary trade
- accepting everyone
- promoting mutual aid and collective endeavors
- encouraging civic and respectful behavior
- to work within a nature reserve and leave it intact: «Leave No Trace»
This boundless artistic event and its plastic works becomes the greatest modern open-air museum on Earth.
BLACK ROCK: AN EPHEMERAL CITY
Burning Man was born out of spontaneity. Its growing success and attendance then called for a rigorous framework and schedule.
Just like great urban projects, Black Rock City follows a main guideline: a 2,4km wide semi-circle, structured by regular spoke-like concentric streets.
To achieve this, the ephemeral city is organized by its own urbanist agency: streets and avenues criss-cross the main camp around the Playa square.
Notions of resourcefulness, team work, logistics, organization, and co-construction allow for he production of this architecture within a desert environment.
An ephemeral city floating on a sea of salt, set within the boundaries of a natural reserve.
This is why the cornerstone of the event is  "Leave No Trace". More than a motto, each "Burner" agrees to leave no trace of their presence.
COLOR WHEELS, Led Generation - COMPAGNIE OFF
Ten luminescent wheels are crossing the Black Rock Desert. Through the effort, men have become clay, gathering sweat and dirt on the way.
The impetuous discs are covered in thousands of multicolor LEDS, advancing, spinning, operated by dancers wearing nothing but clay and yellow goggles.
Through their frantic whirlwind, the Great Wheels call out to rally the "Burners". As energy generators, they turn every inch of desert into a dance-floor, and bring together, mix and exalt the people.
These rolling UFOs guided by the beaconing on the tarmac converge towards a central point on the Playa. Once there, they mate, intertwine and produce an astonishing rotating machinery of gigantic gears, which end up in the elevation of a multicolor constellation.
The sound level is powerful, the senses intoxicated, the particles fragmented...
> PARTICIPATORY PERFORMANCE, a Burning Man first!
Through a series of workshops on artistic practice, Compagnie Off offers to train "Burners" on-site to join in the Color Wheels act.
They focus on the notion of "Awake, Listen, Be", Compagnie Off's very own motto. Open to all and led by professional artists, these workshops aim at creating a dynamic beyond the performance itself, with the citizens of Black Rock City.
With its 30 years plus experience in the urban Arts, Compagnie Off will pass on its fundamental knowledge and skills to volunteers who wish to discover artistic intervention within the open space.
What are the funds for?
Your donations will help complete the Color Wheels' project financing.
The overall budget for this wild project is 55000€. The Art Honoraria grant allocated by Burning Man, although the highest amount for a company, is far from sufficient to properly carry out this overseas adventure.
We are currently looking for partners and corporate sponsors, but the task is arduous. We do hope this crowdfunding campaign will exceed expectations.
Thank You all for your kind participation!
>>> They already support us !
Art Honoraria Bourse (20 000 $)
About the project owner
COMPAGNIE OFF
Poetic Urban Overflow...
Created by Philippe Freslon in 1986 in Tours, Compagnie Offis nowone of the leading Street Arts companies in Europe.
Its creations within the public space, born out of a multidisciplinary approach that mixes together circus, opera, contemporary art, live performance and monumental staging, have travelled around the word.
Through a continuous adaptation to contexts, sites and audiences, Compagnie Off's repertoire shows alternate with site-specific, « one-shot » performances. From carnivalesque parades to contemporary experimentations within atypical sites, Compagnie Off wishes to offer a poetic urban overflow, and always conjures up a universal, timeless framework, to better spill over...
In 2017, Compagnie Offwill celebrate its thirty years of poetic urban overflow.
Alongside its productions and tours, Compagnie Offis developing a far-reaching project at the Point H^UT, hub for urban creation: a resource centre dedicated to Street Arts, which aims at developing strong ties with young