Coffret Intégrale Julius Chancer
Une aventure en 3 albums entre Indiana Jones et Blake et Mortimer !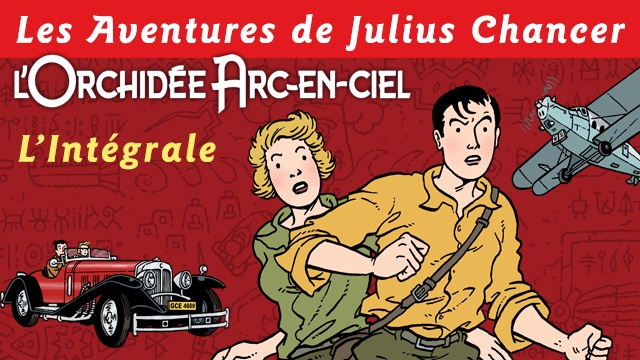 About the project
COFFRET-TRIPTYQUE avec les 3 tomes de JULIUS CHANCER - L'Orchidée Arc-en-Ciel
Angleterre, fin des années 1920...
Le jeune aventurier et archéologue Julius Chancer se lance à la recherche d'une orchidée légendaire. Cette quête pleine de dangers et de rebondissements le conduira aux Indes.
RECIT COMPLET EN 3 ALBUMS ! FIN DU PROJET LE 6 DECEMBRE,
ENVOI DES CONTREPARTIES AVANT LE 15 DECEMBRE
"J'ai ainsi voulu m'inscrire dans la tradition européenne des BD d'Hergé, d'Edgar P. Jacobs, d'Yves Chaland, ainsi que des héritiers de la ligne claire." Garen Ewing
"Mélange d'Indiana Jones et de Blake et Mortimer, cette aventure très bitish, pleine de rebondissements, est très bien construite et passionnante. Journaliste en quête de scoop, aventurier, homme d'affaires machiavélique, société secrète, chercheur en armement, aviateur acrobatique, peuplade inconnue... sont autant de personnages intervenant dans cette intrigue surprenante et divertissante."
Auracan.
L'auteur : Anglais né en 1969, Garen Ewing est un illustrateur, créateur de bandes dessinées et concepteur de jeux. Spécialiste de la ligne claire, son travail a été récompensé par de nombreux prix. Il est également écrivain spécialiste des guerres anglo-afghannes.
What are the funds for?
Impression des coffrets
Impression des contreparties
Droits d'auteur
Frais d'envoi
Commission Ulule
About the project owner
BD Must est un éditeur indépendant depuis 20 ans et nous éditons des séries de qualité comme Rhonda