Coffin, the after life tree.
A coffin for pets.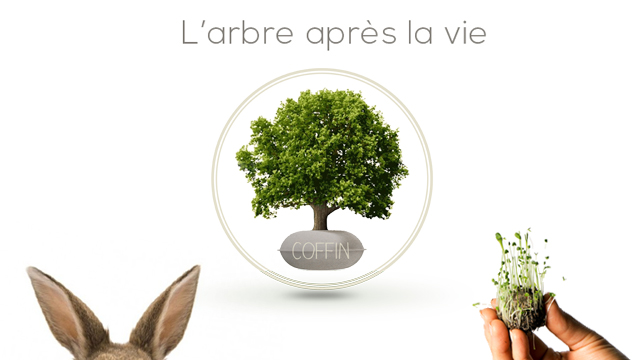 About the project
Laura Iriart and Arthur Trichelieu, from Hurlu design, need your help in order to develop Coffin.
The coffin's idea.
Coffin is a coffin for pets made from papier maché, 100% biodegradable.
We offer you three sizes : S (birds, mice, …), M (cats, little dogs,…), L (dogs, goats, …).Every Coffin has 3 parts : The box (papier maché), the seeds, the label.
Time by time a tree will grow at the exact place where you buried your pet, keeping its eternal memory.
This poetic concept helps children grieving after their beloved pet's death through another perception of death, a more positive one, a new life.
Coffin can also be used as a urn by filling it with ashes and then burying it.
Today Coffin is still an idea (and a prototype) but it is yet well relayed on several websites. Professionals and customers are frequently asking us where to find it. This is a huge market, there are over 60 millions pets in France with an average life of 8 years. It means 7-8 millions animals are waiting for a new life…. a tree one.
This project is supported by animals centered websites (Wamiz, yummypets,…), eco and environment friendly websites (Marcel green, the green web,…) or innovation websites(yankodesign,…).
Ready to sell companies :
-Amoncompagnon, leader in funeral solutions for animals. www.amoncompagnon.com
-Résidence hotellière Atollcalin, Hostel for pets.
-Ki-Kazh, a pet shop in Rennes (France)
-A shop in Tahiti.
What are the funds for?
To lunch Coffin's production we need 17000€.
70% molded cellulose case
20% tree seeds
10% labels
About the project owner
HURLU design is a young design agency founded by Laura Iriart and Arthur Trichelieu.
From their scholarship, architecture and product design, Mecanic level II and industrial design product management*, they master both artistic creation and technical industrialisation.
The current economic and environmental context pushed us to create differently, to take care, and the designer's role becomes primordial.
Products cannot only be beautiful.
The creation has to be led by the user habits, its societal and environmental impact.
HURLU design puts logic at the heart of the product by matching aesthétic and functionality.