Cocolune
Dress up and play!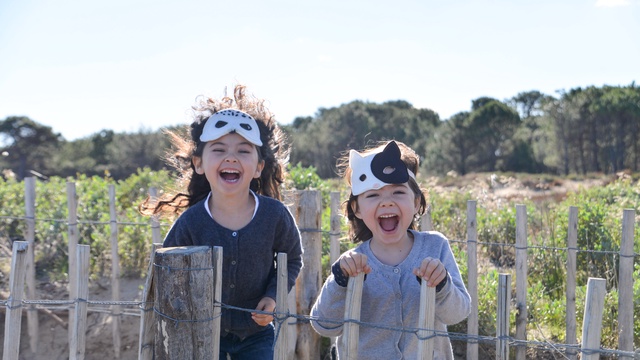 About the project
Cocolune is born from the desire to create toys which accompany the imagination of the children, to open doors on an infinity of games. By observing my children, I noticed that a simple accessory made the character exist. Disguises Cocolune are comfortable so the children can pursue their games outside and they are so attractive as they are difficult to leave!
Cocolune disguises are handmade in Corsica from natural materials produced in the respect of the environment. The felt is composed of wool 100% Merinos, and the wool of the pony ornaments is 100% natural and Peruvian.
The first collection is resolutely graphic, the sleek design of the masks leaves the field open to children's creativity. The manes of great softness are pleasant to wear and allow themselves to be forgotten. And pony is already galloping in freedom!
Simplicity at the service of the imaginary is the heart of the project.
The collection
What are the funds for?
Cocolune needs your support to exist!
The contacts with the suppliers, the test laboratory are taken, the first collection is drawn ... It is missing only a boost!
Thanks to your donations, I could initially create my company and market the first pieces. The amount to be reached will allow me to start manufacturing.
List of investments required:
Purchase of the material necessary for the manufacturing
Web site + shop onligne + domain's name for one year
Communication 
trademark registration
Compensations
Purchase Standards
In case we would exceed the wanted amount it will serve me to pay partially the tests of conformity to obtain the label CE.
About the project owner
After studies in graphic arts at the Decorative Arts of Geneva, I worked for 3 years as responsible for the youth department of a bookstore. I am passionate about illustrations for children. I have two little girls who are a constant source of inspiration. I have always liked to make all kinds of objects. In short I bathe in a universe turned towards childhood and creativity and that is all I want to put in Cocolune!
I invite you to visit my website under construction to discover the universe of the brand:
http://sarahjossen.wixsite.com/cocolune/
And my instagram: https://www.instagram.com/sarahjossen/