Les Chroniques de Shaa'l
Réédition du Tome 1 et parution du Tome 2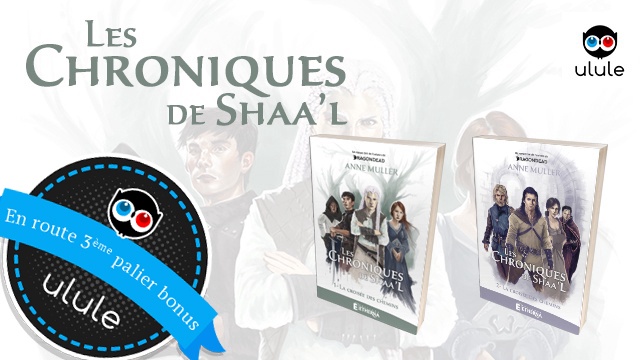 About the project
Vous l'attendiez ! Après le succès de L'Esprit du Dragon, le tome 2 de la saga Les Chroniques de Shaa'l est sur le point d'arriver : La Croisée des chemins. Après 3 années, et la sortie fracassante de DragonDead, Anne Muller nous offre un nouvel opus haletant autour de Shaa'l, Alenstidh, Pense-Vent et tous les autres personnages si attachants du premier tome.
Que sont-ils devenus ? Combien de secrets cachent encore les rues d'Elathian ?
Après l'expérience du jeu de rôle DragonDead, la plume de l'auteur vient s'exprimer à travers une nouvelle maturité. Anne Muller y dépeint des paysages oniriques, emprunts d'une incroyable crédibilité.
La critique de L'esprit du Dragon par la plateforme Tellement Geek
La critique de l'auteur Yoann Berjaud sur Fantasinet
Les critiques que vous pouvez trouver sur le forum : The Imaginarium
 " [...] Un univers fantasy [...] qui renouvelle les codes du genre."
What are the funds for?
Votre participation finance une partie de la production de La Croisée des chemins, ainsi que la réédition de l'Esprit du Dragon. Elle permet également de rémunérer l'illustrateur des deux couvertures.
Enfin, une part revient à la plateforme Ulule qui permet ce financement.
About the project owner
Fondée autour du projet de jeu de rôle DragonDead, les jeunes Editions Etherna ont fait une entrée remarquée. Léo Faggianelli, Anne Muller et Julius Koller concentrent leurs efforts sur l'édition d'univers profonds et nouveaux. Ces trois passionnés développent aujourd'hui DragonDead et s'attellent à dénicher les petites pépites du moment.
FAQ
If you still have an unanswered question, feel free to ask the project owner directly.