CFSL.net Artbook Volume 8
Visual inspiration for each and every day !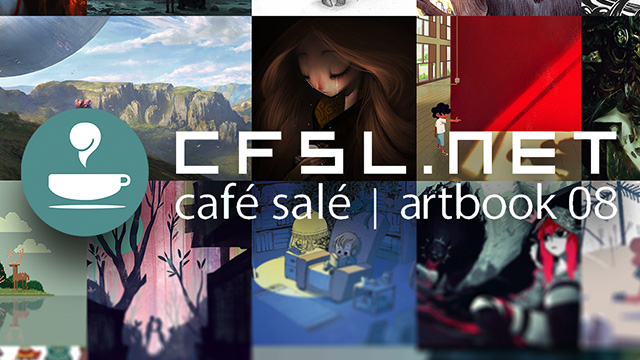 About the project
It's been 8 years since we first published our annual artbook for the CFSL online community. This book is a great collection of illustration from the best french-speaking artists in the world. Each illustrator will share a selection of picture that we put together in the artbook, and then release it in a thick 300 pages volume. 
We used to be supported by a pubishing company but this year, they decided to stop publishing artbooks. So despite the book's success, it shouldn't get an eighth volume at all. Except if we manage to get YOUR support, right here. 
We believe in this book, it's been around for so long it's become a true reference and a useful tool for every artist, agency, AD and all the people who just love pictures. It's also very useful for the artists featured as they can get exposure, contacts and all of that's for free ! For everyone who submitted and did not get in, it's alo a powerful incentive to get better and work hard for a year, waiting for the next call to entry. 
We want to publish this book for its eighth volume, for us, for the artists and for you. We would also prove a point : it's not because something doesn't get vasts amount of money that it's not worth doing at all. It's the quality, the wonderful talent and the inspiration that are meaningful. 
Let's reach these goals and more ! With more money raised we can print more exhibitions, organize workshops and much, much more !
The cover of the book features an artwork by Camille André
What are the funds for?
With the funds raised, we will print the book, pack and send them to you. We will also send one complimentary copy to each and every contributor featured in it. 
The post fees are included for France, and greatly reduced for foreign countries. 
There will also be a pdf version available for only a few euros. We added some goodies like stickers, ex-libris, posters, postcards and some very special things like original drawings in your book or an evening with the artists ! The more we raise, the more we can do !
About the project owner
CFSL is a non-profit association : everything we do is for free, we never ever make any money for ourselves. That's how dedicated we are about art. 
So how do we work ? On our free time mostly, with the kindness of others our main fuel is a real passion for sharing the beauty that artists can make. For more than 10 years now we dedicated ourselves to the promotion of illustrators, cartoonists and entertainment industry artists in general. The pop culture has changed and it's now full of wonderful people who need exposure as well as work, and working for that makes the world more beautiful. 
Here are a few of our websites, unfortunately, most of it is in French, we're sorry about that, but pictures need no word. So you can browse, not get a word we wrote and still be amazed, isn't it wonderful ?
The board
The facebook page
http://www.facebook.com/cafe.sale
Our twitter account