De La Cav'o Verre App : cellar online
App for an innovative, sharp, and fun way to keep track of your Wine Cellar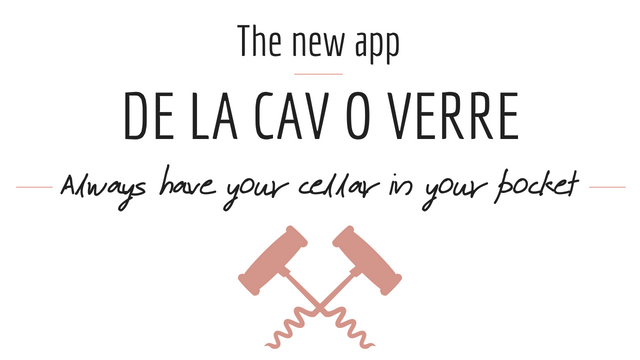 About the project
Having a hard time keeping track of the wines kept in your cellar? Can't remember who offered you this nice bottle or having some doubts on the best way to pair it? And even if you don't have a wine collection just yet, don't worry, one bottle is enough to start your Wine collection with us!
Delacavoverre.com is a software for all wine lovers. Based on our wine knowledge and some mathematical secret formulas, we offer the complete solution to manage your wine collection, keep track of your wines, and serve them at their best time. We now are looking for some funds to develop our app that completes the offer. Wether you are a wine passionate or just want to help some very cool entrepreuneurial project, we welcome you on this page for our crowdfunding!
DelaCavOVerre allows you to create and monitor your wine cellar list but also to keep a track on your wine log book with all the necessary details so that you can find back a wine you loved or match it with the most appropriated dish!
But that is not All !
We developped many services around this cellar management tool:
What makes us special?
Our advise and tips on bottles come from the winemaker him/herself! As we figured they would be the best ones to talk about their wines, we invited them to get on board with us, and they share the back office of our platform with our team ( and with some good wines books on the subject to back us up in the mean time!)
What are the funds for?
Our software has been live for 1 year now (and 4 years of developpment already! Time flies...), you can already discover all our services here:
www.delacavoverre.com (no wories, the English Version is cooking and will be ready before the Summer is over!)
The mathematical model is now 100% working, but has been very demanding in terms of algorithms iterations. This is the mean reason why we had no possibility to start it as a mobile app. But we are now confident that its reached its prefection and we need YOU to help us launch its light version. A mobile app would allow you to always have your wine collection on hand, or at least in your pocket!
Today the basic mobile app would cost around 12 000 €, which the minimum amount we ask for on the crowdfunding project : 15 500€
But, really, a mobile app a tiny bit nicer and easier to enhance and adapt to the many services we offer with DelaCavOverre would cost us a bit more money. That is why we really hope that you can help us overachieve our target!
For all contributions you can make, we will reward you with a premium access membership, allowing you to unlock all the cool features developped to manage your cellar at its best. So don't hesitate anymore, start your DelaCavOVerre now!
About the project owner
Because we are unique
We have been trying to find 1 website aiming to give you ALL the help you need to manage and enhance your wine collection,and we havn't! Offering professional advises coupled with useful and intuitive tools that fit your very own taste, we love being able to do that, and we very much want to keep doing it!
Because it is a collaborative project
The initial idea behind this all was to bring closer the winemaker and the winelover, and have them share their experiences and tips. We are not a merchandising website, and on the contrary we aim at helping create a more direct road to market.
So, really we are neutral! No publicity, no biaised opinion that would loose the consumer. an opinion on a wine is very subjective, so you can store safely store your thoughts with us, but they will remain yours only, and won't be shared or used in any way.
Beacuse you surely need our service
Beginner or expert, everybody likes to know more on what they are about to enjoy. To not only taste a wine, but taste it well is not always easy and we us by your side (and in your pocket) this should only get easier and more fun!
" Despite an engineer background, I decided early 2014 to start all over and create my own company. My passion for wines took me where I am today. As an avid wine collectionneur I have been confronted too many times to the issue of loosing control of my own cellar. I was forgetting old bottles, loosing track on my wife's favorites stock, or undecided on which wine to pick for our menu. I decided to build the tool I was missing, with all the services any wine lover could be thinking of, while also connecting small winemakers with passionate like myself. This is how DelaCavOVerre started."
So what about you? Ready to give it a go?
gif source : https://giphy.com