RPG Challenge Cards
Card collection parody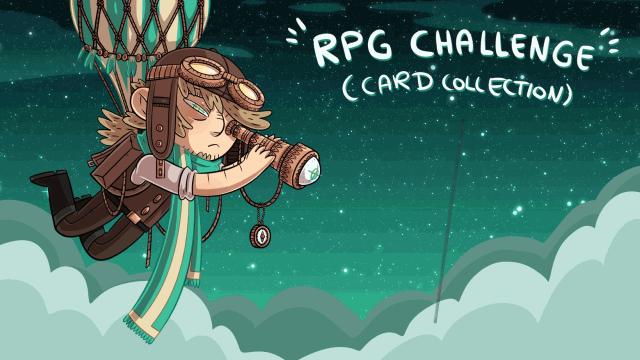 About the project
200% achieved! Second stretch goal unlocked! Ta-da-da-DAAA! ~ ♪
____________________________________
Now, to help the project go further and get more contributors, I'll add a few simple stretch goals. With each stage, something will be added or improved in all the packs.

___________

A simple project brought me to want make these cards: a series of characters drawn for a challenge on the internet, the RPG Challenge.
I wanted to make cards with all those images, due to the interest of people around me. Dumb humour, parody of classical collections of cards and weird characters together create a fun result. 16 different cards will be produced for this collection. Just to add a little bit of suspence, two new secret cards will be added.
If the campain meets its goal, an instruction sheet (the sheet exists, but the rules are nonsense) will be added to each pack sent... just to try to play a game with rules that don't really exist.
All the designs for the projects are nearly completed. What remains is the printing and the shipping of the cards.
(aka, the author of the project)
I'm Trystan, an amateur artist since my youth (and also media editor/motion designer... but that's less important). I'm in different drawing communities, almost everywhere on the internet. I always enjoy to complete different kinds of projects (short movies, drawing and animation series, collaborations, ect), and this project would give me the chance to print my art for the first time.
What are the funds for?
This is the distribution of funds:
And here is and example of the front of one of the cards, to give you a visual idea:
Are you asking yourself: What are the options to participate to the funding and to receive cards? Here they are!
* Please note that an instruction sheet will be added to each pack
The cards received will be chosen at random, in the same logic as usual collection cards. Each small set of cards will have 6 differents cards. It's then possible to receive some identical cards, like with real games! Here are the different packs:
- SOLITARY PACK : 1 x 6 different cards = 6 cards (+ instruction sheet)
- CURIOUS PACK : 3 x 6 different cards = 18 cards (+ instruction sheet)
- MASTER OF THE (MAGICAL) CARDS PACK  : 5 x 6 different cards  = 30 cards (+ instruction sheet)
- CHEATER PACK : all 18 cards of the collection (+ instruction sheet)
About the project owner
FAQ
If you still have an unanswered question, feel free to ask the project owner directly.